How to use a hammer drill to remove tile from the floor, that you should know better before start the work. Removing tile flooring is a challenging task, but it will be easier to have the right tool in your hand. This is more true when you want to preserve the tile to use in a different location. One of the most commonly used power tools for renovation or demolition work is a hammer drill. Here we will tell you the easiest way to use a hammer drill to remove tile.
How To Use A Hammer Drill To Remove Tile Floor – The Preparation
Preparation of safety equipment and tools:
Gather all of the necessary tools and safety equipment before you begin. To remove tiles, you'll need a hammer drill, a tile removal bit or chisel, and a scraper or chisel to remove adhesive or grout. Protect yourself from dust and debris with safety equipment such as safety glasses, gloves, and a dust mask.
Make sure the work area is free of furniture and
debris:
Remove any furniture and items from the room to create a clear work area. By doing so, you will be able to move around more easily and work more efficiently. To ensure that no debris interferes with the tile removal process, sweep or vacuum the floor.
Disconnect the room's power:
You should turn off the power in the room where you will be working to ensure your safety. It will prevent accidental electrocution and damage to electrical equipment in the room. Depending on your circuit breaker panel, you may need to consult an electrician for help or follow the instructions.
Safety Precautions
Hammer drills can be dangerous if you don't take the necessary safety precautions when removing tile flooring. To ensure your safety, follow these steps:
Protect your eyes and hands from flying debris by wearing safety glasses, gloves, and a dust mask. You can also protect your skin from cuts and abrasions by wearing long pants and a long-sleeved shirt.
Check the hammer drill to ensure it is in

good

working order and has the appropriate bit for removing tiles. Do not use a damaged drill; have it repaired or replaced before using it.
In the event that water or moisture comes into contact with the power tool, a ground fault circuit interrupter (GFCI) outlet will prevent electrical shock.
Hold the hammer drill firmly with both hands to maintain control. Let the drill do the work instead of forcing it. Stop immediately if the drill begins to bind or becomes difficult to use.
Make sure you don't damage the subfloor by drilling, too. To remove the tile, use a tile removal bit or chisel, and avoid cutting into the subfloor.
Sweep up debris and dust as you work to avoid slipping and tripping hazards. Use a suitable container to dispose of debris and dust.
How To Use A Hammer Drill To Remove Tile Floor – The Tile Removal Process
Hammer drills can be noisy and dusty but effectively remove stubborn tiles. When removing tiles, follow these steps:
Drill holes in the center of each tile starting

from

the edge of the room.
Remove the tile by breaking it along the holes with a chisel. After removing the tile, you can use

the

chisel to

remove

any adhesive or grout left behind.
You can make more holes with the hammer drill and chisel out the tile in smaller sections if the tile is difficult to remove. As a result, the tile will be easier to remove without damaging the subfloor.
Repeat this process for each tile in the room using sections to avoid overloading the work area.
Check the subfloor for any damage or unevenness once all the tiles have been removed. Before installing new flooring, make any necessary repairs.
The Cleaning-up Process
To ensure that all dust and debris are removed from the work area, clean it thoroughly after removing tile flooring with a hammer drill. Cleaning up after tile removal can be achieved by following these steps:
Make sure debris and dust are swept up with a broom and dustpan. Don't let it accumulate in corners or other areas of the room, and dispose of it in a suitable container.
Remove any remaining dust and debris from the subfloor with a shop vacuum.
Remove any remaining dust by wiping surfaces with a damp cloth. As a result, it will not become airborne and cause respiratory problems.
Clean carpets, drapes, and upholstery with a vacuum if dust and debris have spread to other areas of the house.
If you rent equipment, return it to the rental company if it has been used or damaged.
Is Rotary Hammer Drill The Best Tool For Tile Removal?
It depends on which type of tile you want to remove. A hammer drill is an ideal option if the tile is built with softer materials. Because in this case, the hammering action can go down and separate the tile from the flooring beneath.
The hammering action of the hammer drill you are using can get under the tile quickly and efficiently if you use the proper attachment. Moreover, it eliminates the possibility of using your muscle to achieve the result. Slow and steady use of a hammer drill to remove tile is the best way.
How To Use A Hammer Drill To Remove Tile Made Of Ceramic?
To put it simply, you do not use a hammer drill to remove tile made of ceramic. But if you do not care about the tile at all and remove it any way that you can choose a rotary hammer drill to remove tile purposes. 
This is because the ceramic tile is relatively rigid and quite brittle when trying to separate it from the floor. However, you can get your job done and remove the tile from the floor using the proper attachment. 
A hammer drill alone can not complete the job if you want to preserve the tile. If you don't intend to save the tile, then go ahead and remove the tile. But remember, you will need the best tool and, of course, the best attachment. 
Now, The Question Is, What Is The Best Tool For Removing Ceramic tile?
A rotary or destructive hammer is a typically better tool for this purpose.  Thanks to the motion, this type of drill is used to remove ceramic tile. This means fewer chances of breakage and no need to clean up small tile pieces. Plus, this tool can avoid at least some of the dust and debris common with ceramic tile removal.
Use The Chisel
The old-fashioned chisel is a good but laborious way to remove tile. Especially when you are removing ceramic tile from the floor of the old-fashioned chisel is not just enough. On the other hand, the tile chisel is a hardened steel bar with a sharp shovel-like shape on one end. It also has a blunt end where a hammer can strike it.
The tile chisel is a slow but effective tool. It can be tiring if you don't have sufficient experience with tile chisels. Especially if you are removing a good number of tiles, you can feel very tired using a chisel. But you can not do it precisely and at a good pace if you try to remove tiles manually or by any other mechanical device. We can suggest one practical alternative thought. Try putting a chisel attachment on your rotary hammer drill, and don't get too tired.
Hammer Drill Chisel Bit
The tile chisel attachment to the rotary hammer drill can alter the hammer drill's impact on the tile. If you use a manual chisel, you can also achieve this, but the problem is that the drill does the whole work in that case. 
SDS Plus Chisel Bits for Rotary Hammer Drills
Drill bits are essential when you are performing a heavy-duty job. But in this case of removing tiles from the floor, we will not use regular drill bits. Instead of standard drill bits, we will use chisel bits. Depending on your roto hammer's tool-holding design, you should get either an SDS-plus or SDS-max chisel bit.
Attach the chisel bit with your hammer drill and place it at a 45-degree angle at the edge of a tile. Make sure that you are able to turn on the drill while the drill is in hammer mode. Now, power on the switch and help the drill to break under the tile and lift the tile from the floor.
Typically you work from side to side, lifting rows of tiles horizontally along with your position. When one row is finished, go ahead and set the tile chisel attachment below the next row of tiles and repeat the action you did for the earlier row. We suggest you take a break often to clear away the dust and debris.
Repeat the process as you will find a good amount of dust and debris are going to build up as you work.
Attention: Ensure that the power tool in your hand is in the proper mode. DO NOT use a chisel in the drill mood as broker tiles may fly around and can cause serious injury to your health. 
Remove The Mortar
The chances are high that you will find mortar after you remove tile from the floor. As many people like to preserve the mortar, you can use the same tool with the chisel attachment on it to power away from the material. You can make any pattern you need, but it usually is good to work in sections to remove the mortar thoroughly.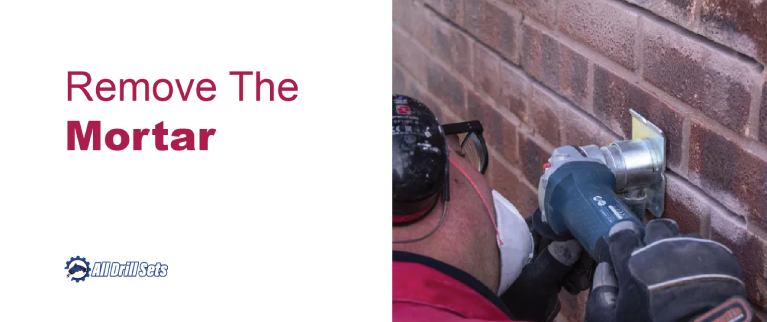 So, as you know the process now, we can say removing ceramic tiles using a rotary hammer drill and chisel bit attachment is possible, but you have to be extra careful to do that. We want to repeat it; the process is only applicable if you do not care about your tile. If you're going to remove your tile and put it somewhere else safely, we never recommend using a hammer drill for the purpose. 
Safety
Removing tiles will deliver dust and other tiny particles that will harm your face and eye. That's why we strictly advise you to wear safety glasses as an essential precaution. 
Recommended Tools
You must have the best hammer drill for tile removal to remove the tile safely.
Remove Tiles With the Best Cordless Hammer Drills
You can use a cordless hammer drill to remove tile from the floor. Cordless hammer drills come with lots of power these days. But it would help if you remember this is a heavy-duty drilling application. So, bring two batteries to the workplace to not have to wait until the battery charges. 
Remove Tiles With the Best Corded Hammer Drills
Corded hammer drills are the best option as they bring more power to you. But the problem here is the power source. You have to arrange a power source close to your workstation. There are some best-corded hammer drills in the market, and you can pick one from these. 
DeWALT DCD996B Brushless Cordless 3-Speed Hammer Drill
If you are looking for the best hammer drill to remove tile, this is the best one. The hammer drill from Dewalt comes with a brushless
the motor that is 50% more efficient than brushed motors. This heavy-duty 3-speed hammer drill driver is the best cordless drill for a lot of jobs. You will find that it works fine and effortlessly finish the job you started in no time. It does not make your tasks comfortable, but it also has a long battery life that helps you work many hours.
The drill has the power to remove tile effortlessly. This is a bear tool which means Dewal won't give any charger or battery with this, but you can purchase any Dewalt battery to work with this tool. Moreover, you will get a belt hook and 360-degree side handles with this powerful cordless hammer drill. 
Frequently Asked Questions
What Is The Best Tool For Removing Tiles?
A ball-peen or masonry hammer drill to remove tile is an ideal tool. It would be best if you used a cold chisel to tap the pieces of tile. 
Can a hammer drill be used to remove tile flooring?
Yes, a hammer drill can be used to remove tile flooring. It's an effective tool for breaking up tiles and removing them from the subfloor.
What Power Tool Removes Tile?
Chisel is the tool that removes tile. You can use a chisel manually, or you can use it with a hammer drill to remove tile. 
Do I need to wear protective gear when using a hammer drill to remove tile flooring?
Yes, you should wear protective gear when using a hammer drill to remove tile flooring. This includes safety glasses, ear protection, and a dust mask to protect against flying debris and dust.
How Tough Is It To Remove Tile?
It is a time-consuming and tiring task. You can use a hammer drill to remove tiles and also use a chisel to remove tiles. But if you want to save your tile, we never recommend using a hammer drill to remove tiles as it will break your tile. In that case, use a chisel manually to remove the tile. 
What should I do with the broken tiles and debris?
You should dispose of the broken tiles and debris in a designated waste disposal area. You may also want to use a broom and dustpan or a vacuum to clean up the area after you're finished.
Can a hammer drill damage the subfloor?
Yes, a hammer drill can damage the subfloor if it's used improperly or with too much force. It's important to use the hammer drill carefully and to avoid applying too much pressure to the subfloor.
Conclusion
Removing tile flooring is a challenging task. You can use a hammer drill to remove tile, but this is not an efficient way. If you are looking to save the tile and use it in some other places, a hammer won't serve the purpose. It will completely destroy the tile. So, if you are planning to use your tile, we suggest removing it manually with a chisel. But if you are in a hurry and don't care about your tile, you can do it with a hammer drill with an ideal attachment. 
Don't forget to wear safety glasses when you perform. Use a hammer drill to remove tiles, as parts for broken tiles can damage your eye.