We all know about drill drivers. Even if you are not a DIY enthusiast, you see drill drivers in your day-to-day life. But many of us don't know what is benchtop drill press and how it works. If you are looking for this answer, you have entered the right place. Here you will learn everything you need to know about the benchtop drill press.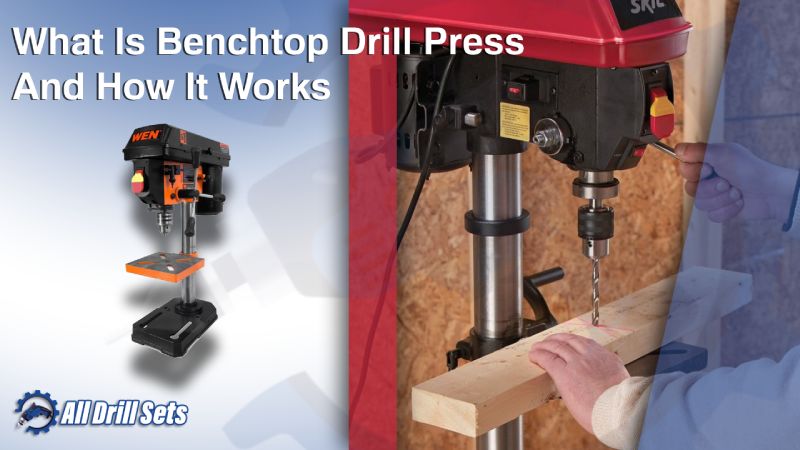 Everything About What Is Benchtop Drill Press And How It Works:
What Is Benchtop Drill Press?
The drill press is a robust machine designed to bore precise wood, plastic, or metal holes. Drill presses use various types of bits to make holes of different diameters, just like regular drills. But they are not handheld; drill presses are stationary or benchtop machines. 
If you need a drilling tool for a regular home repairing job and the occasional woodworking project, you don't need a benchtop drill press. But if you are serious about working with wood or metal, a drill press will make your life easier by boring precise holes, countersink or counterbore those holes and use sanding attachments.
A benchtop drill press is a robust tool because this tool makes a clumsy and potentially risky task safer and precise. You can even use it for sanding and grinding as well.
How Does A Benchtop Drill Press Work?
A full-sized drill press is stationary, heavy, relatively expansive, and occupies valuable floor space in your working area. Though they lack portability, they provide immense power and precision, and they are made for this.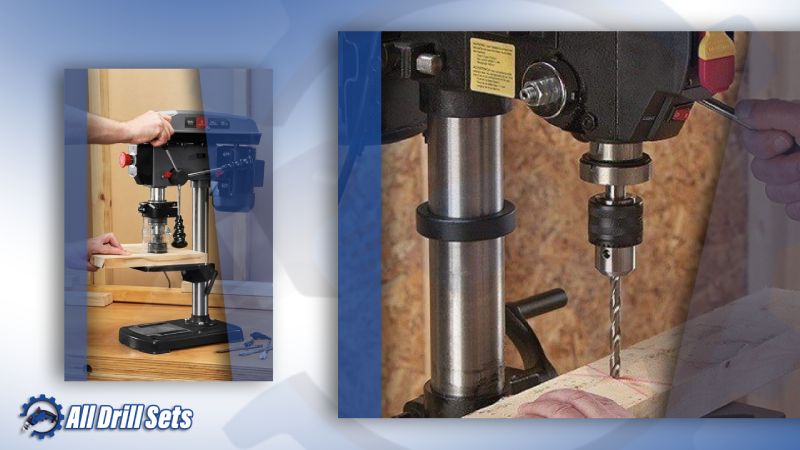 The handheld drills rely on arm strength and the steadiness of the operator. But drill presses do not rely on the operator's stability or muscle power.  Here a rotating handle operates the spindle, which is the descent of a spinning mechanism. 
The drill bit is placed in a chuck on the end of this spindle, and you can move it in only vertical move direction. For this process, exact holes are much easier to create. All models have a depth stop to make holes of consistent depth.
How Many Types Of Drill Presses Are There?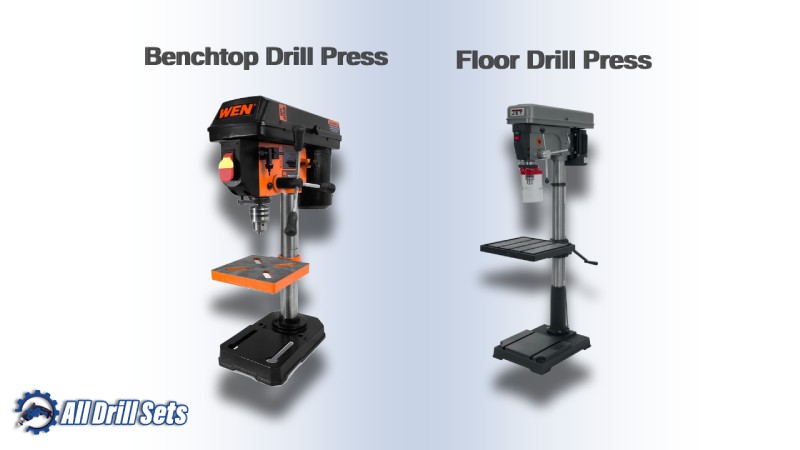 You will find two types of drill presses in the market. They are floor drill presses and benchtop drill presses. 
Benchtop Drill Press
Benchtop drill presses are suitable for smaller and lighter projects. They are that high compared to a floor drill press. The lower height allows you to place them on top of a workbench. That's why they are portable and best suited for light projects. 
And there are some heavy-duty benchtop drill presses that you can use for more challenging tasks 
Floor Drill Press.
Floor drill presses have full-length columns, and the height ranges from 56 inches to 68 inches. They provide wider bases than benchtop drill presses to ensure that their body can take the weight of the motor and the head. 
Floor drill press machines provide wider swing sizes than benchtop drill presses. These types of drill presses can bore deeper holes than the other ones. 
In short, floor drill presses are for heavy-duty use. Therefore they are excellent for professionals. 
How To Choose A Benchtop Drill Press?
Before purchasing a benchtop drill press, you should closely observe the followings: 
Motor Power
The power of a benchtop drill press depends on the motor.  For light to medium-duty drilling tasks, you can purchase a 3/4 HP motor benchtop drill press. But for more challenging materials or everyday use, a 1/2 HP motor or higher would be best.
Variable Speed Setting
Variable speed is a crucial factor for a benchtop drill press. A drill press's task is to drill precise holes, and without multiple speed settings, you can not achieve that. Some drill presses have 5 different variable speeds, while you can find a machine with speed settings of as much as 16. Which one you need depends on the projects you will perform.  
Swing size
You will frequently see the numbers: 13″. 10″. 20″ on every benchtop drill press. They resemble the swing sizes, 
These numbers tell how much space you will have in that machine. Let's say you purchased a 10 inches benchtop drill press. It means the distance between the hole and the column will be 5 inches maximum. So, before purchasing, find out the amount of space you would need. 
Maximum Quill Travel
This is important for drilling holes on wide wood or metal frequently. Quill travel or quill stroke defines the distance between the chuck and bit it can travel when you crank the handle. How deep of a hole do you need? Ask yourself and match with the maximum quill travel before purchasing. 
7 Best Benchtop Drill Press Reviews
If you are planning on purchasing a drill press, check our review of the 7 best benchtop drill press: 
1. WEN 4214 12-Inch Variable Speed Drill Press
WEN is popular for its powerful electric tools. The WEN 4214 12-inch drill press is a popular benchtop drill press machine. 
This 12-inch drill press has a digital display. That display shows the exact speed of the drill. You can control the variable speed settings of this drill between 580 and 3,200 RPM in very fine increments. 
It has 3 1/8-inches of travel and an adjustable depth so that you can achieve repeatable results. The 2/3-horsepower motor can generate enough power to complete nearly all kinds of shop projects.
2. SKIL 3320-01 10-Inch Drill Press
The SKIL 3320-01 Drill 10-inch Press is a popular power tool that features an efficient 3.2 amp motor. It can tackle some of the most rigid pieces of wood, metal, and more. 
It features a 10-inch swing size and is very much potent for  DIY applications and light commercial use at home. It can boreholes up to 2 3/8″, and customizing the depth is very easy. 
It comes with 5 variable speeds providing extra flexibility in performing different kinds of jobs. This is a long-lasting and durable drill press. It has a weighty cast iron base to prevent the unit from walking or wobbling while performing a drilling operation.
3. W1668 13-Inch ¾ HorsePower Motor Bench-Top Drill Press
This is a heavy-duty benchtop drill press. Providing 3/4  horsepower power, the W1668 comes with a distinct industrial design. It comes with a more extended pulley safety guard to its sliding headstock to its base. The powerful 3/4 HP motor is very much efficient for performing drilling into tough wood or metal.  
For flexible drilling applications, it has 12 variable speed settings. It has a solid steel-made column, while the base is made of sturdy cast iron.
The maximum swing can reach up to 34″ in diameter. This extended swing helps you to work on more comprehensive pieces of materials in your workshop.
4. BILT HARD 13 inch Floor Drill Press
This BILT HARD floor drill press is powered by a 6.6 amp induction motor and can drill through metal, wood, plastics, and other materials for professional applications and the garage.
It can deliver up to 3,600 RPM. It features 16 variable speed settings. You can set any speed between 220 to 3600 RPM. 
You can bevel the work table 45 degrees right and left with 11.41in diameter for angled drilling. The base has pre-drilled holes for mounting onto a bench or work stand. 
5. Shop Fox W1667 1/2 Horsepower Bench
This a  compact machine and can effortlessly serve as either a drill press or an oscillating sander. You can perform various drilling applications with drilling and sanding operations with this unit efficiently.
The 1/2 horsepower can deliver up to 3140 RPM speed, and you can drill through tough wood, metal, and many other materials. It features 5 variable speed settings of 740 RPM to 3140 RPM. The powerful 1/3 HP induction motor produces sufficient torque and power, and the variable speed provides the flexibility you want. 
6. WEN 4208 8-Inch 5-Speed Drill Press
The 5-Speed Drill Press is another excellent choice for you. It has a powerful 1/3 HP induction motor that can tackle even the most rigid wood or metal pieces. 
The unit comes with 5 variable speed settings. You can choose anywhere between 750 RPM to 3140 RPM for various tasks.
This benchtop drill press is excellent for light drilling applications with an 8″ swing size and 2″ quill stroke. If you're searching for a benchtop drill press for challenging applications, this might not be the best one. But for light and medium-duty, it is an excellent choice. 
7. WEN 4210 Drill Press with Laser, 10-Inch
The built quality of this benchtop drill press machine is rock-solid. A long-lasting 3.2amp motor provides sufficient power for the size.
The benchtop drill press won't wobble even when you are working at the highest speed. Moreover, it is equipped with pre-drilled holes so that you can put it on a workstation or bench and save some precise space.
It has a 3.2 amp 1/3 HP induction motor and delivers excellent performance. It can handle the challenge of working on denser stock and rarely overheats.
As for the speed, settings come with a 5 variable speed ranging from 600 RPM to 3100 RPM.
Conclusion
Benchtop drill presses are handy tools for serious DIYers and professionals. If you did not know anything about benchtop drill presses, we hope now you have a clear understanding. We have tested every product ourselves on the list, and you can buy anyone from them that can fill up your requirement. 
We hope you all the very best of luck and see you in another article. 
About Post Author