Bosch GSR12V 140FCB22 Flexiclic 5 in 1 drill driver set has made your working journey easier. If you are a tradesman, you are familiar with carrying too many tools to be on the safer side. At work, you can not predict when you will need which tool.
Maybe you will need the right angle drill once a month, but you still carry that drill with you because you don't want to be sloppy at your work. As a result, your tool bag gets filled with extra unnecessary tools.
Considering this problem, famous power tools manufacturer Bosch has an idea and decided to do something practical. The Bosch GSR12V 140FCB22 Flexiclick 5 in 1 comes with a single solution. With this Flexiclick 5-in-1, you do not have to carry various drills at your work.
The Bosch GSR12V 140FCB22 Max Flexiclick® 5-In-1 Drill/Driver System – Overview
The Bosch GSR12V 140 FCB22 Flexiclick is not entirely a unique idea, but professionals have to admit, it's a very cool concept. It's a drill that has interchangeable heads. So when you are drilling holes, you can change the drill head as you need.
Besides, if you have to get into a tight space, you can detach the head and attach the right angle drill head. Bosch GSR12V 140FCB22 calls the mounting system "One-Click interface."  Pretty cool!  
What Includes In Bosch GSR12V 140FCB22 Flexiclick
Bosch GSR12V 140FCB22 12V Max Flexiclick® 5-In-1 Drill/Driver – 1

Keyless Chuck Attachment – 1

Locking Bit Holder Attachment – 1

Right Angle Attachment  – 1

Offset Angle Attachment – 1 

12V Max Lithium-Ion 2.0 Ah Batteries – 2

12V MaxCharger -2

Carrying Bag – 2

 
Bosch GSR12V 140FCB22 12V Max Flexiclick 5-in-1 Drill Driver System – Details Features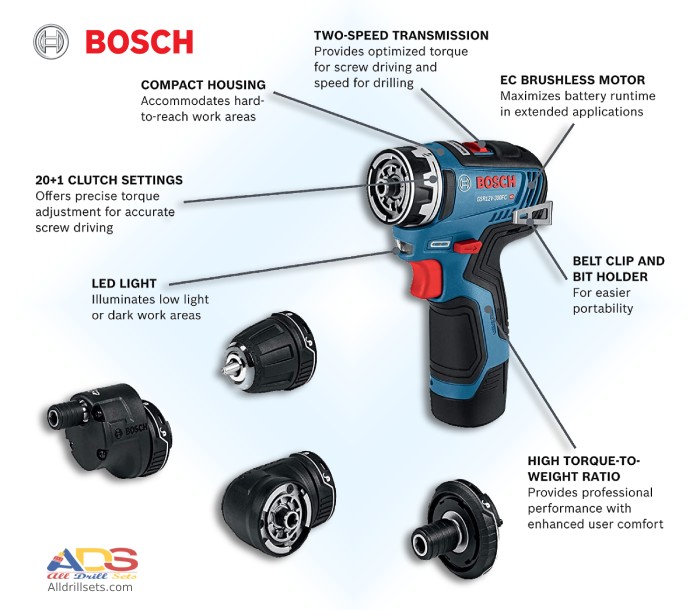 The Bosch GSR12V 140FCB22 Flexiclick 5 in 1 has four chucks and is built for professionals. The set has a straightforward twist-lock design that makes them effortless to attach and detach and lock securely in place. Because of these other chucks, Bosch is calling this model Flexiclick.
Bosch GSR12V 140FCB22 provides 4 chucks in addition to the built-in 1/4-inch magnetic hex chuck. It also comes with 12V max lithium-ion batteries.  
Basic Tool
The Bosch Flexiclick 5 in 1 contains a magnetic 1/4″ hex drive and is just 5-1/5″ long. That makes it a compact, high-quality drill driver system. With 265 in-lbs of torque, this robust drill/driver delivers the best performance you can expect regarding the size.
The power tool has two-speed settings that have 0-400/0-1,300 RPMs for quick and precise jobs. The drill/driver is extremely lightweight, coming in at 1.8 lbs. 
Here you can find vast categories of drill driver sets.
Design
The basic design idea of this drill driver system is that the tool has interchangeable chucks, and you can use one or two chucks to put one before another at a time. It starts with a magnetic bit holder for conventional driving.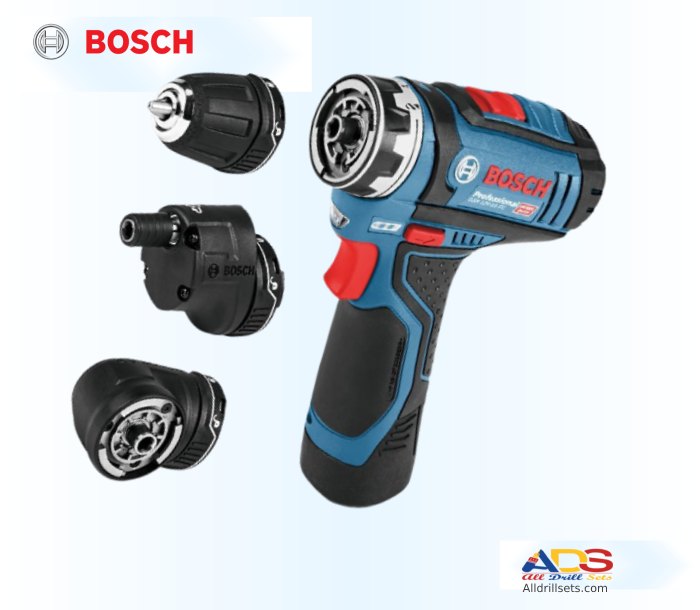 The compact design delivers outstanding versatility. The trigger provides a variable speed and straightforward to control and sustain a specific rate. You can locate the forward and reverse where you can effortlessly control it with your thumb or other fingers and change directions.
Like other Bosch GSR12V 140FCB22 tools, you will find the device's battery status gauge instead of on the battery. The drill driver comes with 1-20 torque settings with a drill setting.
The tool has a LED light, and that is relatively bright. The LED light is placed right under the drill head to brighten the work areas. 
The LED does a great job illuminating the working spaces if there is a lack of light. One tiny problem is that you can see a shadow because of the LED placement.
As we told earlier, this drill driver 5 in 1 is a multi-head tool which means you can change the heads from one to another. Everything is metal, and the outer side is strong plastic which means this tool is durable and lasts a long time. When you attach a head-on, it fits perfectly.
Detaching the head is very easy; just turn the ring to the unlock position, and the head will be separated. You can now attach another head and lock it back into place easily. The drill driver comes with four various heads meaning you can complete almost any kind of project.
Moreover, you can set the offset and right angles at 16 positions without removing them. 
5 Functions of Bosch GSR12V 140FCB22  12V Max Flexiclick Cordless Drill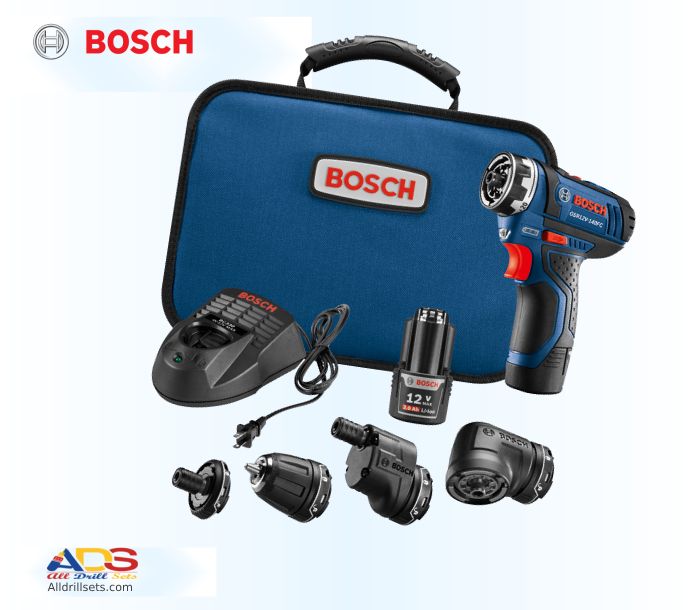 Bosch named the FlexiClick a 5-In-1 Drill/Driver System, so we'll describe each of the five functions.
1.  LOCKING BIT HOLDER ATTACHMENT
The Bosch GSR12v 140fcb22 drill driver system's first and most basic function is the locking bit holder attachment. You will find this locking bit holder attachment at the front of the drill body. Interestingly this holder won't lock a bit in place; it rather depends on a magnetic hold.
Moreover, the magnetic bit holder provides the shortest head length. As a result, the drill works fine for quick and basic driving tasks. The locking bit holder attachment locks hex bits for high torque driving.
The bit holder works well, too, when you have to keep the head length as short as possible so that you can work in tighter spaces.  This bit holder is also responsible for driving the hex drive shafts on the four attachment heads. 
2.  RIGHT ANGLE ATTACHMENT
The following kit is the right-angle attachment. The right-angle attachment is designed so that it can get into tight spaces where the drill itself won't fit into.  There are many various right-angle attachments available in the market that you can attach with any regular drill, but this one is undoubtedly the best one from our observation.
The integrated right-angle attachment is designed to tackle the full torque the drill can deliver. Another essential feature is that the right-angle attachment body doesn't rotate freely as an add-on one does. 
You can adjust the right-angle head on the Bosch GSR12V 140FCB22 max FlexiClick to 16 positions without removing it in 22.5-degree increments. So, you can position it to where it works best. The process is straightforward; just pull it outward, rotate, and lock it back into whichever detent you choose.
Moreover, any of the other three attachments will also attach to the right-angle head to increase versatility. 
3.  KEYLESS CHUCK ATTACHMENT
You will get a regular drill/driver keyless chuck attachment for typical drilling tasks.  The chuck size is 3/8″, so it can tackle most light to medium-duty drilling tasks. The drill/driver keyless chuck attachment provides locked-in drilling for more challenging surfaces.
We noticed that the grooves in the sleeve of the keyless chuck are too deep, which offers a good grip on tightening it down on bits.
4.  HEX CHUCK
The next one is a standard locking hex chuck for regular driving bits. This is the chuck you will find on most drivers and impact drivers. This is the head to use when you need a more secure hold on the driver than the basic magnetic one.
5.   OFFSET ANGLE ATTACHMENT
The fifth and the last attachment and most probably the most versatile one is the offset head. This attachment is FlexiClick's most remarkable feature and the one that makes it unique from most drill/drivers. Offset angle attachment offers precise screw driving.
If you are drilling or driving very close to an adjacent surface, this offset attachment is a lifesaver. In those situations, the offset angle attachment offers precise screw driving or drilling.  
The offset head's hex chuck goes as close as 7/16″ far from the adjacent area compared to 1-1/16″ for the drill's body.  So at 5/8″ closer, this scenario makes a significant difference while you are drilling or driving.  You also can rotate the offset head to 16 positions without removing it—the same as you can with the right-angle head.  
Other Features of the Bosch GSR12V 140FCB22 max drill driver system

 
The removable chuck feature is not everything that this drill driver system has. Bosch GSR 140FCB11 12v max Flexiclick 5-in-1 has a 2-speed motor to work with 2-speed settings. The motor is not brushless, but it delivers up to 265 in. lbs. of torque.
As you expect from any Professional-grade drill, there's a chuck you can use to drill a pilot hole for driving or flip it over to lock it in drilling mode for getting the maximum torque. 
The built LED light just under the chuck is very handy at lighting up your workspaces. Even though It's not as productive as the ones surrounding the chuck, it still does a great job. 
The Bosch Flexiclick 5-in-1 features an LED battery level indicator located on the tool's left side when you hold it. The indicator lights up just when you pull the trigger.
Thus it's simple to watch the remaining battery charge. This is a handy feature because there's no indicator provided on Bosch 12V battery packs.
Bosch Flexiclick Drill-Driver Ergonomics
Bosch's handle ergonomics are operated by the stick pack design of their batteries. This makes the handle wider, they did a decent job with what they should work with, and the handle fits in hand perfectly.
 The balance should not be an issue with a lightweight tool like this. However, depending on the chuck you are using, you can notice a shift forward.  
Performance
Many people do not like multi-head tools because the general perception is that they do every work just okay and don't really excel. But the Bosch GSR12V 140FCB22 Flexiclick 5-in-1  is different.  No matter what head you attach to the tool, it excels. The drill does a fantastic job, and when you change to the correct angle drill, there is no noticeable difference. 
That makes it an excellent tool and a multi-head tool that you can invest in.
The compact, high-quality drill driver set performs as you would expect from the Bosch GSR12V 140FCB22 system. The drill is smooth, straightforward to feather the trigger, and powerful enough for most projects.
Besides, the package comes with at least one pair of lithium-ion batteries; Even if you switch to the correct angle drill, you won't notice a loss of power or ergonomic balance.  There isn't a delay in drilling or driving.
If you want to use the Bosch GSR12V 140FCB22 with the Hex attachment head, you won't notice it's a multi-head tool. It feels and performs just like a screw gun.
Even the offset head works smoothly. You won't feel any loss of power or feel of the tool. This drill driver is not for those heavy-duty applications; instead, it's for precision applications where getting the job done at the right time matters more.
You can set the right-angle and offset chuck to 16 positions without removing them.
This tool is a top performer for woodworking, not masonry.  
Bosch GSR12v 140FCB22 12V Max Final Thoughts
Considering the price, Bosch GSR12V 140FCB22 Flexiclick 5-in-1 is most probably the priciest 12V drill. But if you think of the versatility, this is a very wise choice. 
 Flexiclick's functions and mid-range performance in the 12V line make it a unique option for woodworkers and cabinetmakers. Besides, Remodelers, electricians, HVAC, and DIYers will want to consider this tool as well.
Moreover, the compact and lightweight drill/driver design delivers outstanding versatility.
 This is a powerful tool for tradespeople who want to have a handy tool in many situations.