The Bosch PS31 2A is such a product – a cordless drill/driver with a very affordable price and a top-class performance. When it comes to power tools, there are a few manufacturers that can be compared to Bosch.
This German electronics company is an innovation hub and one of the best-known power tools suppliers. Established in 1886, the company is famous for innovation, research, quality, trustworthiness, and efficiency. The company has been manufacturing durable and high-performing cordless drills for many years. 
As expected, this model is very popular with both amateurs and professionals. The cordless drill driver comes with a set of features that make this power tool victorious over other tools in the market. It is  Lightweight, has variable speed settings, durable lithium-ion batteries included, and produces high torque. And these are just a few of the conveniences that the cordless drill driver brings.
Whether you own a house or weekend warrior DIYer and plan to undertake small applications around the house without spending lots of cash, the Bosch PS31 – 2A 12V Max Lithium-Ion is the perfect drill driver for you. Our verdict is this is the best value 12V Max Lithium-Ion drill around.
Though the drill can't match the drilling and driving ability of the high-end professional-grade applications, it is well capable of providing sufficient power and durability for most ambitious home or DIY projects. In this review of Bosch PS31 – 2A, we will uncover all the features, benefits, and all those things you can know about this powerful and versatile drill driver. 
Who's it for?
Homeowners or contractors that want a power tool that can handle most tasks will feel at ease with the Bosch PS31 – 2A.                                                                                                                                                                               
The manufacturer designed the product for those who don't need a workhorse for their projects. A heavyweight and giant drill will tire you out, but this won't, and at the same time, it is perfect for doing light to medium-range drilling driving applications. DIYers, electricians, and other contractors will like this drill as well, especially those that work with overhead installations.
Technical Specifications of Bosch PS31
Type:

Cordless Drill

Weight

:1.8 pounds

Speed

: 2-Speeds

Torque

: Adjustable 20+1

Battery

: 12V Lithium-ion Battery

Battery Chemistry

:  Lithium-Ion

Battery Voltage (V)

: 12

Battery/Charger

: 1 Hour Charger

Charger

: BC330 – 60 Minute Charger

Chuck Design

: Keyless

Chuck Size

: 3/8 in

Length

: 7.0″
What comes with the package?
Bosch PS31 12V Max 3/8 In. Drill/Driver – 1

12V Max Lithium-Ion 2.0 Ah Batteries – 2

12V Max Charger – 1

Screwdriver Bits – 2

Carrying Bag – 1 
Bosch PS31 2A 12V Lithium-Ion Drill Driver- At a Glance
Bosch PS31 – All Drill Sets

The Bosch ps31 2A   weighs under 2 pounds, making the tool transportable and manageable to work all day long.  

It comes with the speed specification of 2 mode settings. 

It comes with a particular compact head length that is only  7 inches, making it useful for reaching tight areas

and completing hard-to-manoeuvre tasks.

The Bosch ps31 2A equipped with enhanced visibility providing by the integrated LED lights that can support the users in the dark corners

It is equipped with a torque setting of 20 +1 for more delicate and flexible, and precious

Bosch PS31 – All Drill Sets

drilling. 

 It contains a 3/8-inch single-sleeve chuck which useful for 90 % of all applications.

It comes with a comfortable handle that feels very good in the user's hands. The grip fits firm and robust and perfectly to the hands.

The Bosch ps31 2A has Electronic Cell Protection for longer life.
Detailed Features of Bosch PS31
Design
With a weight of only 1.8 pounds and the size of 12.6″ x 9.8″ x 4.2″, the PS31-2A 12V lithium-ion is super easy to use. The compact, lightweight design makes Bosch ps31 perfect for working in tight and hard-to-reach areas. Because of this design, this cordless drill driver is the best for overhead applications.
The 7-inch head length allows for manoeuvring the drill in challenging corners. Moreover, you will not feel any strain in your hands or feel tired after a long time of drilling activities.
The grip handle is soft, comfortable, and fits effortlessly. From the grips, you can easily reach the controls. Many big names in the power tools industry failed to do so. 
It would be best if you did not worry about the durability and life span of this drill. The Bosch ps31 2A has been constructed from Durashield (a blend of Nylon and ABS) and can tackle drops of up to 12 feet.
This lithium-ion drill/driver also comes with a  3/8-inch single sleeve chuck. There is a fuel gauge located on the side of the tool for effortless battery management. The fuel gauge is placed on the side of the tool for easy battery management. 
Durability
After power, durability is one of the first things we consider before purchasing a cordless tool of any kind.
Convenience and portability are the primary two purposes of cordless drills. So, every manufacturer tries to build a cordless drill driver that is compact and lightweight. And they use those materials that will serve the purpose. As a result, metal parts are few and far between because of weight concerns.
That means in cordless drills; you'll deal with plastic housings and chucks in a few cases. So, the tape measure won't do any good to you if the drill breaks after a few months and remain useless from a shortfall if it's cheaply made.
It's one area you should l not worry about if you are dealing with the Bosch PS31-2A. The product is made from a type of plastic but built with Durashield, a unique blend of ABS and Nylon.
These materials add durability to the casing. Moreover,  the tool has survived a test drops up to 12-feet, which is very much impressive, as the model is not an industrial one. Talking about the chuck, it's sturdy but a level up with other drill sets at this price.
Bosch produces a three-jaw chuck with a single-sleeve and no key. The chuck is quick and efficient as it's not built with metal so that it won't hold up as well over time. Also, there is an auto-lock feature, and the chuck accepts bits up to 3/8″ in size, and that size is standard for drills of this size and power.
Power
There is no doubt that small power tools are handy. And the Bosch PS31-2A is undoubtedly compact, and as such, it has sacrificed some horsepower but in a great deal. It still enough for doing indoor and many professional drilling driving applications. 
It has a top speed of 1300 RPM, and that is enough power to drive or remove small to large screws and drill medium to big holes just like the rest of the pack. The torque is higher than you can expect at 265 in/lbs from such a light and small cordless drill driver kit. 
You will notice a drop-off if you had been using a higher-powered drill, so you should know your needs well. But, we can assure you that if your needs are not as high as an industrial drill driver kit, then the horsepower that bosch PS31-2A brings will be sufficient for you. 
Moreover, you'll get 20+1 clutch settings so that you can tweak the torque as per the operation needs. This drill has two speeds with 0-350 RPM and 0-1300 RPM. You can make accurate torque adjustments for precious screw-driving and drilling. Besides, you can enjoy the tool's soft grip, and you can optimize your grip while drilling.
High-Performance Motor and Grip
The new Bosch PS31 – 2A 12V Max Drill/Driver comes with a high-performance frameless motor that lessens the head length even more from their first-generation tool. The motor is still equipped with all-metal gears set inside an aluminum housing.
If you look at earlier tools, what tweaks they have made is that Bosch has pulled back the clutch even further. As a result of this change, the grip sits atop the integrated LED light rather than in front of it.
The handle angle has aligned to the new design, and the drill indeed feels balanced in hand. Do not tip forward or back during the operation.
Bits go in and out effortlessly, and we also liked the easy-grip provided by the chuck. However, this could get slippery if your hands were sweaty or wet. We suggest you wear hand gloves to be on the safer side. Again, the variable speed trigger allows ample control. We got a positive outcome. 
Ease of Use
One significant advantage that the drill is that how effortless it is to use. The Bosch PS31 – 2A measures only 7" x 2.5" front to back, so it won't occupy much space in your bag and only weighs 1.8 pounds.
A Lightweight drill is always more comfortable during excessive use, and cordless drills are even a great choice when weight is your concern. The Bosch PS31 – 2A comes with a slim figure and uses a narrow battery that slides into the handle and never protrudes.  And as it isn't the most potent compact drill driver, your hands and arms will remain fresh even after using for an extended period.
The pistol grip handle is very much soft where it counts, and the large trigger of this drill confirms you won't miss your mark. Moreover, there is an integrated LED light to help by illuminating your work area.
Controls are straightforward to reach on this bosch PS31 2A as well. The reverse button is placed on the side next to rest your thumb while working. The torque ring is located behind the chuck, and you can control the speeds with a switch up top.
Lithium-Ion Battery with Extended Battery Life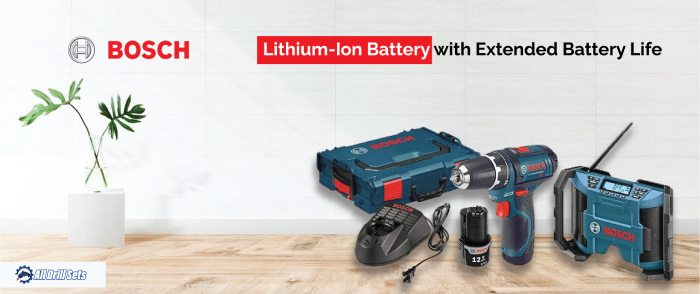 The battery life is excellent given the power it generates and the compact size of the tool. So, you don't need to run to the charger every hour. Because of the motor's size and the fact this drill is a 12V cordless drill, it's designed for regular use. So, battery life won't be a concern.
The package comes with two Lithium-ion batteries; both are rated at 2.0 Ah. You also can replace the batteries by spending some extra bucks. which is par for the course on cordless models.
As it is a  power tool, how long the battery will last depends on the type of applications you perform with your drill. More demanding and challenging tasks will demand more power, and light jobs will require less. But do not worry, the battery recharges in just under 30 minutes. 
Integrated LED Light for Improved Visibility
With a small cordless drill/driver, you can nearly everywhere, but what if the place does not have enough light or you prefer working at night? In that case, the compact size and less weight aren't going to help you. Therefore, the Bosch PS31 2A comes with integrated LED light to help you work in a low light situation or at night. 
The LED brightens dark corners and low-light areas and confirms that your visibility is never compromised. In addition to providing illumination, this cordless drill driver is also got Bosch's Electronic Cell Protection (EPC), which extends the run time and lifespan of the tool.
Contractor Bag
The tool arrives in a well-protected retail box with a contractor bag inside. The zippered case that brings the tool is just large enough to store your tool, batteries, and the included charger within. The tool and other accessories will stay secure under flexible straps, and the bag has a hook & loop strap for the PS31-2A Drill/Driver. The case has sufficient space to keep everything inside and won't allow placing the tool inside if loaded with any sort of bit. 
Affordable Pricing
Another important thing that makes this Bosch PS31 2A 12V max very popular is its cost-effective price. The cordless drill driver is a true testimony that you can get a valuable and dependable power tool at affordable pricing. 
It offers sufficient value for its price given that the charger, 2 Li-ion batteries, the drill driver kit, and the contractor bag come with the package for the price.
Warranty Information
Bosch's Pro-Vantage warranty backs the Bosch PS31 2A 12-volt max Cordless drill/driver. In the first year, you will get a tool replacement guarantee, and in the second and third years, you will get the free tool repair pledge. The tool will get a warranty for three years and the batteries for two years. This warranty protocol does not cover part failure due to normal wear or tool abuse. So, keep your purchase record to claim the warranty.
30-day money-back guarantee- If any user is not completely satisfied with the performance of this Bosch PS31 2A for any reason, he/she can return the tool within 30 days from the date of purchase with a receipt and receive a full refund – no questions asked.
Therefore, you can purchase this PS31  without having any doubt on your mind. 
Pros and Cons of The Bosch PS31 2A 12V Max Cordless Drill/Driver
What Do Users Say on Bosch PS31 Cordless Drill Driver?
People post their reviews and rate products according to their positive and negative experiences with that product. If that is the case, you can trust Bosch PS31 2A more than many other drill driver tools.
Because this product has more than 2 thousand reviews on Amazon, and most of them are positive. It has 4.8 ratings on a scale of 5.
Many users have upgraded their existing drill driver with this product, and many switched to this product from a different brand. Users loved the compact, lightweight design, powerful high-performance motor, and long-lasting battery life.
Besides, the low price is always an additional benefit that most users love to have. 
Frequently Asked Questions
Are Bosch Ps31 Cordless drills any good?
The Bosch PS31 2A is a reliable drill that comes with a decent amount of power and an ergonomic design. The package contains two lithium-ion batteries, which last for a long time, and you can charge a battery in just 30 minutes. After completing the charge, you can use them for a long time. 
Bosch is a renowned multinational company, and the company is famous for its research and cutting-edge innovative products. As an electronic company, Bosch has earned a reputation many other companies only can dream of. Therefore, you can purchase Bosch cordless drills without any doubt in your mind. Moreover, they backed their products with a 1-year replacement warranty, 3-year service, and 30 days money-back guarantee.
Are the motors of Bosch PS31 2A 12V Max combo kit tools brushless?

 
No, the motor is not brushless, but the motor is powerful enough to perform a wide range of applications. This is a mid-range priced cordless drill driver, and tools with a brushless motor are expensive. So, if you are looking for a tool with a brushless motor, be prepared to spend extra bucks from your pocket.
But if you are an amateur or weekend DIY enthusiast and the applications you will perform primarily with household works; you do not need a brushless motor. Bosch PS31 comes with a motor that is powerful enough for light to mid-range drilling projects. 
Can I drill through concrete with this drill?
 Yes, you can but bear in mind that this drill is not designed to drill into concrete. In fact, if you are planning on working more with concrete, you must need a hammer drill. Because if you drill in concrete more often or do extensive work without a hammer drill, your drill will be in danger. Your drill will overheat, and as a result, the motor will stop working. 
The Bosch PS31 may work fine on a plain concrete surface, and you can dig small holes with it. But if you need larger holes and more frequent use, we advise you not to use them and purchase a hammer drill. 
What kind of warranty can I have with this 12v max drill driver kit? 
This cordless drill driver is qualified for the FREE 3 Year Pro-Vantage Tool Protection Program by Bosch. If a customer registers in the ProVantage Program, he/she will receive 3-year tool protection (First-year replacement and year 2 & 3-year free tool repair) warranty. Moreover, a two-year battery replacement and a one-year standard warranty for the charger are available.  
What type of case does this kit come with?
The product comes with a soft nylon zipper case with elastic and velcro fastening to hold the drill, extra battery, and the charger in place. The case has enough space to accommodate a few other small accessories as well.
Can I drill 2-inch 3/8 holes in a table with this drill?
Yes, you can. But you have to be patient while doing this. Drill slowly and carefully. 
Can I drill a hole in a metal door with this drill?
Yes, the Bosch PS31 2A can drill a hole in a metal door with the correct speed and blade used.
Can Cordless drill get wet?
Never expose your cordless drill to rain or any kind of water source. If water goes into the cordless drill, that will increase the chance of electric shock. Keep your Bosch PS31 out of water. 
Is this a drill or impact driver?
This is a compact drill driver, not an impact driver. 
What are the speed settings of this tool?
The PS31 2A has 2 gears and RPM ratings of 0-350 and 0-1,300 PRM. The trigger is variable speed.
Conclusion
This a small and slim product, but it is powerful when it comes to screws. That means the Bosch PS31 – 2A is very good for contractors or consumers looking to do light to medium-duty works.
The Bosch PS31 2A cordless drill driver is 22% more compact, has 25% more max torque, and is 15% faster. It has fuel placed on the side of the tool, and you will easily monitor battery life. The first speed RPM ranges from 0 to 350. The second speed of RPM ranges from 0 to 1,300. The max torque of this drill is 265-inches-per-pounds. Bosch PS31  measures 7-inches in length and weighs only 1.8-pounds. 
 With this product, you will get two batteries with this package, two screwdriver bits, and a spacious contractor bag.
We've described what you can expect from the Bosch PS31-2A and how the product will be beneficial for you. Bosch has manufactured great tools for years and has not been disappointed with the Bosch PS31 – 2A. 
This is the best cordless compact drill driver at a very affordable price. If you are searching for a drill driver for DIYs or even for professional reasons, we highly recommend Bosch PS31 2A 12V Max.