Milwaukee tools manufacturer company, one of the best tools manufacturers in the world has lots of modern and updated popular tools.
If you are interested in power tools, the chances are high that you may have heard the name "Milwaukee." Even if you are not a DYI enthusiastic contractor or in the construction business, you may have heard the word.
The Milwaukee Electric Tool Corporation is a well-established brand that develops, manufactures, and markets power tools.
Since the inauguration of the company in 1924, Milwaukee Tool has been leading the industry by developing innovative solutions that increase productivity and provide durability for professional construction users. The company has invented some groundbreaking products such as M12™ and M18™ cordless systems or M12 and M18 FUEL™ product lines.
Milwaukee also delivers lighting for job sites, time-saving accessories, and innovative hand tools and storage products. Milwaukee is dedicated to manufacturing a continuous flow of advanced, application-specific solutions.
Milwaukee has been working side-by-side with professionals to understand the demands of the ever-changing workplace. The brand is committed to producing the best solutions for safer, more productive job sites. Milwaukee tools manufacturer is not only a power tools manufacturer – they are but also progressive problem solvers.
Milwaukee Tools Company History
Milwaukee Tool (The Milwaukee Electric Tool Corporation) started its journey as an American power tool producer in 1924. The company was built in 1924 in Milwaukee, Wisconsin. Milwaukee Electric Tool Corporation has a rich history of manufacturing power tools in America for professional purposes. 
In the  1930s, Milwaukee gained an equipment specification rating from the federal government and started manufacturing tools to the U.S. Navy standard of equipment. The company developed its sanders, polishers, electric hammers, and hand grinders too.
After that, Milwaukee Electric Tool Corporation brought their next groundbreaking innovation of handheld 3/4 inch electric hammer drill, which is also capable of acting as a standard drill. After getting huge market success with the new 3/4 inch hammer drill, the power tool innovator introduced a shorter, lighter, and more manageable hammer drill and changed the power tool industry's direction. 
The ownership of the company has changed several times. In 1975 Amstar bought the company and sold it to Merrill Lynch in 1986. In 1995 Atlas Copco purchased the company. Since 2005, Milwaukee tool has operated as a subsidiary of Techtronic Industries (TTI), a Hong Kong company founded in 1985.
TTI brands occupied RIDGID, AEG, Ryobi (licensed), Hart Tools, Empire, Hoover, Dirt Devil, Oreck, and others. You might have known, Milwaukee Tool produces both corded and cordless power tools. They also manufacture hand tools and accessories like saw blades and drill/driver bits.
In 1918, Milwaukee Tool launched its comparatively lightweight Hole-Shooter, which was, in their terms, "the first lightweight, portable, one-handed 1/4-inch capacity drill". The company then expanded more in the 1930s and through World War II, producing and delivering tools to the U.S. Navy standard.
Milwaukee Tool has always maintained a reputation for quality, and building tools for the U.S. Navy definitely helped them build up this reputation. 
In 1951 the company achieved another benchmark by introducing the Sawzall reciprocating saw. And in recent times, in 2005, the company delivered another game-changer in the power tool industry – lithium-ion batteries.
Milwaukee even holds several essential patents in that field. The revolutionary invention was followed by some other technological achievements like Milwaukee One-Key, which is a technology of connecting the devices using Bluetooth.
Milwaukee tools have most recently moved into the area of cordless power equipment with its MX FUEL line of battery-powered tools.
Milwaukee's Number of Employees
The company is full of dedicated and innovative people. Passionate and highly skilled people in the engineering sectors are working day and night to produce groundbreaking products. 
Currently (2021), more than 1,400 people are working just in the United States of America for Milwaukee Electric Tool Corporation. In 2020 Milwaukee Tool made a new investment of more than $100 million into its West Bend, Wisconsin facility and others and created 350 new jobs in the USA. Besides, the parent company of Milwaukee TTI has more than 22,000 employees all over the world.
Parent Company Behind Milwaukee Tools Manufacturer
The parent company behind Milwaukee Tool is Techtronic Industries (TTI). The company owned Milwaukee in 2005. TTI was founded in Hong Kong in 1985; the company includes the following brands: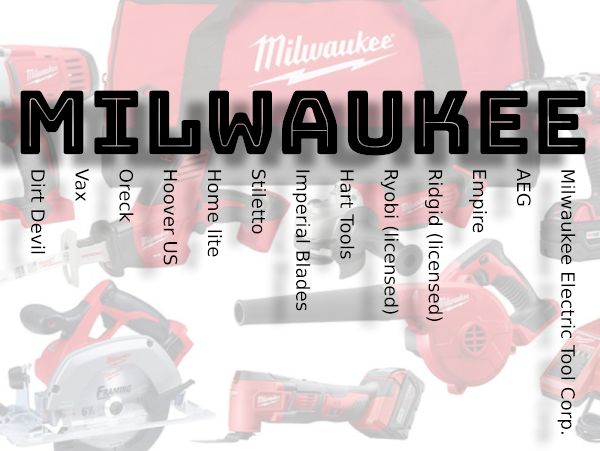 Milwaukee Electric Tool Corp.

AEG

Empire

Ridgid (licensed)

Ryobi (licensed)

Hart Tools

Imperial Blades

Stiletto

Home lite

Hoover US

Oreck

Vax

Dirt Devil
TTI develops, manufactures, and markets everything from power tools and outdoor power equipment. The company also delivers layout tools,  measurement tools, appliances, and even floor care products. Tradespeople, industrial users, home users, everybody uses TTI products. Construction, maintenance, and industrial markets use TTI products a lot. In Hongkong, TTI is one of the top companies developing and distributing various power tools and home appliances worldwide. 
Cordless Revolution by Milwaukee Tools
Robust Ecosystem Within Cordless Tools
At first, Milwaukee started to develop a unique ecosystem within its cordless Milwaukee tools. They planned to produce more dynamic products consisting of battery pack technology, motors, and tool electronics. To achieve that goal, the company gathered the very best team of engineers and industrial designers to give these different components of life within solutions that would change their users' lives.
Lithium-Ion Batteries
The battery was a significant barrier for cordless Milwaukee tools. Without a suitable power source, no power work is possible. That's why the company made the strategic decision to design, develop, and manufacture their own battery packs and motors in-house. At the same time, they have been investing in electrical engineering resources to design and develop leadership in electronic capabilities. They were on the verge of creating something that will change the industry forever.
Game-Changing Cordless System
After developing their own battery completing the improvement tasks, the company set out to change their users' lives by pairing this technology. Milwaukee tools then introduced the M18™ and M12™ Cordless Systems and committed to its users that they will continue to deliver such products from now on.
They also promised they would continue to invest in new technology so that their users never have to change platforms – Milwaukee would never leave its users behind.
Tougher Accessories
The advancement in power tool speed and power brought more significant stress upon the accessories placed in the Jobsite in the form of impact, heat, or other forces. Because of this stress, the accessories started to lose their durability resulting in a shorter life span.
The company then started its new project of developing accessories that can sustain under such impact, pressure, and heat. As a result, the accessories division of Milwaukee tools developed the industry's first technologically advanced accessories that can support such stress and work with Milwaukee's cutting-edge cordless solution. 
Milwaukee Tools One-Key
This one is an exceptional innovation from the Milwaukee tools manufacturer. With this feature, you can control the speed and other features of Milwaukee tools. Though the concept is not unique, and many other top brands use this technology, One-Key offers far more sophistication, maturity, integration, and features than other brands. The one-key app is free, and you can download it from the play store. 
You can connect to your tool via Bluetooth and manually set RPM, Torque Output, and other tool built-in features. You can customize every button with your own custom settings. Sometimes you have to guess how much power you should provide for a task, but one-key, the guessing period is over.
You can try and match manufacturer recommendations on fasteners, no-hub couplers, assembly, and other applications. Just set the exact rating for the tool and use it without any doubt in your mind. 
One-Key Connect allows you to set the power and speed of M18 FUEL™ and entirely configure your tools in your Jobsite. Using ONE-KEY™, you can wirelessly sync with your drills and impacts and program custom speed and torque settings inside the tool's memory. The advanced electronic system of the tools will take of your setting, 
Milwaukee Products
Milwaukee tool is committed to manufacturing tools for professional contractors, merchants, and serious DIYers. Milwaukee does not produce tools only but also has blades and bits, hole saws, and special fasteners.
Milwaukee Tool has produced over 200 tools in its M18 line alone. Also, another 100 or more under the M12 (12V) line. And, there is their newest MX FUEL line of cordless power equipment from their well-regarded corded power tools. Let's 
Before we start talking about their tools, let see the category of devices that Milwaukee delivers.
Power Tools

MX FUEL™ Equipment

Batteries and Chargers

Site Lighting

Outdoor Power Equipment

Instruments

Hand Tools

Storage

Jobsite Apparel

Accessories

Safety Solutions

ONE-KEY
Milwaukee General Tool Reputation
Milwaukee faced some trouble down the road, but the company kicked off again after manufacturing lithium-ion power tools. They started their new journey heavily in 2008—things started to change very quickly. The Power tool giant exploded into the market with industry-changing M18 Lithium-ion batteries—followed soon after their M12 line.
Soon they started bringing trade-focused tools like copper cutters into the market. Soon, other brands found themselves behind Milwaukee tools.
Milwaukee Brushless Tools And Technology
Milwaukee introduced brushless technology before some of its rival power tool manufacturers. These motors are very popular because tools with a brushless motor need less or no maintenance and a longer lifespan than a brushed equivalent. As a result, it saves time, money, and effort. Any tool with a brushless motor performs better and is more efficient.
It functions properly, does not overheat like other types of motor.
Among Milwaukee tools, brushless motors deliver extra power as a result of their small energy-reducing limits compared to brushed ones. This brushless motor equally gives you extra run-time and needs marginal numbers of battery charging cycles.
Now add those benefits with two lithium-ion batteries supplied with a brushless -drill driver, and you will get a powerful tool that can complete more challenging tasks in a shorter time effortlessly.
Milwaukee tools- Combo Kits
Milwaukee offers a wide range of combined kits for traders, contractors, and serious DIYers to perform regular building and construction applications. According to your needs – drilling wood or concrete, fastening, cutting wood or metal, lighting, demolition – Milwaukee brought a high-performance cordless solution.
You can get Milwaukee tools for various uses powered by the same battery and charger packs. This way, you can save money by not purchasing individual Milwaukee tools. DeWALT has manufactured 73 combo kits so far. Here are some combo kits for drilling and driving purposes. 
Milwaukee offers a variety of combo kits so users can get their favorite Milwaukee tools at affordable prices. Whether users are looking for 2 tools or 15, they can indeed find what they are looking for in a Milwaukee Combo Kit. Both the  M18 and M12 product line delivers more power and run-time than other competitors.
Also, the company is still making its tools lighter and smaller. Milwaukee combo kits bring you the most efficient tools on the market while saving you hundreds of dollars. Some of the best Milwaukee combo kits are
Some Top Combo Kits From Milwaukee Tools Producer
M18  2-Tool Hammer Drill and Impact Driver (2996) 

M18 Fuel 2-Tool Combo Kit (2896-22)

M18 Fuel 2-Tool Combo Kit with one key(2796-22)

M18 Fuel 2-Tool Compact Brushless Hammer Drill/Brushless Impact Driver Combo Kit(2799-22CX)

M12 Cordless Lithium-Ion 3-Tool Combo Kit 
Milwaukee Drills
Milwaukee offers various types of corded and cordless drills capable of meeting every drilling need. Milwaukee delivers drills with variable speed and other essential features in both M18 and M12 product lines. Milwaukee designed every drill to meet the drilling needs for specific tasks and environments.
Milwaukee is best known for its cordless drills(Standard and hammer drills) and impact drivers. The cordless drill and the impact driver accompany each other, and when you are making severe drilling and driving applications, they are necessary for your tool collection.

Nowadays, cordless tools are a bit ahead of their corded counterparts and complete the race's winner by a mile. They deliver power, and the flexible features of their tools are far better than their corded cousins. They come with many capabilities that let you do the job more efficiently and effortlessly.
Some of Milwaukee's  top Drill machines
Milwaukee 2704-20 M18 FUEL Hammer Drill/Driver

Milwaukee 2407-22 M12 3/8 Drill Driver Kit

Milwaukee 2606-22CT M18 1/2″ Drill Driver CP Kit

Milwaukee 2702-20 M18 ½" Compact Brushless Hammer Drill

Milwaukee 2703-22 XC M18 Fuel Brushless Drill/Driver
Milwaukee Impact Drivers
The Milwaukee Impact Drivers are lightweight and powered by lithium-ion batteries. Milwaukee is a record-breaking brand in regards to performance & reliability – especially with the M18 line. Milwaukee impact drivers come in a wide range of sizes that make their tools applicable for various purposes. The build quality is outstanding, and most of them are better tools out there for driving screws. Milwaukee impact drivers come in compact and right-angle models to ensure you always have the right tool for the job.
Best Milwaukee Impact Drivers
Milwaukee 2753-20 M18 Fuel 1/4 Hex Impact Driver

M18 Fuel One-key ¼ Hex Impact Driver 

M12 Sub Compact ¼ Hex Impact Driver 

Milwaukee M18 Fuel Surge Team ¼ Hex Hydraulic Impact Driver 
Awards By Milwaukee Power tools
Innovation is in the DNA of Milwaukee. From the inception of the company, it has been developing new technology, which put them ahead of many other top brands and innovation leaders of the power tool industry.  

One-Key Tool Control technology from Milwaukee Won 2019 Pro Tool Innovation Award. The tool connecting technology from Milwaukee won the award in the Software & Apps section of the cordless power tools category.
Milwaukee Tool 48-22-4218/48-22-4224 18″ & 24″ Fiberglass Bolt Cutters got the best hand tool award in 2020.
The company has achieved many significant awards and has been producing power tools with the best user-friendly mood and cutting-edge technology. 
Customer Service and Support of Milwaukee
Customer service and support are like oxygen to any company. Without helping customer support and assistance, no company can survive in today's world. Customer support and service build up the brand image and people's faith in a company. 
 Since the beginning of the company, it has had an unwavering commitment to its users and respect for its customers. The company has been continuing to innovate better efficiency and productivity, new technological improvements, ergonomics, and tool optimization. The company believes the tools are an investment to the users, and they want to help them protect them. 
The company has a dedicated support team for various categories of its products. You can get 24/7 tool repair or replacement service from their portal or find a service center in your area. Here is the support page of Milwaukee. Visit yourself for a better understanding of customer support and service from Milwaukee. 
Warranty Information Of Milwaukee Tools
All Milwaukee products come with a 12-month warranty from the date of purchase. Besides, Milwaukee offers a three-year extended manufacturer warranty on most of their new tools if the user registers their product online within 30 days of purchase. To avail of the extended warranty procedure, you can check their product registration page. 
However, hire industry tools, rechargeable battery packs, battery chargers, and accessories that come with the tools. 
To register any power tool for an extended warranty, you will have to visit their registration page and provide all the company's information. 
DO NOT forget to print the warranty registration confirmation and keep the document in your file, along with the proof of purchase, as you will need them to claim your warranty. 
Before claiming a warranty for your product, always remembers the followings:  
Warranty will not be valid if unaccredited repairs have been made or attempted with any third party.

Product problem caused by normal wear and tear.

The tool has been abused, misused, or improperly maintained.

Alterations have been made to the tool.
Frequently Asked Questions on Milwaukee Tools
Are Milwaukee Tools Good?
Milwaukee is a USA-based Power tool company that was established in 1924. The company is a legend in the power tool industry and earned this honor by leading the design and development of innovative solutions for the trades for more than 90 years. Milwaukee is specialized in working with real users to understand their needs on the job site.
What kind of Tolls does Milwaukee make?
Milwaukee Tools produces a wide range of innovative power tools, hand tools, and other systems, including pneumatic tools and outdoor equipment.
I heard Milwaukee tools are inadequate because they are manufactured in China. Is it true?
This is an ancient and highly dumb opinion. The world's most famous brand Apple makes its iPhones in China. Do you say iPhones are harmful products? More than 80% of P.C. displays, motherboards and video cards are made in China. Are they dangerous products? China manufactures products to the quality specified by the order maker.
If a china-made product is terrible, the manufacturer cut the budget and told china to produce a lousy product. China has both good and bad products, but the quality depends on the order they relieve. China is capable of producing any quality product. 
Are Milwaukee screwdriver bits better than other bits in the market?
 The answer is not decisive.  Some bits are better, and some are not. You can not say every product built by Milwaukee is better than other brands, but in terms of design and development, they are learning and getting better and better.
Is the BRUSHLESS line of tools worse than FUEL?
The answer is "Yes" and "No." In our opinion, BRUSHLESS was introduced to compete with the low-cost "household" drills and drivers from other top brands, and in our experience, they are just as good. The Brushless line might not have the same power output motors or quality of chucks as the FUEL line, but they are good enough for light to medium contractors or DIYers.
Should I fully charge my batteries of Milwaukee cordless tools before long-term storage?
The recommended depth of charge from Milwaukee is 40% (2 LED Bars on the battery gauge) for long-term (> 6 months) storage.
Are there any ACTIVE electronics inside M12 batteries from Milwaukee?
Milwaukee M12 batteries do have BMS inside. The only component it has is a thermistor for overheat/low temp protection. All battery intelligence stays in the tools and chargers

Bottom Line
We tried to cover company history, dynamics, technology, and products from Milwaukee. We also gave you an overview of history and innovation from one of the power tool industry leaders.  After that, it's all about your own research regarding what kind of tools you are pursuing. Though they are one of the best power tool manufacturers globally, all of their tools are not the best compared to other brands.
They manufacture the best cordless tools, and their drills, impact drivers, and lights are some of the best in the market. Besides, they also produce high-quality hand tools, saw, and lights. Also, they are the inventor of award-winning one-key technology.
If you read the review and look at their product ratings in Amazon or any other online marketplace, you will get a clear conception of their quality. We have reviewed some of their top products. You can also read those. 
Moreover, all tools from Milwaukee come with a 1-year warranty. They also provide an extended 3-year warranty on all of their products if you register online. Very few brands offer this type of facility for their tools. Also, their customer support and service are highly rated. Finally, we can say Milwaukee is a brand you can put your trust in, and they will never let you down. 
Read More Articles About Brushless Drill: