DeWALT DCD996B Review: Purchasing power tools is like making investments. If we want to get equipment that lasts for a long time, we need to buy q
uality products that will do the task smoothly and have an intelligent and practical design. Thankfully we can always rely on DeWALT Drill and their power tools, highly praised by both professionals and amateurs. In this review, we will talk about the DeWALT DCD996B Drill, which makes your tasks more comfortable and promises perfection. 
Cordless power tools like the DeWALT DCD996B 20V Max XR cordless hammer drill are becoming 'standard' in the industrial tool market. More and more power-tool manufacturers inherited the technology of producing battery-powered tools instead of the regular wired ones.
This heavy-duty 3-speed hammer drill driver is the best cordless drill for a lot of jobs. You will find that it works fine and effortlessly finish the job you started in no time. It does not make your tasks comfortable, but it also comes with a long battery life that helps you work for many hours.
What's Inside The Package of DEWALT DCD996B Hammer Drill
As it is a bare tool, it does not come with batteries, a charger, or any other supporting kits that you will get with the complete kit. But it brings all the basic stuff you will need to complete your project. The package includes 
DeWALT DCD996B – 20V MAX XR Cordless 3-Speed Hammer Drill

Belt hook360° 

Side handle
Quick Feature of DeWALT DCD996B 20V Max XR
It comes with a ½ inch chuck, and that is self-tightening. The chuck stays tight throughout the application to provide superior gripping strength

The powerful motor of 820 Watts is perfect for all your drilling and fastening tasks in no time

It comes with a high-efficiency motor which is a significant privilege, so you to finish your jobs faster

The high-efficiency brushless motor of this tool delivers up to 75% more runtime than the brushed counterparts. 

3-Mode LED delivers lighting in dark or tight areas which are 20X brighter than the previous model.

LED Spotlight Mode comes with a 20-minute shutoff function which provides extended work time in low/now light situations or confined spaces.

Battery sold separately

Battery & Charger Sold Separately

The highest initial battery voltage is 20 volts; the Nominal voltage is 18V.
Not only is the DeWALT DCD996B can handle the fastening and drilling applications, but it also comes with a LED work light setup in the front to help you light your working area. When you are working indoor or confined spaces, you might need additional light to enhance visibility. This hammer drill comes with this feature for your convenience.
The brushless 3-speed hammer drill driver toll has a patented 3-speed all-metal transmission technology. This technology prompts you to use this tool in many various kinds of applications. Combining this cutting-edge technology and the high-performance motor allows you to accomplish different types of tasks effortlessly. The speed selector is also straightforward to operate so that your job is not interrupted whenever you need to change the machine settings.
Power tools need to be robust, so don't go for a cheap inferior product to do heavy-duty tasks. Be wise and get this DeWALT DCD996B 20V Max XR hammer drill bare tool or kit, and it could be an excellent investment for your business.
Detailed Features of DeWALT DCD996B 20V MAX XR Hammer Drill
Let's dig a little bit more into the DeWALT DCD996B features.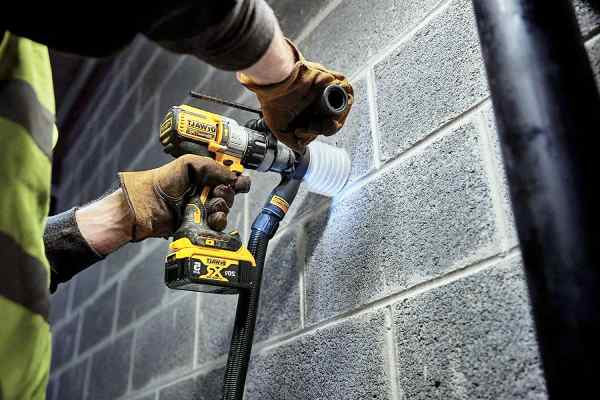 Powerful and Functional
DeWALT DCD996P2 20V MAX XR Lithium-Ion Brushless 3-Speed Hammer Drill delivers a high power rate of 820 UWO or units watts out. If you observe, the other affordable DeWALT brand drills contain lower power ratings; such s at 500 UWO or below. The 820 UWO is a clear indicator that this brushless drill driver is much ahead of other drills from the brand.
Because of its 3 speed settings, this tool can readily perform a wide range of applications. Speed levels of this tool start from 0-450, for mid-range torque speed, is 0-1,300, and 0-2,000 is the highest speed option. This product comes with a variable speed reversible option and the ability to operate in both reverse rotation, forward, and variable speed.
For the user's safety, the forward and reverse operation button also works as a lock-off button and stops users from turning the drill on by accident. Moreover, this brushless drill driver also comes with a brake to ensure that the chuck will stop operating while the trigger switch is set off.
Design of the DeWALT DCD996B Cordless Drill
The DeWALT DCD996B comes with a bright yellow colour for the body. As we said earlier, this power tool is entirely cordless, so say bye-bye e to your corded drills! The grip on the entire body is made of high-quality rubber material. The sides and front body parts contain strong, durable, and rust-resistant metal.
The overall body of this brushless drill driver is utterly resistant to rust. Moreover, the device has sealed switches so that you can quickly press down when required. Besides, the sealed switches and buttons can avoid moisture to prolong the drill's longevity by many years.  
High-Efficiency Powerful Brushless Motor
You can look for the very best when it comes to the power of this outstanding cordless drill driver, DeWALT DCD996B. The high-efficiency brushless motor delivers 75% more runtime compared to the old brushed motor. As a result, this product will allow you to work on larger projects for a more extended period. Buying a  drill that contains brushless power can offer many advantages. A brushless motor allows the tool to be less noisy and more efficient in the tasks. Besides, a power tool with a brushless motor needs minimal maintenance and runs effortlessly for many years. 
Considering the size, this high-efficiency brushless motor's speed and efficiency are adequate for the DCD996 model. This brushless motor's run time will let you work on light and medium-sized projects effortlessly.
Multiple Functionality with Hammer Drill Mode
Compared to other available cordless drills in the market, the DeWALT DCD996B has another vital function—it can also perform as a hammer drill. Therefore, it can complete drilling tasks, perform screwdriver procedures, and do percussion drilling.
This drill driver's hammer drill function comes equipped with a and efficient ratcheting nitro-carburized metal chuck, which is made of heavy-duty metal. The nitro-carburized metal chuck has durable carbide inserts, which delivers users with incredible grip and, obviously, better performance.
We found the ratcheting nitro-carburized chucks of this power tool very effective because it provided us with the efficiency and durability needed for projects.
3 Speed Transmission
All users will love about this brushless drill driver is the 3-speed transmission feature of this model. The transmissions are relatively straightforward to make. As a result, you can go from one setting to another with a simple flick of a button.
The fast transmission permits you to make the tool effective for quick applications. This also provides a better runtime, and you can complete the task in half time.
The best thing about the transmission setting is that the operation is very smooth to make. Hence the machine won't bother you while working. You can set the speed at 400, 1300, or a maximum of 2000 RPM anytime you want. The transmission piece is also solely made of metal, which will ensure zero shaking while working.
For more significant twist bits and metals, if you are working with a speed of around 400 to 1,000 RPMs, you will get amazingly smooth results.
This quick and easy to operate transmission allows this drill driver to work efficiently and effortlessly on masonry materials. With DeWALT DCD996B 20V Max XR, you can work at a speed of 38,250 BPM in the hammer drill mode. 
As the speed selection on this drill is pretty smooth and easy, so you can continue working without wasting your time tweaking the settings after a while.
11 Clutch Settings
The DeWALT DCD996B comes with 11 different clutch settings. As you may probably know, these clutch settings allow you to select from 11 different torque amounts for your choice and type of work. The number 11 here is the highest torque amount, and as you guessed, 1 delivers the lowest. This high number of clutch settings shows the proof and strength of this drill.
From our perception, this 11 different clutch setting is just perfect because it allows users with additional torque power that a user really wants. The drill is compact by size, and the clutch settings make it more compact and user-friendly. 
The clutch setting of a drill should be of high quality because it is the primary key that allows users to control how much depth they require from the fastener you're driving.
People typically use a good quality drill with moderate clutch settings as it allows them to drive screws into walls while performing an interior decoration. And the DCD996B comes with a good quality drill with high-performing and flexible clutch settings. 
3 LED Spotlight Mode
The DeWALT DCD996B comes with a better-LED spotlight mode than its predecessor. Unlike the previous model, this DeWALT DCD996B is designed with 3 different LED mode settings. This LED feature is really is very helpful for those who prefer working at night.
The 3 LED modes are flashes and sustain for an extended period of time and provide a clear and uninterrupted view of the working area. The tool comes with 3 different LED modes, starting from low and then medium to a bright spotlight mode. The three modes illuminate enough to work in any kind of low light or no-light situation. The LED spotlight mode features a 20-minute shutoff function.
Of the three modes of the LED spotlight more, the 1st and 2nd mode sustains for about 20 seconds after you turn it on, and the last mode can run for over 15 minutes at a stretch!
3600 Side Handle
The DeWALT DCD996B bare tool comes with a 3600 side handle. The side handle is straightforward to hold onto and provides you with a nice and tight grip when working with high torque power. You should always hold onto the side handle if you are going over a torque power of 3. Besides, the side handle is very quickly rotatable in a 360-degree direction.
You can turn and move the side handle that comes with this model at any angle or direction as you require. It is a convenient add-on to this tool, especially if you are dealing with heavy-duty masonry drilling applications.
Lithium-Ion Batteries (Does not come with the Bare tool)
The drill is run with lithium-ion technology, and it is supported by a wide range of options for batteries. Lithium-ion batteries are beneficial in many aspects—using this kind of battery means there will be no self-discharge as well as zero memory.
As it is a bare tool, so it does not comes with a battery with the package. But the model is powered up with Lithium-Ion batteries working at 20 Volts. The capacity of the batteries is sufficient and will work effortlessly for more extensive projects the day long. 
Innovative and Durable
The materials used for this kit and the construction process both are topnotch. The tool contains a pure metal transmission and a nitro-carburized ratcheting metal chuck. Moreover, the chuck is keyless, which means changing the bits from this chuck is easier and faster for all users.
The brushless motor of this tool is another advantage. Because of this brushless motor, the device doesn't become hot compared to regular brushed ones. As there is no excess heat is involved during the operation, the drill has an extended lifespan. Moreover, for a brushless motor, this drill is also power efficient. 
Innovative design, cutting-edge technology, and high-efficiency brushless motor made this drill driver an innovative and durable drilling driving machine than any other tool in the market.
Useful Belt Hook
The unit comes with a belt hook which makes the drill effortless to carry around with you. You can fasten the belt to either side of the unit for the right or left-handed users' convenience.
Warranty Information
DeWALT offers a 3-year limited warranty for this product. The company will repair, free of charge, any defects due to faulty materials or artistry for 3 years from the date of purchase. This warranty protocol does not cover part failure due to normal wear or tool abuse. So, keep your purchase record to claim the warranty. There are more… 
1 YEAR FREE SERVICE – The company will maintain the drill driver and replace worn parts caused by regular use. This service is free, any time during the first year after purchase.
90 DAY MONEY BACK GUARANTEE – If any user is not completely satisfied with this DeWALT tool's performance for any reason, he/she can return the product within 90 days from the date when you purchased with a receipt for a full refund – no questions asked.
Therefore, you can purchase this DeWALT DCD996B with a piece in your mind. 
Customers FeedBack
DeWALT DCD996V 20V MAX XR lithium-ion is one of the best-selling drill drives on Amazon. The product has an amusing 4.8 stars out of 5. The product achieved more than 3 thousands users ratings. We have reviewed many customer reviews, and most of them were positive. Many users have upgraded their earlier DeWALT drill with this one, and many switched to this product from a different brand. Many users praised the strength of the hammer drill and the perfection of the impact driver.
Popular Comparison
Dewalt DCD996 vs. DeWALT DCD991
The DeWALT DCD991 and DeWALT DCD996 are almost the same tools, but DeWALT DCD991 does not come with the hammer drill functionality.
Dewalt DCD996B with DCD777C2
The DeWALT DCD777C2 comes with a lower amount of power compared to the DCD996 model. If you want much power for specific heavier applications which require a quick fix, just stay with the DCD996B. The DeWALT DCD777C2  provides a more extensive option for its clutch at 15 compared with the DCD996B's  11 clutch settings, but with the other facilities and opportunities, we recommend you to go with DCD996B.
DCD996B with DCD791D2
Both of these models deliver nearly the same array of features. Both the drill driver delivers well, from the high-efficiency brushless motor down to a top-quality metal chuck. DCD791D2 can not perform as a hammer drill, but this model is quite a good performer as a hammer drill.  However, there is another difference in terms of battery life. The DCD791D2 has better battery life compared to this model.
DCD996B with DCD950KX
This tool has many similarities with the DCD950KX. Both tools come with a 3-speed metal transmission for faster application speed and increased operating times. Both also come with LED lights for better visibility in compact spaces. However, one crucial difference is that this model has a self-tightening chuck that constricts during use for a more secure grip.
Frequently Asked Questions (FAQ)
What Is The Difference Between DCD996 And DCD996B?
The answer is quite simple. In DCD996B – B stands for 'Bare-tool'. There are 3 items in this package DCD996 – 20V MAX XR Cordless 3-Speed Hammer Drill, Belt hook, and 360° Side handle. There is no battery, charger, or kit bag included in this package. But, if you purchase DCD996, you will get all the necessary stuff. You can purchase the charger and battery separately if you need them. But if you already own another DeWALT drill driver and got batteries and a charger, there is no need to spend extra money on those items. This bare tool package is more affordable and saves some money for you. 
What Is The Difference Between Dewalt 20V Max And Max XR?
The main difference is the 20v XR tools come with brushless motors, while the standard 20v max tools contain brushed motors. A brushless motor delivers up to 57% more run time than a brushed motor and is much more energy-efficient, and generates less heat. Moreover, brushless motors bring extended run time/battery life. Again, another crucial feature varies depending on the type of the tool; the XR impact driver (Like DeWALT DCD996B Drill) comes with 3-speed settings along with the variable speed trigger that comes on the standard. Again, the XR reciprocating saw comes with a LED light, whereas the standard one does not. Moreover, the XR line has "upgraded ergonomics" on the grips. Therefore, the difference is not only with the batteries but also other features of the tool. 
What Is The Best DeWALT 20 Volt Battery?
DeWALT Max Lithium-ion batteries are a family of rechargeable types of batteries. All Lithium-ion batteries from DeWALT come with quality energy density and no reminiscence impact. These batteries have a slow loss of rate when idle and last for a long time. DeWALT batteries come with a good memory, adding to their life. For DCD996B, our top pick is DeWALT 20V Max XR Compact Lithium-Ion Battery Pack 6.0 DCB206. Here are the features of this battery 
One hour fast charging

3-LED fuel gauge system for the instant state of charge display

Delivers optimum productivity, which reduces downtime

Backed by DeWALT 3-year warranty
What Is The Difference Between A Hammer Drill And A Drill With Hammer Settings?
If you can find the word "hammer" in the drill description, you are dealing with a hammer drill. On the other hand, the "hammer setting" is designed to use a masonry drill bit when you are drilling into concrete or bricks. When using a conventional drill bit and drilling into standard surfaces, the hammer setting will be inactive. The thing to remember, it's not a matter of which one is  "too powerful," but a point of being pounding on a surface unnecessarily where beating is not benefiting you. The hammer setting stays unused unless drilling with a masonry bit.
What Is The Largest Drill Will This Drill Accept?
This tool is excellent for light concrete drilling applications but not for anything larger than 1/2″ or more profound than 1″.If you are planning on drilling a larger and deeper hole, then we suggest not using this one. 
Does The Product Come With A Battery? 
No, it does not. As a bare tool package, It comes with the tool only (We have listed the kits). You can use any of the DeWALT 20 Volt batteries to operate the tool.
Will An 18 Volt Battery Work On This Tool?
No, you can not use 18 Volt batteries in the 20 Volt tool. However, DeWALT makes an adapter to use a 20 Volt battery in 18 Volt tools. 
Is There An Overloaded Reset In This Drill?
Yes, according to the DeWALT manual, these DCD996B LI-ion too comes with an overload protection system that can protect the battery pack. The tool will turn off if itself if the Electronic Protection System engages. If this happens, fully charge the li-ion batteries. 
Is DeWALT DCD996B Worth it?
The DeWALT is a very famous and respectable brand power tools manufacturing brand. Both new users and pros use DeWALT drill drivers for various applications. The company's screwdrivers are more contemporary than Milwaukee and  Bosch but cheaper. Besides, DeWALT DCD996B cordless drill is lighter than Bosch cordless drills. 
DeWALT drills are designed with an exceptional power-to-weight ratio and feature better permanence. In short, DeWALT DCD996B provides dependable brushless cordless drills which you can adapt to the job site situation when you carefully use them.  Check out the review on DeWALT DCK483D2 20V MAX XR Brushless Combo Kit. 
Final Thoughts on DeWALT DCD996B Drill
The need for cordless power tools is increasing day by day. As the demand is rising, more and more various models are releasing. Every product tells that they will provide excellent performance, but very few keep their promises. So, watch out for the perfect one that you should get. Otherwise, you'll be wasting your money on inferior devices.
If you want to finish your job in a reasonable time, the speed and a better run time of the DeWALT DCD996B tool will be quite handy for you.
DeWALT DCD996B  efficiently performs a wide range of applications. It comes with an excellent handle which makes the product much easier and more comfortable to handle. Add the power of the brushless motor, the strength of the 20 Volt battery, hammer drill settings; you have the drill of your dream at your hand.  
Cordless is the latest and most convenient way to go, and if you are searching for a hammer drill that delivers and gets the job done effortlessly in no time, the DeWALT DCD996B is the drill for you.