DeWALT Power Tools Manufacturer: Company Review
DeWALT power tools are the most popular, reliable, and best-performing tools in the world. It's an American power tool manufacturing brand that is leading all over the world. Let's gradually reveal ins and outs of the journey to be the DeWALT, a world-famous brand.
Whether you're a builder, crafter, or weekend DIY enthusiast, chances are you may have heard the name DeWALT. Even if you are none of the above, you probably may have heard the word. DeWalt is one of the most respected brands in the power tool industry.
DeWALT is an American company and worldwide brand of power tools and hand tools for the construction, manufacturing, and woodworking industries.
DeWALT is a leading industrial power tools manufacturer named DeWALT power tools with more than 300 power tools and equipment products. The company also produced as well as 800 power tool accessories.
The tools the company manufactures include corded and cordless drills, saws, hammers, grinders, routers, planers, plate joiners, sanders, lasers, generators, compressors, and nailers,  blades, metal, and masonry drill bits, abrasives, screw driving accessories, and more.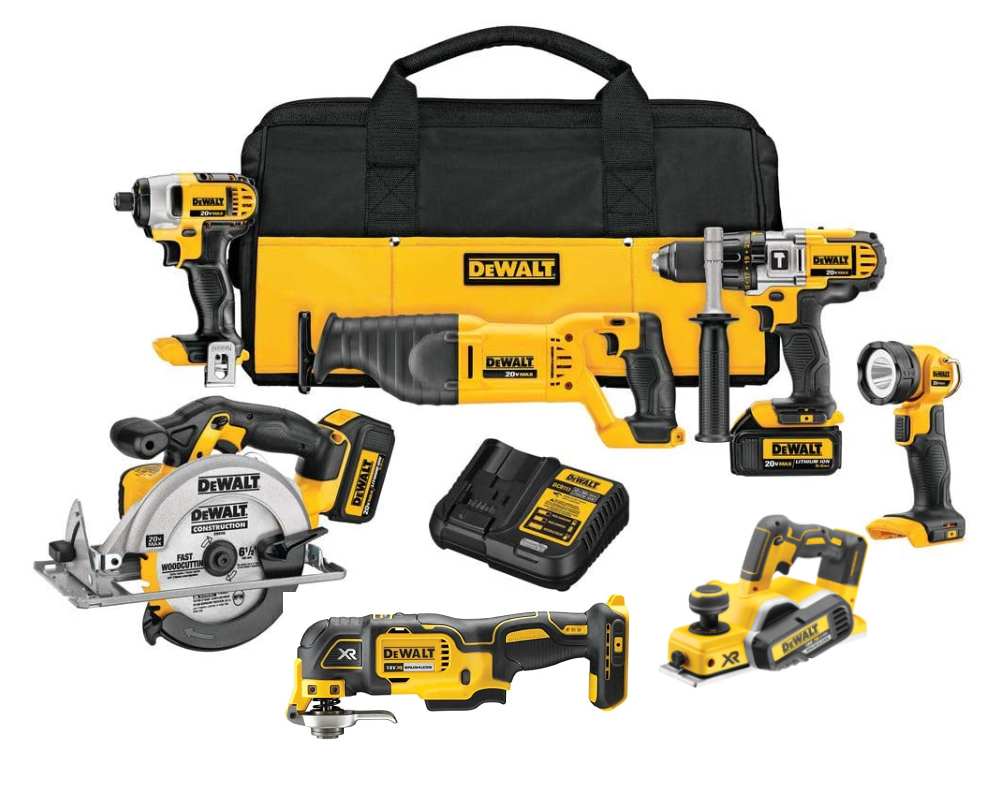 You can find DeWALT power tools in any physical or online marketplaces wherever tools are sold, nationally and internationally. The company owns more than 1,000 factories and authorized locations. DeWALT manufactures its products in the United States, Mexico, Brazil, China, Italy, the United Kingdom, and the Czech Republic.
Besides, DeWALT has one of the most extensive services and repair networks for DeWALT power tools in North America.
History of DeWALT, Producer of DeWALT Power Tools

It all started in 1922 by Raymond E. DeWALT, the inventor of the radial arm saw. He perfected the woodworking machine that increased productivity and versatility.
After 2 years in 1924, DeWALT  Company was formed with a plant and offices in Leola, Pennsylvania, USA. The product they produced then was an electric universal woodworking machine; they called it the DeWALT "Wonder-Worker," and the tool could be configured in 9 different ways. In 1929 DeWALT Products Co. built a new plant and office building in Lancaster, Pennsylvania.
The company multiplied with its outstanding products and customer support. In 1949 American Machine & Foundry Co., Inc. bought the company and sold it to  Black & Decker in 1960. 
In 1992, Black & Decker began a new effort to rebrand its executive quality and high-end power tools to DeWALT. In 1994, DeWALT occupied the German woodworking power tool producer ELU. DeWALT increased its line of tools using ELU's technology. 
DeWALT is now a famous brand of power tools known as DeWALT power tools for professional contractors and DIYers. In 2004, Black and Decker also bought rival power tool manufacturer Porter-Cable and merged it with DeWALT in Jackson, Tennessee.
In 2011, DeWALT introduced a line of contractors' hand tools (including utility knives, pliers, adjustable wrenches, tape measures, saws, and hammers). In 2013, the company expanded the line to include mechanics' tools (wrenches, ratchets, and sockets).
In December 2013, the DeWALT power tools manufacturer published a press release stating that the company will bring assembled products to the United States using globally manufactured parts from Brazil, China, the Czech Republic, Italy, Mexico, the United Kingdom the United States. 
In 2016, DeWALT launched the industry's first FlexVolt hybrid voltage battery pack. And In May 2018, DeWALT released a line of 20 V and 40 V cordless lawnmowers.
The company has produced more than 200 different power tools and 800 accessories so far and counting. Innovative technology, user-friendly, long-lasting, durable products, and excellent customer support made DeWALT contractors and DIYers their most favorite DeWALT power tool manufacturing brand. 
Innovative Technologies of DeWALT Power Tools 
DeWALT power tools are famous for their innovation and the use of cutting-edge technology. Here are some of the technologies developed by this power tools manufacturer company. 
FLEXVOLT® BATTERY SYSTEM
This is a single battery system featuring exceptional power and runtime to get the most out of your power tools. This patented technology of DeWALT determines the voltage of the tool automatically and switches voltage according to the tool.
The 20/60 Max Flexvolt batteries can power 200 plus products across 20V Max and 60V Max systems. From this, FLEXVOLT technology can do the following benefits to your tools.
Maximize power: You can get maximum capacity through 60Max Flexvolt batteries from your 20V/60V power tools. Moreover, you will get more efficiency with these FlexVolt batteries. 
Maximize Runtime: You can boost productivity with extended runtime by using this 20/60 in your 20V Max tools.  
 

JOBSITE WIFI ACCESS POINT
DeWALT has been producing Guaranteed Tough products with the latest technology. Jobsite WIFI access is another modern technology used by DeWALT for users.
With DeWALT's Jobsite WiFi technology, everyone now has stable and reliable connectivity automatically. Using cellular connectivity can be a pain for its lower speed, but DeWALT's WiFi connectivity comes with high speed, and there will be no interruption. 
The Jobsite WiFi system of DeWALT uses multiple access points to extend WiFi coverage across the entire working area. One  WiFi Access Point of DeWALT connects to a landline typically situated in the trailer.
The technology then transmits that WiFi signal to all other access points. Every access point maintains a clear connection doesn't matter what the area's size is and or layout.
 The DeWALT Jobsite WiFi system has greater speeds than other methods like cellular data. The Jobsite WiFi system provides constant access to:
3D models & construction software

RFIs, change orders & punch lists

Collaboration tools & photo documentation
TOOL CONNECT
This is a convenient technology for Jobsite managers. Tool Connect technology helps users track, supervise, and customize their DeWALT power tools and battery inventory.
Also, mobile devices across various job sites can be connected to a central Inventory Manager software account which helps business owners and managers eliminate loss and deter theft.
Tool Connect is a three-part inventory management solution that helps users to save time and money. Data from the mobile app automatically updates the inventory manager and gives you live updates of the tools. With tool connect, you can get the following benefits. 
Inventory Management 

Find and locate tools. 

Customize Settings like light brightness, speed. 

Monitor and diagnosis the tools 

Disable tools or batteries to deter theft 

Get out-of-range alerts. 
XP™ TAPE MEASURE
Every contractor knows the importance of a better tap, and DeWALT power tools have delivered the tap for you. The tap is designed to survive a 60-foot drop, provides 13 feet of blade standout, and is built with DeWALT's patented Dual-Core technology with two retracting springs for long life. 
RECIPROCATING SAW BLADES
The BREAKAWAY™ Reciprocating Saw Blades from DeWALT is designed with the same thickness 2X™ Metal Demolition Reciprocating Saw Blades. Compared to the company's Standard Metal Reciprocating Saw Blades, the BREAKAWAY™ Blades feature:
DURABILITY: 20% thicker kerf than our Standard Metal Reciprocating Saw Blades (.042" versus .035")

OPTIMIZED TOOTH DESIGN: 14/18 variable tooth pattern optimizes the blade for cutting a variety of metals

These blades are genuinely GUARANTEED TOUGH, which is the motto of all DeWALT power tools. 
DeWALT Products 
DeWALT manufactures a variety of tools and accessories for Jobsite. Let's find out a little more about DeWALT products. 
DeWALT Power Tools 
AIR COMPRESSORS

AIR TOOLS

CABLE CUTTING AND CRIMPING

CONNECTED PRODUCTS

CONTROL PRODUCTS

CUTOUT TOOLS

DUST MANAGEMENT

DUST PRODUCTS

FLEXVOLT® BATTERY SYSTEM

GRINDERS

IMPACT DRIVERS & WRENCHES

LASERS & INSTRUMENTS

NAILERS & STAPLERS

OSCILLATING MULTI-TOOLS

PIPE & TUBING TOOLS

POLISHERS, SHEARS, & NIBBLERS

POWER TOOLS

ROTARY & DEMOLITION HAMMERS

ROUTERS, PLANERS, & JOINERS

SANDERS

SAWS

SCREWDRIVERS & SCREW GUNS

60V/120V MAX*

CORDLESS PLATFORMS

SPECIALTY & OTHER TOOLS
Hand Tools 
Axes, Hammers & Pry Bars

Measuring & Layout Tools

Mechanics Tool Sets

Knives & Blades

Impact Sockets & Sets

Screwdrivers & Hex Keys

Hand Saws

Pliers & Snips

Sockets & Socket Sets

Clamps

Wood Chisels

Wrenches & Wrench Sets

Multi-Tools

Manual Fastening Tools

Marking

Nail Sets

Hand Tools
Accessories 
Abrasives

Anchors & Fasteners

Batteries & Chargers

Band Saw Blades

Circular Saw Blades

Concrete & Masonry Accessories

Fastening & Screwdriving Bits

Hole Saws & Mandrels

Companion Apps & Software

Jig Saw Blades

Metal & Wood Drill Bits

Miscellaneous Accessories

Nails & Staples

Oscillating Accessories

Reciprocating Saw Blades

Tool Accessories
Outdoor Equipment 
Air Compressors

Jobsite Lighting & Flashlights

Tool Storage

Ladders

Pressure Washers

Jobsite Radios

Safety & Protective Workwear

Heaters & Fans

Generators & Portable Power

Sawhorses & Workbenches
Job Site Solution 
Jobsite WiFi System

Tool Connect

PERFORM & PROTECT™

ToughSystem® Mobile Storage

MOBILELOCK™
DeWALT power tools- Combo Kits 
DeWALT offers a wide variety of combined kits to professionals and DIYers to perform typical applications. Depending on your requirements – drilling wood or concrete, fastening, cutting wood or metal, lighting, demolition – DeWALT comes up with a cordless solution.
You can get DeWALT power tools for different uses powered by the same battery and charger packs. This way, you can save money by not purchasing individual DeWALT power tools. DeWALT has manufactured 73 combo kits so far. Here are some combo kits for drilling and driving purposes. 
12V MAX* CORDLESS LI-ION DRILL/DRIVER / IMPACT DRIVER COMBO KIT DCK211S2

20V MAX* LITHIUM ION COMPACT DRILL/DRIVER / IMPACT DRIVER COMBO KIT (1.5 AH) DCK280C2

20V MAX* XR® BRUSHLESS CORDLESS COMPACT DRILL / DRIVER AND IMPACT DRIVER COMBO KIT DCK283D2

ATOMIC 20V MAX* BRUSHLESS CORDLESS 2-TOOL COMBO KIT DCK278C2

XTREME 12V MAX* BRUSHLESS CORDLESS DRILL & IMPACT DRIVER KIT DCK221F2

20V MAX* COMPACT BRUSHLESS DRILL/DRIVER AND IMPACT Kit DCK277C2
DeWALT Drills: DeWALT Power Tools 
DeWALT offers various types of corded and cordless drills to meet every drilling need. DeWALT drills include stud and joist, 1/2″ – 3/8″ variable speed corded drills, and cordless drills in various voltages. DeWALT designed every drill to meet the drilling needs for specific tasks and environments.
So far, DeWALT has produced 102 drills. The company manufactures standard and hammer drills with high power and outstanding durability. To mention some of their drills 
20V MAX* 1/2 IN. XR BRUSHLESS CORDLESS HAMMER DRILL/DRIVER KIT WITH INTEGRATED BLUETOOTH® AND TOOL CONNECT™ BATTERIES DCD997CP2BT

20V MAX* 1/2 IN. BRUSHLESS CORDLESS HAMMER DRILL/DRIVER WITH FLEXVOLT ADVANTAGE™ KIT DCD999T1

20V MAX* 1/2 IN. BRUSHLESS CORDLESS HAMMER DRILL/DRIVER WITH FLEXVOLT ADVANTAGE™ (TOOL ONLY) DCD999B

60V MAX* BRUSHLESS QUICK-CHANGE STUD AND JOIST DRILL WITH E-CLUTCH® SYSTEM KIT DCD471X1

12V MAX* 3/8 IN. CORDLESS DRILL/DRIVER KIT DCD710S1

20V MAX* XR® BRUSHLESS 1/2 IN. CORDLESS DRILL/DRIVER KIT DCD791P1

20V MAX* XR® BRUSHLESS 1/2 IN. CORDLESS HAMMER DRILL/DRIVER (TOOL ONLY) DCD796B

20V MAX* XR 1/2 IN. BRUSHLESS HAMMER DRILL/DRIVER WITH POWER DETECT™ TOOL TECHNOLOGY KIT DCD998W1

ATOMIC 20V MAX* BRUSHLESS COMPACT CORDLESS 1/2 IN. HAMMER DRILL/DRIVER KIT DCD709C2

1/2″ SINGLE SPEED HAMMER DRILL DWE5010

1/2″ VSR PISTOL GRIP DRILL WITH E-CLUTCH ANTI-LOCK CONTROL DWD220
Impact Driver and Wrenches 
From 75 impact drivers and wrenches from DeWALT, you can get what suits best for you and your project. DeWALT has produced a wide range of corded and cordless impact drivers and impact wrenches.
Moreover, the impact driver and wrenches are powered by brushless motors that expand the motor's life and increase the runtime of the DeWALT power tools.
DeWALT impact drivers and impact wrenches that deliver what you demand. Here are some impact drivers from DeWALT. 
ATOMIC 20V MAX* BRUSHLESS CORDLESS COMPACT 1/4 IN. IMPACT DRIVER (TOOL ONLY) DCF809B

ATOMIC 20V MAX* BRUSHLESS CORDLESS COMPACT 1/4 IN. IMPACT DRIVER KIT SINGLE BATTERY KIT DCF809C1

ATOMIC 20V MAX* BRUSHLESS CORDLESS COMPACT 1/4 IN. IMPACT DRIVER KIT TWO BATTERY KIT DCF809C2.

20V MAX* XR® BRUSHLESS TOOL CONNECT™ IMPACT DRIVER KIT (W/ TOOL CONNECT™ BATTERIES) DCF888P2BT.

20V MAX* XR® BRUSHLESS TOOL CONNECT™ IMPACT DRIVER KIT DCF888D2.

20V MAX* XR® BRUSHLESS TOOL CONNECT™ IMPACT DRIVER (TOOL ONLY) DCF888B. 
DeWALT Business Solution 
DeWALT offers a business solution for maximizing productivity, safety, and profitability. DeWALT's innovation and top-notch service will always work as a shield for your business. How will you benefit from the DeWALT Business solution? 
Saving Time 
You can eliminate additional time spent running cords and finding power sources with DeWALT's rapidly growing and expanding line of cordless products. DeWALT's advanced battery technology and fast chargers will keep all the products running all day with less or no downtime.
 DeWALT's experts work with your teams to identify gaps in your process and offer time-saving solutions for your worksites. DeWALT provides the expertise, DeWALT power tools, and technology to ensure your teams are operating at peak efficiency from design to build.
Moreover, DeWALT has a full-service expert of field engineers dedicated to ensuring your business is getting the most out of our partnership.
Reduce Risks
Every year, nearly 2.8 million workplace injuries and illnesses are reported. To keep your team safe and reduce recordability, we DeWALT product training that ensures every person on your worksite gets the knowledge and proficiency in operating DeWALT power tools manufactured by DeWALT.
DeWALT engineered The PERFORM & PROTECT™ product line to satisfy specific worksite concerns, focusing on dust collection, tool control, and vibration reduction.
Save Money
DeWALT experts partner with you to create cost-saving worksite solutions. Only purchase those DeWALT power tools that your business needs from power tools, anchors, accessories, hand tools, storage, and software.
To worksites are never the same; it is a continuously evolving process. That's why DeWALT's team partners with you to find the best possible total worksite solution. DeWALT provides onsite tool and accessory assessments to ensure the best interest of your business.
Besides, DeWALT also provides firms with priority repair turn-around, onsite field engineer assistance, product pieces of training, and early access to new products.
Awards Achieved By DeWALT Power tools company.
DeWALT power tools are built to move the industry forward, and the company has been manufacturing high-end products since they started with the invention of the radial arm saw in 1922. 
In 2020 the company was awarded 9 innovation awards for products developed across several different industries.
In 2019 the company got 21 innovation awards for products developed across several different industries.
In 2018 PTIA gave DeWALT 9 innovation awards for various tool types, from its new woodworking tools to hand tools and storage to its Jobsite WiFi Access Point. In the same year, they also got the "Tools in Action" award for the new 20V MAX* Jig Saw and FLEXVOLT® Miter Saw.
Customer Service and Support
Customer service and support are the backbones of any company. And DeWALT gets full marks when it comes to customer service. You can find a shop on their website. Through their online portal, you can ship DeWALT power tools to the nearest factory-owned location for repair or easily order replacement parts. 
Warranty Information
DeWALT offers a 3-year limited warranty for these DeWALT power tools. The company will repair, free of charge, any defects due to faulty materials or workmanship for 3 years from the date of purchase. This warranty protocol does not cover part failure due to normal wear or tool abuse. So, keep your purchase record to claim the warranty. There are more.
1 YEAR FREE SERVICE – The company will maintain the drill driver and replace worn parts caused by regular use. This service is free, any time during the first year after purchase.
90 DAY MONEY BACK GUARANTEE – If any user is not completely satisfied with this DeWALT power tools' performance for any reason, he/she can return the product within 90 days from the date of buying with a receipt for a full refund – no questions asked.
Therefore, you can purchase DeWALT power tools without any doubt in your mind. 
Frequently Asked Questions
Is DeWALT Made in China? 
DeWALT is a USA base Power tool manufacturer, but the company owns several plants in many countries, including China. 
How Many Are DeWALT Products Made in the USA?
DeWALT produces 32 different hand tools, 48 power tools, and 562 kinds of accessories in the United States with domestic and global materials.  The most popular power tool DeWALT manufactures in the USA is the 20V MAX Lithium-Ion Compact Drill Driver Kit, DCD780C2. 
Where Are The DeWALT Manufacturing Facilities In The United States?
Current manufacturing plants of DeWALT in the USA are in Maryland, North Carolina, South Carolina, Tennessee, Kentucky, and Connecticut.
Does Making Products In the United States Change the Price For the Tool?
No! DeWALT has been manufacturing quality tools at the same end price for professionals, regardless of the manufacturing location.
Can DeWALT cordless tools be used around high voltage power lines?
No, due to the electromagnetic field created around high voltage, the tools' electronic circuitry could be damaged.
Bottom Lines
What makes a company reliable and popular? An intelligently designed, innovative, high-end product lines and good customer service. DeWALT power tools are for specific applications and with proper security measures.
If you are a businessman and operating many worksites, you can take DeWALT's business service, save money, reduce risks, and increase productivity. DeWALT power tools come with a 3-year warranty and 90-day money-back guarantee with no questions asked. For DIY enthusiasts, it is a great feature.  
The company has started its journey with innovation, and since then, it has been producing innovative, user-friendly products for users worldwide. The price of their product is also very reasonable and affordable for both businessmen and DIYers.
If you are confused before purchasing a tool with so many options in the market, we suggest you go with DeWALT Power tools as it will never hurt you. DeWALT always pays well for your money.
 Find More Articles About Brushless Drill:
About Post Author