Short-time construction and reshaping or upgrading homes are easier these days than ever. But have you ever wondered which is the best kit that will keep you satisfied with your project? Without a good tool, even the best workman can't finish the job perfectly. That's why a good toolkit in your hand is mandatory for a satisfactory job.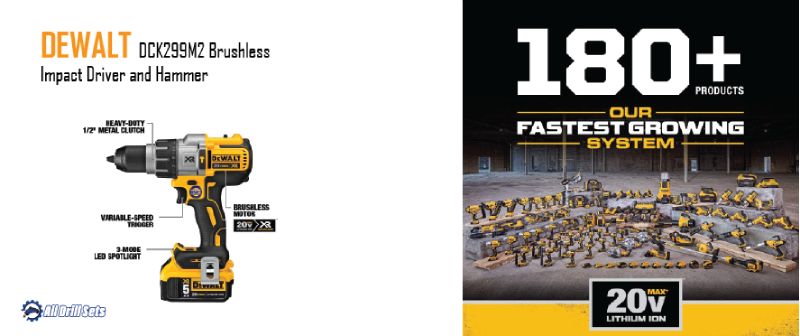 Dewalt has taken care of all your concerns about getting a great kit with power, top-quality, and affordable price. The Dewalt DCK299M2 20V MAX* Cordless Brushless XR® Combo Kit is a great catch if you are in a quest for a powerful hammer drill and a great lightweight impact driver. It's one of the best combo kits you will find in the market.
Having a good combo kit is always more cost-effective than buying each power tool separately. Besides, if you are a beginner with these power tools, it is still better to start with a combo kit. And combo kits are best if you are on a budget.
The DeWALT is one of the top brands for manufacturing power tools. For the last 90 years, this company has continuously produced and innovated its products to fill up users' growing needs. Most probably, their cordless drill and driver collections are the most popular products among all the Dewalt products.
Visit here for the list of  11 best drills.
DeWalt DCK299M2 Drill and Impact Driver Combo Kit –Overview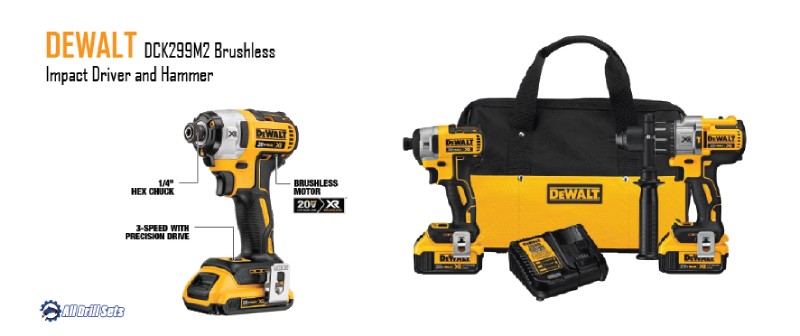 The package comes with two various tools that do their works in conjunction with each other. You can perform multiple actions, especially at home, with the drill and the wrench. The pair of tools that this package has also happened to be some of the most used tools for housework and professional work.
The motors are brushless and powerful enough for household tasks and quite convenient to use in general. Both the tools are compact and lightweight and thanks to the various features despite being limited in space.
One of both tools' essential features is that almost all the parameters in both devices are adjustable. The hammer drill's torque and the impact driver's speed are straightforward to adjust just as the users want.
Besides, you will also get two high-capacity batteries right in the battery packs. So, if you're not using both the tools together, you can have a spare and do your job without any charging break.
You will have a very smooth experience when using both tools. Both the devices are very affordably priced together as a package especially considering the items you are getting with the box. If you love to get as many features as possible, this is not the product you will love. But if you want to get a good deal on basic but essential tools, it might be the best combo tool you will find.
You can apply the combo kit in masonry applications since the DeWalt 20V MAX XR drill/impact driver combo kit adds the hammer drill option. Maybe you do not drill into hammer so often, but you may need to someday. If you need it, you will have the perfect hammer drill in your hand. Moreover, the package comes with long-lasting high-capacity lithium-ion batteries.
What Will You Get in the DEWALT DCK299M2 hammer drill and impact driver combo kit?
The DCK299M2 20-volt max lithium-ion drill and impact driver Combo Kit comes with the well-known Dewalt DCD996 hammer drill and the powerful Dewalt DCF887 impact driver. The Dewalt DCD996 hammer drill is a very popular brushless hammer drill. The hammer drill is very well known for its incredible performance and high-quality results compared to other drills from other brands.
On the other hand, the Dewalt DCF887 impact driver is one of the most strong brushless impact drivers you will find in the market. The tools are as bellow.
DCD996 20V MAX* XR 3-Speed 1/2″ Hammer Drill.
DCF887 20V MAX* XR 1/4″ Impact Driver.
Let's give a detailed overview.
DCD996 20V MAX* XR 3-Speed 1/2″ Hammer Drill
This 20-volt lithium-ion max drill/impact driver combo kit comes with a  super-compact-sized hammer drill. The size is 8.4-inch front to back. The DCD996 high-performance motor delivers 820 watts out and capable of completing a wide range of applications efficiently. Moreover, the device weighs only 4.7 lbs. With this lightweight hammer drill in your hand, you will be able to work for hours.
The DCD996 20-volt max lithium-ion brushless compact Hammer drill features a changeable transmission speed and 3-speed settings. This option helps you use this power toll with the highest flexibility in various drilling applications.
The DCD996 20v lithium-ion Max XR provides 1,825 in-lbs of max torque at fast 0-3,250 RPM speed and 0-3,600 impacts per minute. The hammer drill in this drill/impact driver combo kit gets 0-38,250 BPM for fast drilling in masonry materials, making it easier to drill through concrete.  The DCD996 three-speed hammer drill comes with a metal transmission for extra strength. You can drill through masonry and other materials very fast and with perfection! This DCD99620V max also contains a half-inch nitro barbarized metal chuck, which provides a firmer grip on your bits.
The brushless compact hammer drill comes with LED light 20-times brighter than the previous model providing lighting in dark or confined spaces. Besides, it has a 3-year limited warranty.
Specification
Model: DeWalt DCD996
Power:  820 Unit Watts Out (1825-inch pounds of torque)
No Load Speed: 0 – 3250 RPM/0 – 3600 Impacts Per Minute
Hammer Blows: 0 – 38,250 BPM
Front to Back Length: 5.3″
Weight: 3.4
Battery voltage – 20 Volts
DCF887 20V MAX* XR 1/4″ Impact Driver
The DCF887 20-volt Max XR impact driver weighs only 2.9 lbs. That's why you can hold this lightweight tool for hours. Moreover, this impact driver's design is very compact (5.3-inch front to back), which makes it perfect for working in a tight area or out-of-the-reach place. This power toll confirms enhancing your productivity.
DCF887 20v max has three built-in LED lights with it. So, working in the darkEssential and confined spaces is not a problem with this device. The compact design and built-in LEDs confirm that you will never have to compromise with your works' quality.
The impact driver can deliver 1,825 in. lbs. of max torque with speeds of up to 3,250 RPM and up to 3,600 IPM. The tool has a variable speed trigger and three-speed transmission to provide you with precision and control.
Lightweight and compact design will let you work in tricky angles without causing strain on your arms or hands.
Moreover, the battery of DCF887 provides a long backup time and charges the battery in just 35 minutes. A 3-year limited warranty is also available for this product.
You will love the user-friendly design and soft-grip handle of this device.
Specification
Model: DeWalt DCF887
Power: 240/1500/1825 inch-pounds of torque
No Load Speed: 0 – 1000/0 – 2800/0 – 3250 RPM
Front to Back Length: 5.3″
Weight: 2.9 pounds
Battery voltage – 20V
Dewalt DCK287d2 Combo Kit Detailed Feature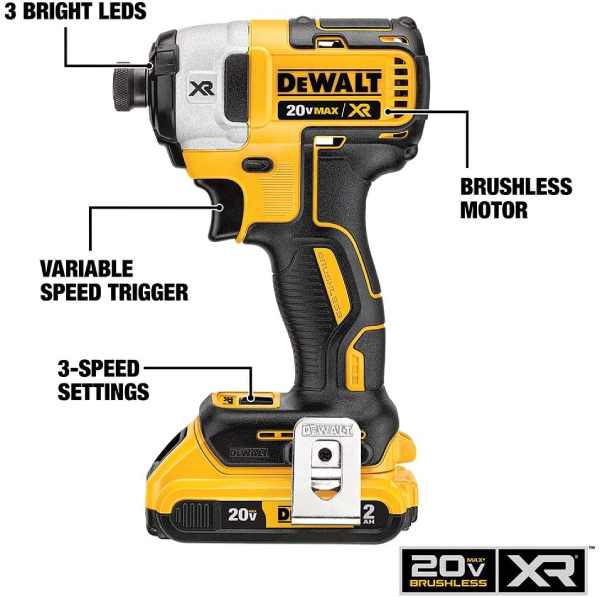 DeWalt is famous for producing new cordless tools, and for the last couple of years, the company is quickly forwarding through the ranks toward the top.
So, as the brand promised, the DeWalt DCK299M2 20V Max XR drill and impact driver combo kit is powered by a powerful lithium-ion brushless motor that can deliver up to 30% greater application speeds. Moreover, both the
tools are compact and lightweight, even though these new DeWalt DCK299M2 20v  Max XR tools are perfect for heavy-duty use.
The package includes
DCD996 20V MAX* XR 3-Speed 1/2″ Hammerdrill
DCF887 20VMAX* XR Lithium-Ion Brushless 1/4″ Impact Driver
DCB204 20V MAX* XR high capacity Li-Ion Battery (4.0AH) – 2
Charger
Belt Hooks –2
3600 Side handle
Contractor Bag
Important Features of DCK299M2 drill and impact driver combo kit
Both the hammer drill and the impact driver are compact and lightweight, making them perfect for single-hand use.
The hammer drill has 3 levels of speed which can rise to 2000RPM, and the user can change it according to the task he/she is performing.
The impact driver delivers 1825 in-lbs of torque which is enough for even large tire lug nuts.
The impact wrench driver is speedy, capable of up to 3250RPM and 3600 impacts per minute.
Users can easily adjust both the rotation speed and
impact speed and hence improve both accuracy and efficiency.
High-capacity 4 Ah and 20V Max XR batteries keep the tools working for a very long time.
Compact Design
DEWALT DCD996 20V Max hammer drill weighs only 4.7 lbs. The front-to-back length is  8.4-inch, and the size is only 1/2  inch.  The DCF887 20-volt max impact driver weighs only 2.9 lbs and 5.3-inch front to end.
Dewalt manufactured both products in such a way that it becomes compact and lightweight. These features make this combo kit easier to handle compared to other competitors in the market and the power they produce.
These tools from Dewalt DCK299M2 drill and impact driver combo kit will cause no strain to your arm when working on small, medium, or large projects.
Power & Performance
Speaking of power, the Dewalt DCK299M2 drill and impact driver combo is potent, and no words are enough to describe how fine these can perform in the workspace. The Dewalt DCD996 20V Max hammer drill is built with a rating of 820 UWO ( Unit Watts Out). UWO measures the output of the torque and speed with its highest in case you don't know. Thus this unit gives us the overall power that the power tool produces.
With this power rate, the drill has shown incredible results with its performance. Also, it comes with 3 Speeds, with No Load speed of 0-450, 0-1300, and 0-2000 RPM.
The Dewalt DCF887 impact driver delivers 1,825 in-lbs of max torque at 0-3,250 RPM with 0-3,600 impacts per minute. This impact driver also has 3-speed options for all-around performance.
Powerful DEWALT Brushless Motor
If we compare brushed motors to brushless motors, brushless come with more power. There is an air gap between the rotor and stator, resulting in less energy as friction (heat). A brushed motor comes with brushes that make contact as the rotor spins, which generates friction, heat, and finally wear out and need to be replaced. Brushless motors are complex engines and expensive too.
But those generate more power output at the rotor for the same power input.  Dewalt is always famous for its powerful motor. So, there is no surprise that mighty brushless motors power both the tools from the DeWalt DCK299M2 20V Max XR combo kit. Dewalt brushless motor produces up to 30% more application speeds. They have enhanced the ergonomics too.
Even though both the tools are compact and lightweight, the DCK299M2 Max XR brushless hammer drill and impact driver combo kit are suitable for heavy-duty applications. Also,  brushless devices are more durable, need no maintenance, and have better battery efficiency.
Built-In LED
2 tolls of DCK299M2 20V drill and impact driver combo set, DCF885 Impact Driver and DCD996 hammer drill driver, come with 3 LEDs 20 times higher than the previous version. The spotlight mode confirms increased visibility in the dark and enhances productivity.
20 Volt MAX XR High capacity Li-Ion 4.0Ah Removable Batteries
DCK299M2 20v provides 20V max XR high-capacity lithium-ion 4.0ah batteries. Not just one, this kit comes with a battery pack of 2 pairs of high-capacity li-ion batteries.
The DCK299M2 20v max has the DCB115 battery charger and can charge all DeWalt 12V to 20V MAX* Lithium-Ion batteries. This charger can recharge the batteries in under 90 minutes and will lessen your downtime quickly.
Chuck
You will have heavy-duty 1/2 inch ratcheting nitro carburized metal chuck with the Dewalt DCD996 hammer drill with carbide inserts. This will provide a comfortable bit gripping experience.
Moreover, the Super 1/4 inch hex chuck for the Dewalt DCF887 impacts the driver with an easy-grip sleeve. The impact driver also accepts 1 inch bit tips.
DeWALT Contractor Bag (Tool Bag)
The Dewalt DCK299M2 20V Max XR Combo kit package comes in an attractive contractor bag. The bag is made of high-quality canvas material.
This bag is easily movable and provides enough space to accommodate all the package kits.
We have one minor suggestion for the bag, though. They should have included a  plastic case with the package as the materials are not that good for housing such power kits. You will also get 2 belt hooks and a slide handle with the contractor bag.
Convenient and Fast
The hammer drill of this combo kit features a high-speed transmission and a 3-speed setting perfect for high-speed masonry drilling up to 2,000 RPM. Besides, the impact screwdriver is compact and easy to use in tight spaces. This power tool has 14 clutch settings, benefiting you by optimizing its operation as you need for a specific project-based application.
You can work in any place and any time with both tools. Both tools come with a built-in LED light with 20 minutes trigger release delay that helps you work in a less or no-light situation.
3-Year Limited Warranty
Dewalt provides a 3-year limited warranty on this combo kit package. Remember you will need to keep the purchase-proof to avail of the warranty facility within the period—moreover, the company one-year free maintenance service and replacement of worn parts.
Our advice you try every tool and see they are working correctly just after your receive the package. Check if all the kits are working correctly or not. There is another offer for Dewalt you should know. If you are not satisfied with the tools' performance, the company gives a 90-day money-back guarantee.
You will have a full refund if you complain that you are not getting what you expected, see the specification. You must realize this set of warranties/guarantees do not cover any physical damage from misuse, abuse, or unauthorized repairs.
 User FeedBack
Dewalt DCK299M2 20V max XR lithium-ion is one of the best-selling combo kits on Amazon. The product has an amusing 4.8 stars out of 5. The product got more than 3 thousands users ratings. We have reviewed many customer reviews, and most of them were positive. Many users have upgraded their earlier Dewalt combo kit with this one, and many switched to this product from a different brand. Many users praised the strength of the hammer drill and the perfection of the impact driver.
 Is DeWalt XR worth the extra money?
Yes, it does. DeWalt is a trendy and respectable brand in the power tools industry. Both new users and professionals use DeWalt drill drivers for various kinds of projects. The company's screwdrivers are more contemporary than Milwaukee and pro layouts like the blue Bosch. DeWalt cordless drills are lightweight compared Bosch hammer drills.
Nevertheless, all Dewalt products are designed with an exceptional power-to-weight ratio and feature better stability. In a nutshell, DeWalt provides reliable cordless drills that can be adapted to the job site conditions if you use them carefully.
What is the difference between DeWalt Max XR and Atomic?
Sometimes, it seems complicated for a new user to pick one from Dewalt XR or Atomic as they don't know which one comes with the best features.
The XR comes with more complete features than the Atomic. Why? It's because the XR has top-class performance with the efficient brushless motor, but the Atomic does not contain these features. These features can deliver the optimum power that you can from the drill.
Now battery, the XR also comes with a better battery than the Atomic. DeWalt only manufactures the Atomic with 1.3 Ah Batteries, but the XR contains 4.0 Ah(As DCK299M2 has) while the XR has the best Li-ion battery facilities than the Atomic.
Even though the XR price comes higher than the Atomic, DeWalt provides many more features to the XR than the Atomic. Apart from the grand battery and top performance from the XR, it also weighs light.
The model of the XR feels more comfortable to grip. The handle also contains the solid rubber that is perfectly fit to handle. That is the reason why the XR from DeWalt is the best drill you can have.
 What does DeWalt Atomic mean?
Atomic is series by Dewalt that they launched in 2019. Dewalt announced that the new Atomic series compact cordless tools merge performance and durability in a frim format. This series's products are optimized for tight spaces, overhead work, and long periods of use. The tools of this new series are specially developed for overhead work and long periods of use. The atomic series is cheaper than the regular XR series, which makes this more affordable.
Frequently Asked Question
Is the "hammer-drill" an option, or is it always stay in hammer mode?
No, it does not stay in the hammer mode always. It's a selectable mood, and you can set the mode as you want.
Are These Dewalt Two Tools Combo Brushless?
Yes, both the tools from Dewalt DCK299M2 are brushless.
Does it come with a warranty?
Yes, it does. It comes with a 3-year limited warranty.
 Can I Use This Drill To Drill Into Concrete?
Yes, you can. The hammer drill is excellent for drilling into concrete or masonry materials.
Where is the LED light?
It is at the base of the handle.
Final Thoughts on DEWALT DCK299M2
The Dewalt DCK299M2 lithium-ion brushless premium Combo Kit is perfect for advanced users for heavy-duty projects, DIYs.You will get a powerful hammer drill (Dewalt DCD996) capable of drilling into wood, masonry, and metal. You will also have a powerful, lightweight impact driver(Dewalt DCF887) for driving, tightening, and professionally losing screws. Besides you, owning such a kit will improve your workflow and support your needs just when you will need it.
If you are searching for a decent hammer drill with a powerful compact impact driver for your projects, this combo kit is the best you can get.