How to drill into drywall is described in detail in 5 easy steps in this article. With a drill and proper drill bit, you can drill a hole with some basic drilling skills. Whether you want to put in a nail to support a paper towel holder that gets regular use, a towel rack laden with damp bath towels, or even a heavy mirror, you have to put the nail ideally. You definitely want the nail to stay there and not suddenly rip through the drywall under the weight of whatever it supports.
How To Drill A Hole Into Drywall
Drilling a hole in a drywall wall is not that daunting task. This drilling job is reasonably simple if you maintain a few basic precautions and use the perfect tools.
At first, you have to pick the correct drill and drill bit for the operation. After getting the equipment, you have to choose a good spot to drill a hole into the drywall. DO NOT pick the place too close to any electrical wiring. Once you're ready to dig the hole, you'll have to use the drill with a firm and a steady hand.
Tools and Materials
Electric drill: A cordless drill is a good option for convenience and mobility, but a corded drill will have more power.
Drill bits: You will need a variety of drill bits to match the size of the screws or anchors you will be using.
Stud finder: A stud finder is an essential tool that helps you locate the studs behind the drywall, so you can avoid drilling into electrical wires or plumbing.
Wall anchors: If you are not able to drill into a stud, wall anchors can be used to secure screws in drywall.
Pencil: A pencil is used to mark the spot where you want to drill.
Tape measure: A tape measure helps you determine the location and depth of the hole you want to drill.
Safety glasses: Safety glasses are important to protect your eyes from flying debris while drilling.
Note: Always make sure to read and follow the instructions and safety precautions for each tool before use.
Let's Have A Look At The 5 Easy Steps To Learn How To Drill Into Drywall
Step 1: Use The Right Drill Bit
Choose a drywall bit if the wall is sheetrock or plasterboard. Before drilling, you should take a look at your wall and determine the building materials. If the wall is smooth and you can hear a hollow sound when you knock on it, there is more chance that it is drywall, such as sheetrock or plasterboard. For drilling a regular size hole into this kind of wall, a drywall bit is the best option you will find.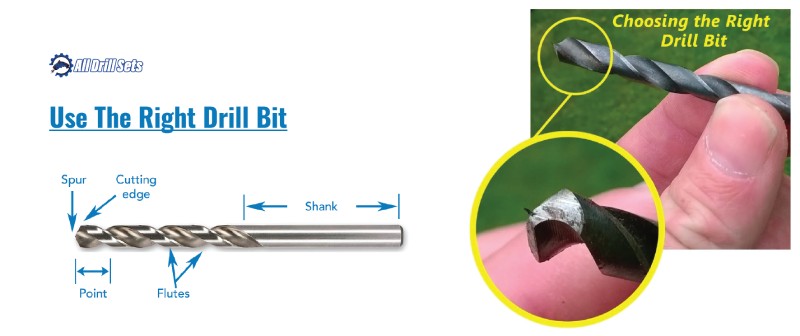 You can buy drywall bits and other types of drill bits at most hardware or home improvement stores.
If you plan to hang something in the hole, you will also need a drywall anchor and screwdriver.
Opt for a wood drill bit if you plan to drill into a stud behind the drywall.
Step 2: Avoid Wiring and Pipes
It would be best if you did not drill above or below light switches and outlets. If you accidentally drill into your electrical wiring, that can be a dangerous and costly mistake. You can prevent the accident by making sure not to drill directly above or below outlets, light switches, and other noticeable electrical fixtures in your walls.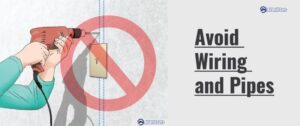 If you locate an outlet or switch on an upper floor, try not to drill directly beneath it on the floor below.
You can use a wire detector to detect wiring behind the drywall and stay away from that. Moreover, you can deep scan stud finder as that can also detect electrical wires and metal.
If you have to drill near live wires, cut off the power to the area where you'll be working beforehand.
You must consult a plumber first for drilling into a bathroom wall or another wall located near the radiator or plumbing. They will help you avoid accidentally drilling into a pipe.
Step 3: Look For Studs
If the wall is sheetrock or plasterboard, you'll have to find a stud. You will need the stud for drilling holes to support anything heavy (such as a large painting, a mirror, or a shelf). The most convenient way of finding a stud is to use an electronic stud finder.
Switch on the stud finder and move over the wall until it beeps or flashes a light, which indicates finding a stud. Move the stud finder back and forth so that you spot the location where the outer edges of the stud are. Studs are wooden beams that support the walls.
You can also find a stud by knocking on the wall if you don't have a stud finder. The areas between studs will produce a hollow sound, while the areas over the studs will deliver a solid sound.
Expert tips: Typically, studs are spaced 41 Cm or 16 inches apart. If you can identify one stud, you can calculate where the studs on either side of it.
Step 4: Mark The Area
Before starting drilling, you should mark the area where you want to drill with a pencil. Once you've picked the spot where you want to drill, you'll need to mark the spot. Use a marker or pencil to mark the.
For more than one hole, you should use a level to ensure that they are correctly lined up.
Step 5: Drill A Hole
You should use masking tape to mark the correct depth on your bit. If you have to drill a hole of a particular depth, measure the appropriate length on your bit. It would be better to wrap a thin strip of masking tape to mark the depth around the drill bit.
Some drills have depth gauges to help you mark the appropriate depth.
If you are going to put in a screw or anchor, you'll also have to choose a bit of the appropriate diameter.
Expert Tips: If you are confused about what size drill bit is right or how deep the hole should be, you can get an idea by consulting the packaging that comes with your screws or anchors. Most of the time, they write down the information on the label.
Start drilling with less speed and then increase the speed when you start applying pressure. Once the drill begins to penetrate the drywall, squeeze the trigger a little harder. You should apply solid and steady pressure on the drill to drive it in. Now maintain the speed and keep drilling until you get your desired hole.
Safety
Avoid drilling into electrical wires or plumbing: Always locate the studs behind the drywall before drilling to avoid hitting electrical wires or plumbing. If you are unsure, consult a professional.
Use eye protection: Wear safety glasses to protect your eyes from flying debris while drilling.
Keep the drill steady: Hold the drill steady and apply moderate pressure while drilling. If the drill begins to feel too hot, stop and let it cool down before continuing.
Follow the instructions for each tool: Read and follow the instructions and safety precautions for each tool before use.
Unplug the drill before changing bits: Unplug the drill before changing bits to avoid electrical shock.
Avoid drilling at an angle: Drill straight into the drywall to avoid damaging the wall or causing the drill bit to break.
Secure the drill: If drilling overhead, secure the drill with a drill press or clamp to prevent injury if it slips.
Note: Always prioritize safety when drilling into drywall. If you are unsure about any aspect of the process, consult a professional for guidance.
How To Use Drywall Anchors
If you don't want to drill and want to put lightweight on the drywall, there is another option for you. You can bring self-drilling drywall anchors. Here is the step-by-step guide to using self-drilling drywall anchors.
Get The Right Drywall Anchor
Choosing the right drywall is important as it will take the weight of your materials. Ensure that your drywall anchor has the rating for the amount of weight you'll be putting on.
We will work with a threaded or "self-drilling" drywall anchor that holds up to 50 lbs to demonstrate how to use drywall anchors. A threaded drywall anchor is typically a good bet as it has enough power to drill into drywall.
Twist The Self-Drilling Drywall Anchor with Moderate Pressure
You only have to apply moderate pressure with a screwdriver to install the threaded drywall anchors. The anchors will self-drill into the wall. When the wide threads start to grab on, keep the pressure, so the anchor digs out the drywall and doesn't just spin.
Rotate The Drywall Anchor In Until The Lip Is Flush With The Wall
Continue the pressure until the drywall anchor goes into the wall. But don't tighten it too much, and then it will become inset.
Attach Your Rack Or Shelf To The Wall
Ensure you first put the screw through the hole of the thing you will attach to the wall.
How to drill into drywall Suggested Tools
Whether using drywall anchors or a drill machine, you will need an appropriate tool to drill into drywall.
10 Best Brad Point Drill Bits
Brad-point drill bits are expert bits to drill into drywall. Here are the 10 best bread-point drill bits for you to drill into drywall.
DEWALT DW1720 Brad Point Drill Bit Set – 6 Pieces
Dewalt DW1720 brad point drill bit set has excellent features and comes with many more advantages. Its engineered flutes offer the cleanest chip-removing performances. Moreover, the heavy-duty high-speed steel as a material creates the drill bit set more durable. The bit set is very much handy for drilling into drywall.
Steelex D1034 Deluxe Brad Point Bit Set- 25-Piece
If you are finding a brad point drill bit that can dig a perfectly clean hole in the drywall with lots of options in your hand, you can give the steel D1034 a chance. Moreover, it comes with the excellent build quality. The drill bit set has 25 pieces. Any craftsman or DIYer will love the durable design.
Dewalt Brad Point Wood Drill Bits
The drill bit set from Dewalt comes with 5 drill bits of varying size. The size of the bits is 4mm, 5mm, 6mm, 8mm, and 10mm. They have a central location point and external cutting spurs for accurate and clean holes.
Dremel 631 Brad Point Bits – 4 Pieces
The high-speed drill bits from Dremel are potent to drill into drywall and hardwoods. The drill bits run on all Dremel rotary tools. Moreover, the titanium-coated brad points remain in the center and can drill immediately.
This drill bit set is straightforward to use and drills precise holes without any dust in the hole.
Fisch FSF-364757 Imperial Brad Point Drill Bit Set
The design of every Fisch drill bit is beautiful and functional. There won't be any deviation for the Beveled cutting edge, and the bits provide clean drilling. The optimized spurs of Fisch FSF-364757 will deliver the ultimate cutting speed. For DIYers and professional woodworkers, this is an excellent drill bit set.
Fisch Brad Point Drill Bits
You can use this bit from Fisch on drywall, any kind of wood, MDF, and acrylic glass. And it's hard to find a perfect drill bit that can deal with hard, laminated, and softwood at the same time. Moreover, the bits are highly skilled to drill into the drywall of any kind. Because of the beveling of the design of these bits, you will get holes with perfect diameter without deviation.
Fisch – FSF-134893 FSF-328094 Brad Point Drill Bits
The drill bit set from Fisch has 8 pieces. You can use these Fisch drill bits in drywall and soft, hard, veneered, exotic, and laminated wood. You will be happy to hear that you can also use this bit on MDF and even acrylic glass.
Fulton 12″ Long Brad Point Bit Set
This is a long drill bit from Fulton. How long? You can drill a 12 inch deep straight hole from these brad pit drill bits. The drill bits of this set don't move from the original contact point, and as a result, you will get a clean and precise hole.
Bosch Brad Point Drill Bits Set
This is a solo drill bit with a 13mm head size. You can use this drill bit for almost every kind of woodwork. You can drill into drywall, soft, and hardwood effortlessly with this drill bit. Most professionals use this drill bit for pilot drilling.
WoodRiver Brad Point Drill Bit Index Set
This drill bit set is powered by Woodcraft, Amerca's leading supplier of power tools, hand tools, saws, planes, and many other electronic devices. The whole diameter shank can complete every task efficiently. The carbon still body promises durability, and the shine will remain the same in between drilling tasks.
The hammer drill is a heavy-duty power tool. If you plan to drill into drywall more often, it is best to purchase a hammer drill. Here is the list of the 7 best hammer drills.
Dewalt D25263K D-Handle SDS 1-1/8″ Rotary Hammer

Bosch 11255VSR Bulldog Xtreme

SKIL HD182002 7.5 Amp Corded Hammer Drill

Bosch GBH2-28L 1-1/8″ SDS-plus Bulldog Xtreme Max Rotary Hammer

Makita HR2475 1″ Rotary Hammer

Dewalt DWD210G 1/2 IN. (13 MM.) VSR PISTOL GRIP DRILL

VonHaus SDS-Plus 10 Amp Rotary Hammer Drill with Vibration Control, 3 Functions
Conclusion
With the above article, now you know how to drill into drywall? With proper technique and precautions, you can drill into drywall effortlessly. But suitable drills and drill bits are crucial to do that. We hope our guide and tool list helped you, and now you will be able to drill into drywall without facing any issues. See you in another tutorial.
You might be interested in: How to Drill out a Lock
How to install vinyl flooring planks
About Post Author