If you are really interested to know how to install drywall anchor screws you are on the right path. Do you have something to hang, and you don't want them to fall off of your wall and shatter into a thousand pieces? In that case, a drywall anchor is your best bet.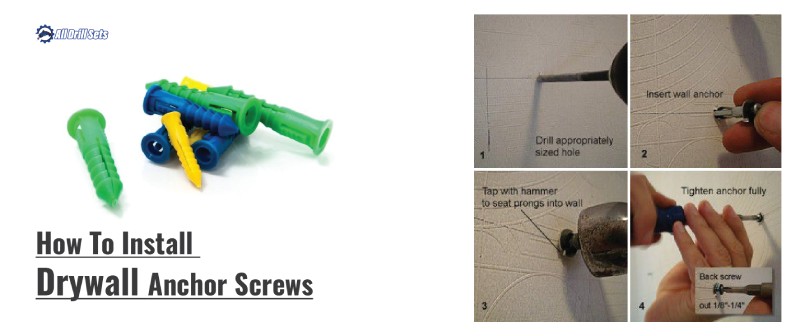 The options you have are self-drilling threaded anchors, plastic sleeve anchors,  molly bolts, and toggle bolt anchors. All of them can perform the same general task by expanding and biting into or gripping the drywall. Are you wondering how to use or install drywall anchors, don't worry. We have covered that for you. 
Which Drywall Anchor should I use?
Typically, the selection of drywall anchors depends on the weight of the item you wish to hang. You can find many types of drywall anchors in the market; some are more common than others. Here are some common types of drywall anchors: 
plastic sleeve anchors (If the weight is under 10 pounds)

self-drilling threaded drywall anchors( For weight between 10 to 25 pounds)

Snaptoggle, molly bolts, or traditional toggle bolts (For weight between 25 to 50 pounds)

Toggle bolts or screw into the stud (For Over 50 pounds)
You can find some drywall anchors rated for 100 pounds or more. We recommend you test them before you hang expensive items on them. 
How to Install Drywall Anchor Screws?
Installing A Plastic Sleeve Anchor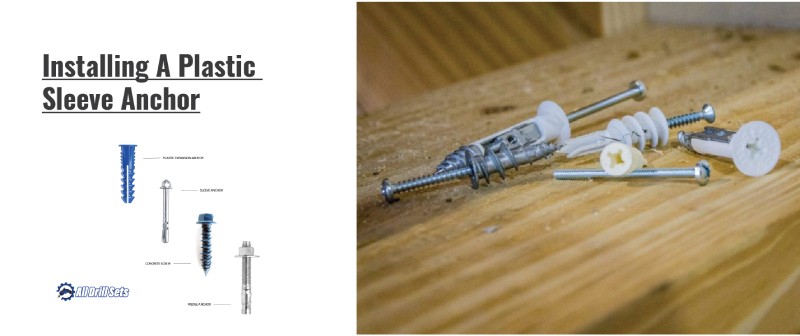 First, bring a pencil and mark the spot where you will hang whatever it is you're trying to hang.
Make a pilot hole. You can use multiple tools to accomplish this. You should dig the pilot hole less than the size of the anchor. The pilot bit should come with a set; if it does not, the packaging will tell you which size to use.
Now put the anchor in the pilot hole and push it into place until the anchor's head flushes up with the wall. A rubber mallet will do the work perfectly, but you can also do that with a small finish nailer.
Use a screwdriver and set the screw. You can also use a drill but go gently so that you don't overdrive it.
Installing A Self-Drilling Drywall Anchors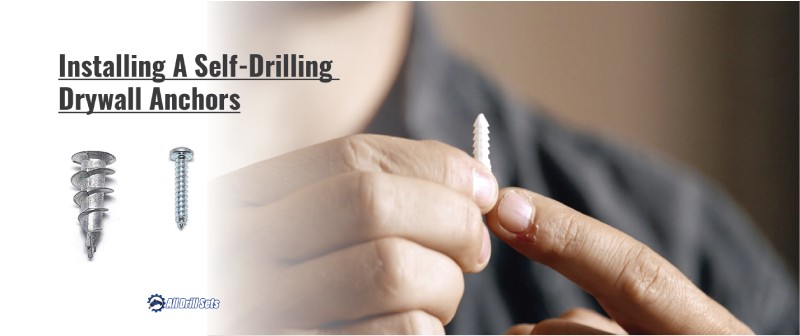 If you don't like to drill and want to put lightweight on the drywall, a self-drilling drywall anchor is an excellent option. Here is the step-by-step guide for you for self-drilling drywall anchors. 
Choose The Right Drywall Anchor.
Selecting the right drywall is vital as it will take the weight of your valuable materials. Make sure that your self-drilling drywall anchor has the rating for the amount of weight you are planning to put on.  
A threaded drywall anchor can dig into walls without any pre-drilling and is enough for most light-duty to moderate-duty needs.
Twist The Self-Drilling Drywall Anchor
You only need to apply medium pressure with a screwdriver for installing the threaded drywall anchors. The anchors will drill the wall itself. When the wide threads start to grab on, maintain the pressure, so the anchor digs out the drywall and doesn't just spin.
Rotate The Drywall Anchor In Until The Lip Is Flush With The Wall.
Continue the pressure until the drywall anchor digs into the wall. But don't over tighten, then it will become inset. 
Attach Your Rack Or Shelf To The Wall
Ensure you first put the screw through the hole of the thing you will attach to the wall. 
Anchoring With Molly Bolts
Typically, You have two choices for molly bolts:  pointed and un-pointed. For the dull-tipped un-pointed anchors, you have to drill a pilot hole into the drywall. On the other hand, pointed tip styles don't require a pilot hole; you can just put these into place with a hammer. You can also buy molly bolts with barbed heads. These barbs hold the surface of your drywall and keep the anchor from spinning in its hole. Here are the steps of installing molly bolts: 
Mark the spot where you want to hang stuff.

You should drill a pilot hole if needed. Read the package to find out the size you want for the pilot hole.

After you have inserted the anchor, tighten the bolt in the sleeve of the molly. This will help the legs to expand out and grip the other side of the drywall.

After you have tightened the molly bolt, back the screw out of the sleeve and hang directly from the head of the screw.
Installing a Toggle Bolt Drywall Anchor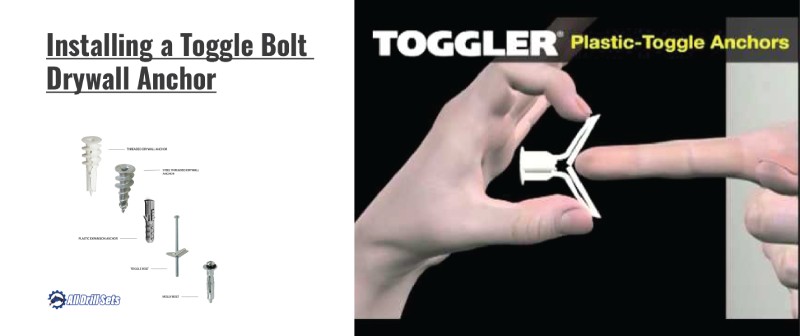 When you want to hang heavier items but can't find a wall stud to hang them on, toggle bolt anchors can be your savior. But, there are a few things to consider before getting started. At first, you need to drill a hole that allows for the toggles to pass through. This will require a hole that exceeds the width of the screw head. Also, while these drywall anchors can bear a considerable amount of weight, other drywall will fail if you put too much weight. Here are the steps to install a toggle bolt drywall anchor.
Spot the area where you want to put the weight.

Drill a large enough hole to allow the toggle bolt to slip through when in its folded position. Please read the manufacturer instructions on the side of the box of toggle bolts for the necessary specs for drill bit widths.

Set the bolt through the bracket you want to attach to the wall.

Now, thread the toggle onto the bolt. Make sure that the tips are facing the screw head.

Squeeze to close and jam both the toggle bolt through the wall.  After the toggle clears the backside of the drywall, it will open up and hold the wall.

Tighten the bolt before it's snug.
Suggested Tools
For installing drywall anchors you will have to drill into drywall. A cordless hammer drill is the best power tool to achieve that. 
DEWALT (DCH273B) 20V Cordless Rotary Hammer Drill. 

Milwaukee 2804-20 M18 FUEL 1/2 in. Hammer Drill

Makita XPH07Z 18V  Lithium-Ion Battery Brushless Cordless 1/2″ Hammer Driver-Drill

Dewalt 20V Max Brushless D-Handle Rotary Hammer DCH133B

Milwaukee 2712-20 Cordless Rotary Hammer, SDS Plus

DeWALT DCD996B 20V XR Hammer Drill

PORTER-CABLE 20V MAX Hammer Drill, Tool Only (PCC620LB)

CRAFTSMAN V20 Cordless Hammer Drill Kit (CMCD711C2)

Best Cordless Drill Combo Kit – RYOBI P1812 ONE+ HAMMER DRILL KIT
Best Drill Bits for Drywall
Without the right drill bit, the drill alone can not drill a perfect hole. You can use any of the suggested drill bits that suit your project. 
DEWALT DW1720 Brad Point Drill Bit Set – 6 Pieces

Steelex D1034 Deluxe Brad Point Bit Set-  25-Piece

Dewalt Brad Point Wood Drill Bits

Dremel 631 Brad Point Bits – 4 Pieces

Fisch FSF-364757 Imperial Brad Point Drill Bit Set

Fisch Brad Point Drill Bits

Fisch – FSF-134893 FSF-328094 Brad Point Drill Bits

Fulton 12″ Long Brad Point Bit Set

Bosch Brad Point Drill Bits Set

WoodRiver Brad Point Drill Bit Index Set
Frequently Asked Questions
What If The Drywall Anchor Hole Is Too Big?
Sometimes you can over-drill the drywall anchor hole accidentally. If that happens, you have several options:
Get a more prominent drywall anchor

Get a washer if using a standard toggle bolt

If using a threaded anchor and the bolt or screw is too small, get a larger one and see if you can get a secure fit.
You can avoid most of these problems by following the instructions for recommended bits. We also recommend drilling a straight hole. Though it is not that easy to drill a straight hole all time, you should try to drill as straight as you can. This keeps everything at the perfect size. When you drill too large a hole, the drywall anchor can spin when you insert the screw.
What Size Pilot Hole Is Best For Drywall Anchors?
A drywall anchor pretty much tells you exactly what size hole to drill. We recommend a 1/2-inch drill bit for Snap toggle and FlipToggle anchors. For self-tap drywall anchors, you don't need a drill bit.
Read the back of the packaging to get the idea, and pick up the best drill bit at the store when you get the drywall anchors.
How Deep To Drill Pilot Holes For Drywall Anchors?
If you are dealing with a drywall anchor that requires pre-drilling, you have to worry about a couple of things. First, are you near a stud or just drilling into a drywall cavity? Then, are you drilling through an exterior block wall or into any other protection?
Usually, you only have to get through the drywall. You have to make sure your hole depth matches the drywall anchor with an approximately 1/8 inch extra depth. 
If you are dealing with exterior block walls, we suggest you try to pick up at least one side with a furring strip. 3-inch long Tapcon screws provide excellent grip for block walls, provided you follow the instructions and install them correctly.
Conclusion
For hanging items on the wall, the drywall anchors are convenient tools. And, installing drywall anchors is an easy process. With some drilling expertise, you can install a drywall anchor screw into your wall effortlessly. We hope our instructions will help you install a drywall anchor screw and pick the right one for your needs. Best of luck, and see you in another tutorial.