You are most welcome to this user guide on how to use a benchtop drill press for metal.  Metal is a very long-lasting and robust material, and lots of appliances and other important things are metal-made. There are many kinds of metal varieties in the market. Therefore, you should have proper machines and tools for machining metals.
Thanks to the advancement of technology, now we can work with any kind of metal using a benchtop drill press. We can produce any shape from metal with these machines. There are many kinds of metal drilling working machines in the market, and you can choose one that best suits your needs. We will discuss those machines in this article but before that, let us know how you can use a benchtop drill press for metal. 
How To Operate A Benchtop Drill Press Machine
Before you use a benchtop drill press for metal, you must know how to operate a benchtop drill press. Without knowing the proper use, you can find yourself in various trouble, from damaging the machine, metal to occurring and injury to yourself. 
Set The Speed
You can adjust the drill press by moving the drive belt from one pulley to another. The spin of the pulley depends on the pulley on the chuck axis, and the smaller pulley delivers a higher spin. Another important rule for drilling into metal is slower speed handle metal better than more increased speed. So, the thumb rule is to use higher speed for wood applications and lower speed for metal. 
Fit the Bit.
First, open the chuck and slide in the bit. Then you should snug the chuck by hand around the shaft and tighten the chuck's three jaws with the key. Ensure to remove the chuck because it will turn into a dangerous projectile when you start drilling if you don't. When drilling large holes, first drill a small pilot hole.
Adjust the Table
You must adjust the table properly. Some benchtop drill presses come with a crank to adjust the table height, and others move freely once you release the clamping lever. Set the table to your desired size for the application you will perform.
Gauging the Depth.
If you are working with thin material, you don't have to gauge the depth. The depth gauge is the threaded rod that controls the distance that the spin-die travels. If you are using the benchtop machine for drilling metal, you should set the gauging depth. 
Drilling Metal with a Drill Press Machine
Using a benchtop drill press to drill metal is easy. You will just need proper tools and some techniques to use a drill press for metal. 
Materials
The first thing you will need is a metal to drill 

Ruler/straight edge (Remember metal is a durable material)

Scrap angle iron

Center punch

Fine point permanent marker

Drill bit – regular twist drill bit;  you can get it at the hardware store – HSS (High-Speed Steel) is standard and effective

Tape Measure

Square

Rite Hite clamps and wrench for holding work.
Preparation Of The Drilling Process
First, you mark the area where you want to drill holes.

Then you will have to make centre punch marks to help your drill bit safely do its job.

Now get your drill bit for drilling a hole into the metal. 

A drill press comes with a chuck on it that holds cutting tools. Typically, this is a Jacobs Chuck, with jaws, and it opens and closes when you twist the outside of the chuck.

Put your drill bit in the chuck of the benchtop drill press machine.  

Make sure the bit is centred between the chuck jaws. Try to chuck the bit in just about the flutes—this helps to get the most of the shank and supports the bit as much as possible.

Use the chuck key and tighten the bit in. Tighten around the chuck in one place, then tighten from the other direction. That will make sure the jaws are evenly engaged.
Start Drilling
Now the most critical process. When you're dealing with metal, it's impossible to drill with one handhold with the other. Don't even think about it for a second, as it can turn into a severe accident. 

Now aim the drill in the center of the hole. Lower the drill of the drill press and touch down the centre punch mark. 

You have to look for the chisel tip to sit within your centre punch mark. When it looks good to you from either angle, swing around and look from another angle just to be sure.

Drilling metal is a slow process and demands force from the drill press. If your bit grabs the material instead of cutting it, the material can spin or launch. As a result, an accident can happen, and you can fall into severe injury. 

A crucial pre-step to drilling is to ensure the motor speed on your drill bit is correct. 500 RPM or slower is ideal for mild/"hardware store" steel. In tandem with this rule is "you can go faster with a smaller bit."
Cautions
Before drilling, you must check the RPM setting that suits your material most. 

When you're drilling, always utilize your both hands on the quill feed (The wheel that lowers the bit)

If you're tense about your material might move, and if you don't have a hand free, we suggest re-clamp, don't take any chance!

Start slowly. After you have cut for some time, lighten up the bit and cut chips free. Use the press-lighten method until you complete the hole. 
7 Best Benchtop Drill Presses for Metal
As well as professionals, many DIY enthusiasts need a drill press for completing a job well. Although some drill presses are expensive, some come at a low price and work fine. For benchtop drill press for metal safety is one of the essential issues you should be concerned about. Some drill presses are for heavy-duty jobs, and some are for light-duty applications. 
Some drill presses are designed to use on wood applications only. As we will use the drill press for metal, we should not purchase a drill press for wood. We should purchase one that is built to operate on metal. 
The good news is a drill press for metal can efficiently work on wood also. You should read the specification before you purchase. Lastly, the ease and quality of the job depend not only on the type of drill press you use but also on the bit. It would be best to use the appropriate bit for the material you will drill with our benchtop drill press. 
As we discuss how to use a benchtop drill press for metal, let's find out the best drill press for the purpose. 
1. WEN 4214 12-Inch Variable Speed Drill Press
Key features
Power source:

Corded Electric

WEN 4214 12-Inch Variable Speed Drill Press

Dimension:

13.5 x 36.63 x 16.75 inches

Size:

12-inch drill press 

Speed:

3200 RPM

Warranty:

2-year warranty, 90-day commercial
You may have heard about WEN as the brand is famous for its powerful electric tools. Like their other robust electric tools, professionals and DIYers loved this WEN 4214 12-inch drill press as well. The 4214 variable speed benchtop drill is another incredible tool from Wen and smoothly cuts through metal. This 12-inch drill press is equipped with a digital display, and with that, you can know the exact speed of the drill. We have mentioned earlier; speed is critical while you are using the drill press for metal.
Moreover, you can set the variable speed settings according to your need. The drill press has speed settings between 580 and 3,200 RPM in very fine increments. 
The drill press has three 1/8-inches of chuck and an adjustable depth so that you can achieve repeatable outputs. It has a 2/3-horsepower motor, and that delivers more than enough power to finish nearly every kind of shop project. The powerful induction motor of this drill press also has ball bearings to confirm extended life with balanced performance. The drill press is equipped with an adjustable worktable, and you can move up to 45 degrees right and left. The table also has a crank handle for raising and lowering purposes.
The 5/8-inch chuck and MT2 spindle taper can handle various bits, making it a versatile drill press machine. Moreover, you can use those spindle tapers to put your other chuck. The X-pattern laser will fix onto the drill points, and you can complete the task without any guesswork. 
This WEN 4214 12-inch benchtop drill press comes with a  laser guide and onboard work light; there is no bit of guard for safety. This won't be a problem for appreciating drillers, but newbies can find this a little bit intimidating. 
We have used this benchtop drill press machine ourselves for metal, and we have got some outstanding results. Are you planning on getting a benchtop drill press for metal? This unit from WEN definitely worth a chance. 
2. SKIL 3320-01 3.2 Amp 10-Inch Drill Press
Key features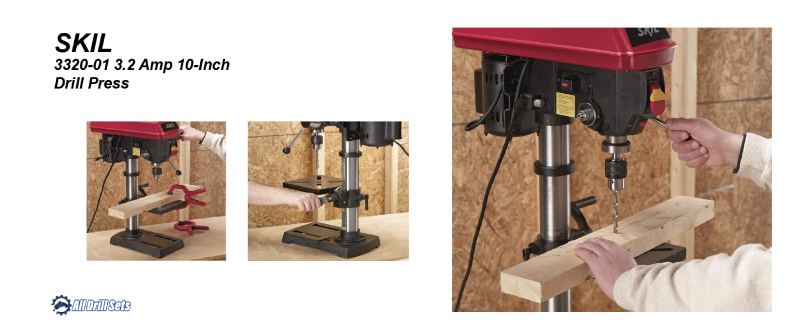 Power Source:

Battery  

Dimension:

21.75 x 15.25 x 9.75 inches

Size:

10-inch drill press 

Speed:

3050 RPM

Warranty:

3 years warranty, 90-day commercial
Searching for the best benchtop drill press for metal? This SKIL Drill 10-inch Press is another excellent choice for you. This popular power tool is powered by an efficient 3.2 amp motor and is more than capable of taking on some of the most challenging pieces of metal. If you need to use this drill press for wood, you can also do it quickly. It can handle laborious and stricter parts of wood effortlessly. 
The benchtop drill press has a 10-inch swing size and therefore is excellent for light commercial use and DIY applications at home. Skil 3320 is capable of drilling holes up to 2 3/8″, and you can customize the depth of the hole effortlessly. 
You should know that drilling metal requires low RPM and wood demands high RPM. Each project demands different RPMs, and the benchtop drill press you are going to use for the metal project must come with several speed settings. 
To make things more convenient, this  10-inch drill press features five variable speeds. These five variable speeds provide extra flexibility in performing different kinds of jobs. 
This benchtop drill press machine is a long-lasting drill press. It has a weighty cast iron base that prevents the unit from walking or wobbling in the middle of drilling operations. The worktable of this benchtop drill press is cast aluminium made, and you can tilt it up to 45° left and right.
The benchtop drill press from skill has many positive reviews. We have found that users found this drill press very handy on metal. If you know the basics of using a drill press for metal, you will find every application effortless with this drill press machine. 
3. Shop Fox W1668 13-Inch ¾ Horse Power Motor Bench-Top Drill Press
Key features
Power Source:

Corded Electric 

Size: 12-inch drill press 
Dimensions:

10.5 x 18 x 13.7 inches

Speed:

3050 RPM

Warranty:

No warranty 
This is a heavy-duty benchtop drill press. It comes with  3/4  horsepower power and a distinct industrial design. It is equipped with a more extended pulley safety guard to its sliding headstock to its base. The powerful 3/4 HP motor will drill into a metal-like piece of cake. 
Variable speeds are crucial for any drill press as you will use it for both wood and metal. For performing various types of applications, the drill has 12 variable speeds. You can produce any speed according to the application you need to perform. 
The Shop Fox benchtop drill press columns are solid steel-made, and the base is made of sturdy cast iron. Setting the height and quill stroke of this drill press is very easy. It has a sliding headstock and adjusting it is straightforward. It has a  maximum swing up to 34″ in diameter, and the extended swing helps you work on more challenging materials in your workshop. 
Working with a wide piece of metal is very easy with this drill press. So, if you need a drill press for professional works, the Shop Fox drill press is an ideal choice for you. 
The table tilts  90-degrees to both the right and left with the W1668. You can adjust the height and tilt to set the drill press with your workspace. You can also set the desired height or acquire special drilling or sanding angles. Another crucial point that makes this drill press machine unique is the presence of the X2 2-beam laser. The beam laser allows you to pinpoint the area the drilling area. Before using your drill press for metal, you must locate the area you want to drill a hole. With the laser light, the process becomes even more accessible. 
This drill press comes at an affordable price, and therefore it is an excellent choice for DIYers. If you need to do metal works regularly at your home, this drill press is a perfect choice for you. 
4. BILT HARD 13 inch Floor Drill Press
Key features
Power Source:

Battery-powered 

Size: 13-inch drill press  
Dimension:

31.6 x 19.25 x 11 inches

Speed:

3600 RPM

Warranty:

90 Days. 
Do you want to use the drill press machine of yours anywhere you want without thinking of the power supply? Wel the BILT HARD 13 inch floor drill press will allow you to do that. The battery powers the benchtop drill press, yet it can cord drill press units. This unit is powered by a 6.6 amp induction motor and is well capable of drilling through metal, wood, plastics, and other drillable materials for both professionals and home use.
The 6.6 amp motor of this drill press can produce up to 3,600 RPM. When it comes to speed settings, the benchtop drill press bits have more options than few other machines have. It has 16 operating variable speeds. You can set for any speed from 220 to 3600 RPM. With the power and variable speed settings that the drill press possesses, you will get total flexibility to finish nearly any drilling project without any issue. 
If you need angled drilling, you can bevel the work table 45 degrees right and left with 11.41in diameter. The base comes with predrilled holes, and you can mount it onto a bench or work stand. 
A drill press machine that will work on metal must have a solidly built structure, and this drill press has that. The worktable, base, and head of the benchtop drill press is cast iron made and ensures durability and more longevity of the device. 
The package comes with a drill press, 5/8″ keyed chuck hex wrenches, key, and assembly tools. BILT HARD provides a 90-day warranty.
We also have worked with this drill press for testing purposes. The drill press handled different types of metal without any issues. It has excellent reviews, and users are pleased with the service. 
5. Shop Fox W1667 1/2 Horsepower Bench-Top Oscillating Drill Press
Key features
Dimensions:

10.5 x 18 x 13.7 inches

Power Source: Corded Electric

Size:

8 1/2 -inch drill press 

Speed:

3100 RPM

Warranty:

2-year warranty 
This is another excellent Shop Fox benchtop drill press for metal drilling. We could not but add this drill press machine to this list because of its multifunctionality. 
This is a compact unit and can efficiently serve as either a drill press or an oscillating sander. You can tackle various drilling applications with drilling and sanding operations with this drill press easily.
It comes with a 1/2 horsepower motor and can generate up to 3140 RPM speed. You can drill holes into wood, metal, and many other rigid materials. Variable speed setting is significant for drilling holes in metal because you will need to set the speed for the type of metal you will drill. 
The W1667 is a multiple-speed drill press and comes with  5 various speed settings of 740, 1100, 1530, 2100, 3140 RPM. The durable 1/3 HP induction motor is powerful enough to generate sufficient power to drill a hole into the metal.
For metal drilling, a handy work table is also necessary. You don't have to worry about the table if you have this model from Shop Fox. You can adjust the height of the table according to your project. Moreover, the table bevels up to 45 degrees left & right.
This drill press features a precision-ground sanding spindle, and you can use that with sanding drums. It also provides a paddle switch which provides a greater degree of safety over other types of controls. 
The two-in-one benchtop drill press is a mighty machine. You can use this machine for drilling metal and many other purposes. 
6. WEN 4208 8-Inch 5-Speed Drill Press
Key features
Power Source:

Corded Electric

Dimension:

7.5 x 22.88 x 11 inches

Size:

8-inch drill press

Speed:

3140 RPM

Warranty:

2-year warranty 
Do you need a precise hole on the metal you are willing to drill? This model from WEN 5-Speed Drill Press is an ideal choice for you then. The drill press is powered by a potent 1/3 HP induction motor that can handle any kind of metal. Moreover, you can use it for drilling even the most challenging wood at your disposal. 
You can set the speed anywhere between 750 RPM to 3140 RPM for various types of metal drilling projects. 
This benchtop drill press is ideal for light and medium drilling applications with an 8″ swing size and 2″ quill stroke. We might not suggest you purchase this drill press machine for more significant projects, but if you need one for light tasks with precise finishing, you will love this unit.
You can angle the drill press up to 45° on both sides and can easily adjust the depth from the front.  The sturdy cast iron of the base ensures durability. 
All DIYers who are looking for a benchtop drill press that can drill a hole precisely should get this unit. We are assuming you won't perform heavy-duty tasks with a drill press machine at your garage. Would you? 
7. WEN 4210 Drill Press with Laser, 10-Inch
Key features
Power Source:

Corded Electric

Dimensions:

21.5 x 14.5 x 9.5 inches

Size:

8-inch drill press

Speed:

3140 RPM

Warranty:

2-year warranty 
WEN is an excellent brand for benchtop drill press, and the brand has produced some of the best units that you can use for metal.  This is the second edition to the list from the brand. This WEN 4310 is relatively bigger and meatier than the previous model in the list.
The benchtop drill press is solidly built and feels like a rock. The durable 3.2amp motor delivers enough power if we consider the size.
It is built with cast iron which ensures durability and extended stability. The unit won't wobble even when the speed is at the optimum level. However, you should not use high speed for metal drilling applications that are handy when you will work with woods. Moreover, the 4210 model brings predrilled holes to mount on a workstation or bench.
The benchtop drill press comes with a 3.2 amp 1/3 HP induction motor and produces enough power. It doesn't bog down even when drilling holes in denser stock and rarely overheat. The power is more than enough to drill holes in any kind of metal, without a doubt. 
You should use low speed for a metal drilling project, but you have to adjust the speed according to the metal you are working with. Moreover, the drill press you are purchasing should perform well on wood also. That's why variable speed settings are important. This is a 5-speed press and delivers a low speed of 600 RPM and the highest speed of 3100 RPM.
The drill press is equipped with a 1/2-inch chuck with a JT33 spindle taper. This is a versatile drill chuck as you can install various drill bits into that check. The work table bevels 45° right and left for those applications where you need accurate angles. 
We also worked with a benchtop drill press and performed various operations with metal. The result of our tests was pretty satisfactory. The machine works very well for different metals. You won't regret it if you buy the drill press for your home or professional use. 
Best Drill Press for Metal Buying Guide
Still not convinced? We understand it is not easy for a new user to purchase a drill press just by reading the reviews. There many things you might have heard for the first time. And, without understanding the terms and technology, it is not wise to pick one. That's why we also prepared a buying guide so that you can choose a benchtop drill press for metal easily.  
There are two types of drill press: Floor drill presses and Benchtop drill presses. Floor drill presses feature full-length columns. They come with heights ranging from 56 inches to 68 inches. Typically floor drill presses come with wider bases than benchtop drill presses. The extra-wide base of floor dill presses allows the body to hold the weighty motor and the head. Floor drill press machines deliver more swing sizes than benchtop drill presses. They can drill deeper holes, too. In short, floor drill presses are heavy-duty drill presses, and they are mainly used for industrial purposes.  
Benchtop drill presses, on the other hand, are best for lighter and smaller drilling projects. They are not that high as their floor counterparts. Because of this less height, you can place it on the top of a workbench. 
These portable drill presses are built for light projects. But you can also find some benchtop drill presses for heavy-duty drilling applications, and some of those heavy-duty drill presses are an excellent choice for professionals. 
We are focusing on the benchtop drill press here in this article. We are finding the best benchtop drill press for metal. Before purchasing the best drill press, you have to know which properties should you look into a drill press. We have figured out the points, now let's discuss those in brief.  
Features Of Benchtop Drill Press for Metal
Compatibility
The most important thing of consideration is whether the drill press is designed for metal or not. You will also need to know what tasks you will perform with the drill press and how often. Some cheaper drill presses are only built for drilling through thin metal, and therefore, they are not suitable if you plan to drill holes in thick metal.
 If you are planning to drill thin metals, you can go for a cheap drill press that can perform well on light metals. But we do not recommend it. What if you have a strong metal sheet to drill?  So, be on the safer side by purchasing a drill press that can perform medium-duty metal drilling tasks. 
Safety
Every tool is dangerous if you do not handle those properly. And when it comes to power tools like a benchtop drill press, you always have to be extra cautious.  Without proper safety measures, the drill press can turn into a hazardous device. As you are looking for a drill press for metal, safety measures must be at the optimum level. Metals are very rigid materials and can turn into deadly projectiles if you are drilling without proper safety measures. 
Depth Stops Feature
Primarily we need to drill lots of holes of the same size. That's why you will need a drill press that has depth stops which will allow you to drill the exact size holes each time without having to rely on guesswork. 
The depth to which a drill press can drill is another vital factor. For ease of use, a drill that penetrates deepest with the slightest rotation of the handle will definitely make the drilling task easier. 
Variable Speed Setting
Variable speed is a crucial factor, especially when you are purchasing a drill chop for metal. A drill press is designed to drill precise holes and to achieve that, multiple speed settings is an option you will definitely need. Some drill presses have 5  variable speeds, while you can find drill presses with speed settings of as much as 16.
This speed setting helps you adjust the ideal speed for the material you're working on. If you're drilling holes on wood, then you have to select a higher speed setting. But if you're working on metal, then slower speed settings are the option you have to choose.  
Table
The table is significant for a drill press machine. With the table, you will be able to decide far into a piece of metal you can drill. Moreover, the table should be stable; it should also be able to be adjusted at an angle to allow you to drill holes at an angle.
Motor Power
Like any other power tool, the power of the drill press comes from the motor. If you plan to drill holes on lighter materials or using the drill press occasionally, then a drill press with lower power should be sufficient. If you need a drill press for light to medium-duty drilling tasks, we suggest a 3/4 HP motor. But if you are a professional or need drilling into rough materials or should use the power tool every day, a motor with low HP won't be enough. So, for business purposes or long hours of drilling work in a day, you should get a 1/2 HP motor or higher drill press.
Pressure
You want to drill a hole in the metal, and for that, you will need pressure. You have to adjust the pressure for precise drilling and the safety of your material. If you do not adjust the pressure lower when breaking through the material, the bit could be prone to breaking. So, get a drill press with an adjustable pressure feature. Drill bits are equally crucial as the drill press machine. You don't break them, do you? 
Swing size
When looking for a drill press, you will frequently notice the numbers: 13″. 10″. 20″. These measurements are displayed on the item descriptions of units, but what do those numbers tell? The number represents the swing sizes, and the numbers tell the distance between the machine's chuck and the drill press column and the.
The next thing to know, why is it so crucial? Well, these numbers tell you how much space you can get in that machine. Speaking differently, the numbers determine whether you will be able to work with more significant metals or not. Suppose you purchased a 10 inches drill press. That means the maximum distance between the hole and the column is 5 inches. If you have to dig holes in the broader area, you will need a machine with over 10 inches of workspace.
Maximum Quill Travel
If you are going to use your drill press for metal regularly, this feature is vital. The quill travel plays a crucial role in selecting the best drill press for metal. Quill travel (some say it quill stroke) means the distance between the bit and chuck can travel when you crank the handle.
Let us clear the topic with an example. The WEN  5-Speed Drill Press is ideal for a thin piece of metal as it has the highest quill travel of 2 inches. The Grizzly Industrial G7945 Radial Drill Press, on the other hand, has the most increased quill travel of 3 1/4″. Some heavy-duty drill presses drill through as many as 6″ holes in thicker pieces of metal. 
You must know the type and frequency of your application before you purchase the drill press machine. 
Cost
Price is always important. You can not get a suitable device without paying a reasonable price for that. But in the drill press industry, better price does not mean better quality. You must look for the feature yourself and identify the best drill press that will suit your work. The quality, accuracy, power you should consider everything. You will not purchase a drill press machine every year. So, the device must be durable and last many years. 
Don't buy a cheap drill set with low quality. This machine performs some heavy tasks, and a cheap drill press machine mostly fails to do those tasks for a long time. 
Frequently Asked Questions
Can A Drill Press Be Used As A Milling Machine?
The purpose of a drill press is to drill holes. But you cal also use a drill press as a milling machine. A drill press does not have bearings for side loads like milling machines. As a result, it can result in a chattering noise, and broken mill ends. So, we don't recommend you to use the drill press as a milling machine often. 
Which Drill Bit Is For Metal?
High-Speed Steel (HSS) bits are ideal for metal, but titanium drill bits are the best. Titanium HSS drill bits are coated with titanium, making them stronger and more capable of drilling through metal, including sheet metals.
How Do You Drill Hardened Steel?
Although HSS bits can drill through metal, a cobalt bit is made from a higher percentage of cobalt and explicitly designed for drilling through steel.
What Is The Difference Between A Bench Drill And A Pillar Drill?
Although a bench drill and a pillar drill are built for achieving the same results, there is a slight difference.  A bench drill is attached to a bench and best for medium and light-duty drilling applications. Pillar presses are bigger than bench drill presses and are designed to perform heavy-duty drilling tasks. 
How Big Of A Drill Press Do I Need?
When it comes to a drill press, size is essential. Half the width of the drill press's table is known as its throat, and so a 10″ table will have a 5″ throat. If you wish to drill a hole in the centre of a 12″ piece of metal, you will need a drill press with a 6″ throat.
Conclusion
Did you get your answer for 'How to use a benchtop drill press for metal?' If you have followed the tutorial that we provided at the beginning of this article, you should. But you are never going to achieve that without a proper drill press machine and the best drill bits.
That's why we came up with a list of the best benchtop drill press. All the listed drill presses here are excellent drill press machines. But before purchasing one, you should know which kind of drilling task you will perform. You should buy the best one based on that.
We hope the tutorial helped you, and now you will be able to use a benchtop drill press for metal. See you in another article. 
About Post Author