Do you know how to Drill a Hole In Glass Without Breaking It? Have you ever seen a hole in a glass? Drilling through glass is not an easy thing to do. But glassworks with beautiful holes attract everyone. It needs particular skill and caution to drill a hole in the glass without breaking it. In this article, we will discuss the process of drilling a hole in the glass without breaking it.
Why is drilling a hole into the glass tough?
The answer is easy. Because glass is a brittle and delicate material, some glasses are hard and strong, and some glasses can endure serious impact force, but their very nature is brittle. Drilling through glass is not easy for its very nature. There is a high chance that the glass will break into pieces. So, If you want to put a hole in the glass, you should follow some techniques.
9 Steps to drill a hole in glass without breaking it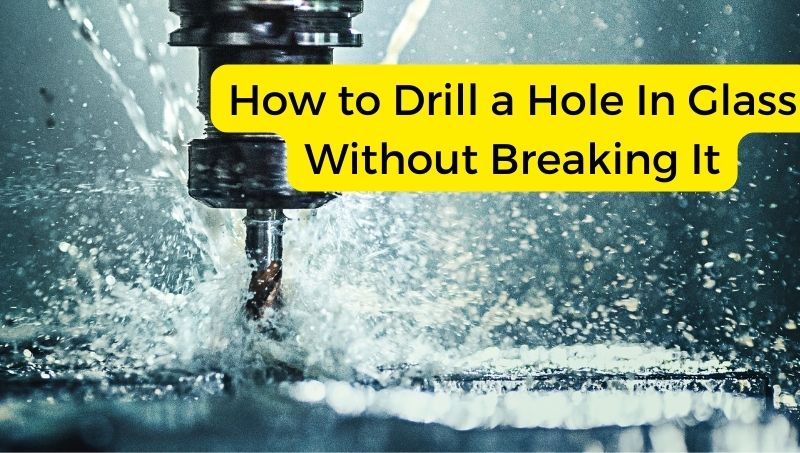 Pick the glass Carefully: At first, you have to decide which type of glass you will drill. Never try to drill a laminated safety glass or Tempered Glass. These Glass types are three or four times stronger than ordinary glass, and this kind of glass brokers when they shatter into jags upon contact with a drill. Other than safety glass, you can try to drill any Glass. Pick anything from a wine glass, jug, or mirror, or try to put a hole in the aquarium.
How to Choose The Right Drill Bit?
First, I need to clarify one thing. You will not need any special drill to put a hole in the glass. You will have to choose the right drill bit. It would help if you had the right tool in your hand. With that, If You follow the proper technique, then creating a hole is not that tough.
As glass is brittle, so you will have to pick a sharp, hard drill bit. You should not apply full force. That can break the glass to pieces. Think like you are carving the glass. You should adjust the drill to a lower level. Do not use cheap bits. They do not last long and can break easily.
You can choose two types of bits to drill that hole: Tungsten carbide-tipped drill bit and the diamond-tipped drill bit. Carbide-tipped drill bits are the most common ones. It is used for non-tempered glass, ceramics, tiles, etc. The alternative of the carbide-tipped drill bit is a diamond-tipped drill bit. Diamond-tipped drill bit creates holes from one-fourth inch to larger. It makes smoother holes, and the diamond-tipped drill bit is specialized in putting a hole in the glass. We suggest that you pick that for this operational purpose.
If you want to use other regular bits, then we will not discourage you. You can try, but you may want to hire Batman to help you with the drill!
Materials You Will Need:
So, we have decided which drill and bit. Let's wrap up the materials you will need to drill a hole into the glass.
Cardboard (Any cardboard)

A flat surface or a table (To put the glass)

Painter's tape

Lubricant, oil, or water.

Marker (To mark the area of drilling)

Cordless or Corded drill

Glass drill bit (You can choose from a tungsten carbide-tipped drill bit or a diamond drill bit. Our recommendation is a diamond drill bit).

Safety Glasses

Gloves

Long tight pants

Cushion (Not mandatory)
Wear the suitable clothing and take other safety measures:
You must wear suitable clothing before you start practicing drilling. Avoid loose clothes. Wearing loose clothes can be very dangerous. Remove ornaments or other fancy kinds of stuff on you. Please remove if you have any necklaces or bracelets on you. It would be best to protect your eye to protect yourself from flying glasses. To do so, you must wear a protective google. To avoid any hand-cut, you also have to wear a glove. Hence we can summarize the protective measure you should take before you start.
Do not wear loose clothes.

Remove pieces of jewelry and watch

Wear safety glass

Thick pair of gloves

Long trousers
Let's start the drilling:
So you have taken the safety measures, and you also have picked the right drilling equipment. Now you can get your hands dirty. We will guide you through the process step by step.
Important: Before you start, you should use painter's tape to attach the glass's cardboard. Glasses are slippy material and can slip through your hands. That's why you should drill through the cardboard. It will give you a better grip.
Step 1 – Use the marker to mark the area where you want to drill a Glass hole.
Step 2 – Attach the drill bit for glass to your drill. We recommend that you start with a smaller drill bit. 1/8 or 1/4 inch bit is an excellent choice to start with. Don't worry if you are planning to create a more massive hole. You can choose a larger bit later and increase the hole size.
Step 3– Wear the safety kits we discussed earlier in this article. Do not start without gloves or safety google.
Step 4 – Put the Glass on a flat and solid surface(A table is recommended). You can tape the glass down with painter's tape. If you have a cushion, then use it.
Step 5 – Power up the drill and start drilling slowly and gently. Do not hurry or panic. Remember, do not put extra pressure. That won't help the drilling. You may break the glass instead. Let the drill do the job, not you.
Step 6 – When drilled through the cardboard and reached the glass, stop drilling. Now you remove the cardboard. After removing the cardboard, start drilling again.
Step 7 – Now, use water or other lubricants from your disposal. It will protect the glass from heating. It will also reduce the risk of breaking.
Step 8 – Do not get over-excited if everything goes fine. You will need to stop before almost through the other side.
Step 9 – Now you have almost drilled a hole flip the glass. If you do not flip the glass and continue drilling, your glass can break. So, to minimize the risk flip the glass and drill from the other side.
Important: Do not try to drill the hole form on one side. It will result in breaking the glass. To minimize the risk, flip over the glass, and start drilling from the other side.
Things you should notice while drilling:
Are you trying to turn glass into a lamp or any other decorative object? Before you start, find the thinnest part of the glass or the object you will drill. The thin area is easy to drill. As you are learning, you should try in a comfortable area.
Final Steps – How To Drill A Hole In Glass Without Breaking It
We have learned how to drill through glass and dig a hole. But it is not easy for amateurs to do so without breaking the glass. We have discussed earlier that glasses are bitter material. It would help if you took some precautions to stop it from breaking.
Never use an old drill bit. Always start with a fresh one:

We have recommended a diamond drill bit to dig a Glass hole. But like any other glass drill bits, the bits get dull. So we highly recommend that you use a fresh drill bit. If you use a dull bit, the glass will shatter, and the experiment will fail.

Support the glass all time while drilling:

The Glass must be on a flat surface. If the surface is not planned, your glass will break for sure. You should also provide proper support. We recommend you use a cushion under the glass. That will reduce the probability of breaking.

Go slowly and Gently:

One thing to keep in mind is that you will have to be patient. Drilling a hole in the glass is not work that you can do in a rush. It is better to start with 1/8″ or 3/32 in size to create a dimple in the glass. Your patience and slow drilling will decrease the probability of breaking the glass. After passing through cardboard, you can increase the drill speed to 400 rpm.

Always start with the small hole:

Do not worry about the finished hole at the start. You must start with a tiny hole at first. As we stated earlier, start with a smaller bit, like 1/8″ or 3/32 in size. First, create a dimple. After that, increase the size of the hole with larger bits. Finally, use a big one to achieve your desired diameter.

Ensure that the glass does not catch high temperatures:

The Glass will certainly heat up while drilling. You must be conscious of that; otherwise, you will end up with broken glass. Use water or other lubricants to control the heat of the glass. Spray water over the glass while drilling.

Do not drill near the edges:

Never drill near the edge of the glass. Experts recommend that you should keep at least ¾ inches distance from its borders. You will not get enough support if you drill near the border. So, there is a high chance that the glass will break into pieces. Do not drill through the near border.

Fill the hole after you finish drilling: After you have finished drilling the hole, you should not keep it blank. Use something to fill it.
Can you drill a bottle of glass with a handheld drill?
The basic principles are the same, but you can not use a handheld drill. The shape of the bottles is not regular. The shape also differs from bottle to bottle.
Drill Press
You will need a drill press to dig a hole into the bottle. Free up one of your hands when you are using the drill press. You will need one hand to lower the diamond bit. Use another free hand to guide the bottle through the process.
Can You Drill A Hole in Tempered Gall Using The Technique Described Here?
Tempered Glass or Tempered safety glass is made for particular purposes. These types of glasses are made to protect special devices. The manufacturing process of this kind of glass is not like regular glass. Tempered glasses are being cool rapidly in the manufacturing process. That's why they are much stronger than ordinary glasses.
Tempered Glass
Apart from the rapid cooling manufacturer also uses some other special tricks for tempered glasses. That's why tempered glasses are safer than other regular glasses. They are stronger and less sharp than ordinary glasses. The property of tempered glass is not the same as standard glass. Have you ever seen broken tempered glass? It does not break like regular glass. You will see that tempered glass broken into tiny pieces. That is why tempered glass is safer.
The reason that makes tempered glass safer also makes it impossible to drill. It does not matter which bit you use; you are not going to make it. You can not put a hole in tempered glass. So, never try to dig a hole in tempered glass.
How to Drill a Hole in Glass without Breaking It – FAQs
Do I need to use water when drilling a hole in glass?
Yes, it's recommended to use water when drilling a hole in glass to keep the drill bit cool and lubricated. This will help prevent the glass from cracking or shattering.
Can I use a regular drill to drill a hole in the glass?
Using a regular drill to drill a hole in glass is not recommended. Regular drill bits are not designed for drilling through glass and can cause the glass to crack or shatter.
How do I prevent the glass from cracking while drilling?
To prevent the glass from cracking while drilling, it's important to use a specialized glass drill bit, apply light and even pressure, and use water to keep the drill bit cool and lubricated. It's also important to work slowly and carefully without applying too much pressure.
Can I drill a hole in tempered glass?
Drilling a hole in tempered glass is not recommended as it is more prone to cracking or shattering than regular glass. If you need to drill a hole in tempered glass, it's best to consult with a professional glass cutter or installer.
How do I know when I've drilled through the glass?
You will know when you've drilled through the glass when you feel the drill bit break through the other side. You may also hear a slight popping or cracking sound as the drill bit breaks through.
Final Thoughts
So, drilling a hole in glass is not that tough if you do it the right way. You will have to choose the drilling method according to your need. If you are drilling through plain glass, then use a handheld drilling machine. If you are trying to put a hole in the bottle, then use a drill press.
It would help if you chose the right drill bit before you start. The bit you will use must be made for glass. Do not forget to take proper security measures. Never wear a loose outfit, and remove all the jewelry. Use safety goggles and gloves.
The final thing, be patient. Never rush when you are cutting the glass. You do not want to break it, right? It's your patience that will prevent you from breaking the glass.
More Resources
How To Drill A Hole In Plastic
How To Use A Hammer Drill To Remove Tile Floor