Welcome to the tutorial on 'how to use a drill for screws.' If you own a cordless drill, you should be able to do all the stuff you can do with screws. That's why cordless drills are also called 'drill drivers.' If you've never used your drill as a screwdriver or have tried but haven't had much success, read this guide of ours. After finishing the article, you will be able to use your drill as a screw effortlessly.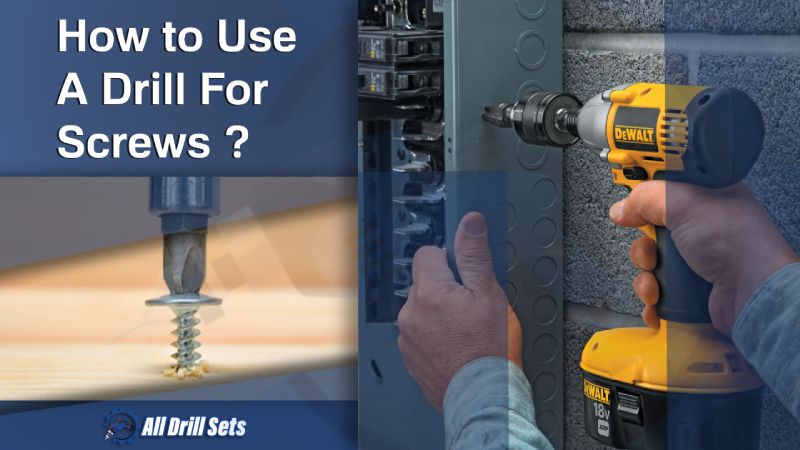 How to Use A Drill For Screws
The Bit
The type of drill bit you will use will depend on the shape of the head of the screw. The most common one is the star-shaped Phillips head. For this, pick a No. 2 Phillips head driver bit, which is the appropriate size and suits most types of these screws. 
Other standard driver bits you can use are the internal hex drive for bugle head batten screws, the square drive bit, which is suitable for decking screws, and the nut setter hex bit, which fits over roofing screws.   
The drill bit speed
The Thumb rule is low speed always provides the best control when driving screws. Suppose you are a newcomer or using Phillips head bits screws that don't lock into the head of a screw. Once you are accustomed to using your drill as a screwdriver, you use a higher speed to get through the job quicker.
Select the right action setting
You will find the action setting for using the drill as a screw on your drill. Turn on the setting, and your drill will be ready to use as a screwdriver. The other settings are to use use the device as a general drill. You would find another setting called 'hammer mode.' The hammer mode is for drilling into more rigid surfaces like concrete, brick, etc. 
Torque settings
You can adjust the torque settings by changing the collar on the drill with many numbers on it. Torque works as the turning power of the drill, and the torque setting allows you to control how much force you are applying to turn the screw. 
When you put the drill at the correct torque setting, that means you don't overdrive the screw. Test the torque settings of your drill driver and set the right setting to suit the job you're doing. Typically soft materials need a low torque setting, while for hard material, you would have to set it to a higher number. 
Why my driver bit doesn't stay in the head of the screw!
That is a common thing that happens to many. Especially when you are using Phillips head screws as the head of the bit that doesn't lock into the screw; if it happens, don't proceed; STOP immediately.
The bit won't lock back into the screw, and you would strip the head of the screw and create an even bigger problem. 
Use low speed for your drill.
Check whether the head of your bit is in good condition or not. A worn bit should not stay in the head of the screw.
After starting driving, keep pressing on the drill to keep the head of the bit in the screw. Don't take the pressure off after approaching the material you're screwing into; keep it on and let the torque setting stop the drill at the right spot.
Don't try to keep driving a screw if your bit has already slipped. Pull it out and use a new one.
Suggested Tools
Now that you know how to use a drill for screws. But it is better to know which tool is better for your task. Therefore, we prepared the below lists for you. 
Dewalt  DCF887D2 20V MAX XR Impact Driver
This DCF887D2 has a 1/4″ hex chuck for driving applications. This power tool from Dewalt is powered by a brushless motor which means a more efficient and longer life span. 
PORTER-CABLE PCCK647LB Impact Driver
Porter-Cable may not as famous as Dewalt, Milwaukee, or Makita. But, when you are looking for an efficient drill, then the PCCK647LB cordless impact driver is one of the best choices for you. Topclass features and a 3-year warranty are definitely an impact driver you should consider.
Makita XDT131 18V LXT   Cordless Impact Driver Kit
This is a lithium-ion battery-powered impact driver.  This impact driver from Makita can handle the most challenging screw driving applications, as it comes with a reasonable amount of torque. The drill driver comes with a brushless motor that will provide 50% more runtime than a regular brushed motor and makes the machine more durable.
Dewalt DCF887B 20V MAX XR Impact Driver
The impact driver is straightforward to use. It Weighs only around 2 pounds, and the compact design allows you to work comfortably. You can complete any overhead job and work in tight spaces with lots of ease if you have the DCF887B driver in your hand.
Milwaukee M12 Fuel 1/4 inch Impact Driver Kit
The Milwaukee M12 Fuel has 3 Speed settings, just like the Dewalt DCF887B. These speed settings are 0-1300 RPM, 0-2400 RPM, and 0-3300 RPM. From our perspective, that is an excellent speed for a tool that comes with this length and weight! And you might know the various speed settings that help you to work on multiple projects effortlessly. 
BLACK+DECKER BDCI20C  Impact Driver Kit
This is an affordable impact driver. You will get a price tag lower than most other affordable impact drivers In the market. However, still, it has the feature and power that many other impact driver does not possess. 
DEWALT DCF885C1  Impact Driver Kit
DCF8885C1 is not as compact in design as some other budget impact drivers in the market. But the tool still has the compactness you will want for completing many challenging tasks in tight spaces. The driver is only 5.5 inches long and weighing 2.8 lbs. So, we can say with no doubt that with this drill doing any kind of challenging task is possible effortlessly.
Brad-point drill bits are convenient tools,  come with a sharp tip and make the drilling work more manageable. Here is our list of best brad point drill bits. 
DEWALT DW1720 Brad Point Drill Bit
If a brad point drill bit provides excellent chip removal, you can not but like it. And, this Dewalt DW1720 brad point drill bit set contains that feature with many more advantages.
Steelex D1034 Deluxe Brad Point Bit
If you want to find a brad point bit that can dig a perfectly clean hole and comes with many options, the  D1034 might be your option. Moreover, the build quality is really astonishing. 
The drill bit set has 25 pieces. Any craftsman or DIYer will like the durable design. 
Dewalt Brad Point Wood Drill Bits
The drill bit set has 5 drill bits of different sizes. 4, 5, 6, 8, and 10mm. They have a pivotal location point, and outer cutting spurs for clean and accurate holes.  This brad point drill bit set is ideal for drilling hardboard, plywood, chipboard, and all-natural hard and softwood.
Dremel 631 Brad Point Bits
The drill bits set from Dremel have  4 pieces. The high-speed drill bits are suitable for drilling into hardwood. The bits can work with all Dremel rotary tools. Moreover, the titanium-coated brad points stay in the center and begin drilling right from the start.
Fisch FSF-364757  Brad Point Drill Bit Set
The Fisch drill bits are astonishing in design. You won't see any deviation for Beveled cutting edges,  and they produce clean and sharp drilling. This is perfect for you if you are a professional woodworker. Moreover, it will present you with the ultimate cutting speed.
Fisch Brad Point Drill Bits
These brad point drill bits are made in Austria. You can use this bit on any kind of wood, acrylic glass, MDF. And it's tough to find a drill bit that can deal with soft, hard, and laminated wood at the same time.
Fisch – FSF-134893 FSF-328094 Brad Point Drill Bits
The set has 8 pieces. The set brings a beautiful poly case with it. You can use these Fisch drill bits in soft, exotic, hard,  veneered, and laminated wood. Moreover, You will be able to use this bit on MDF and even acrylic glass. 
Fulton 12″ Long Brad Point Bit Set
Are you Looking for a drill bit for a deeper hole in plastic, wood, or any other composite materials? Then This brad point drill bit set is ideal for you. You don't need to line up your drill from the other side and drill correctly again with it. You will be able to drill a 12 inch deep straight hole from these brad pit drill bits. 
Bosch Brad Point Drill Bits Set
The German giant Bosch is the world's leading manufacturer of power tools. Bosch provides excellent accessories for virtually every kind of application. Like their other tools, this brad point drill also bit a superb drill bit. 
WoodRiver Brad Point Drill Bit Index Set
Woodcraft is the manufacturer of this drill bit set manufactured by Woodcraft, Amerca's leading supplier of saws, planes, power tools, hand tools, and many other electronic devices. The full-diameter shank is capable of completing every task efficiently. The carbon still body promises durability, and the shine will remain the same in between drilling tasks. 
Auger drill bits are excellent for wood drilling works. They are famous for drilling into bulkheads and general timber applications. Here is our list of the best auger drill bits: 
Auger Drill Bit Garden Plant Tool
This is a non-slip hexadecimal drive and can be digging post holes 3.2 inches wide and 11.8 inches deep; you can use these auger bit for many applications like beach umbrella sand holes, bulb planter tools,  paint mix, ice fishing, fence hole, and many more.
Eagle Tool US EA75036 Installer Drill Bit
This Eagle Tool auger drill bit is an ideal choice for every type of wood. It comes with a self-feeding and aggressive auger point. So, the bit can drill holes into some of the most challenging wood pieces you can have. It comes with three-flat non-slip grips on the chuck end and a  flexible spring steel shank. 
IRWIN Weldtec Ship Auger Bit
This auger drill bit for Irwin can dig deeper holes and last a long time. It has a praiseworthy sharpness, and you can tackle any kind of wood quickly. The long length is perfect for all sorts of woodworking projects.   
SuperThinker Auger Drill Bit for Planting
It is ideal for planting tulips, bulbs, iris, and bedding plants. Moreover, it is ideal for tilling the soil, digging weeds, mixing seed, soil, fertilizer, batches of mortar mix for hardscaping or paint. The heavy-duty high-speed auger drill bit from Super thinker is built to last.
Makita D-35900 Ship Auger Bit
Makita is a prominent brand for drilling machines. Like their drilling machine, this auger drill bit also provides high-quality. It has a sharp and robust cutting edge that can pierce through any solid wood effortlessly. 
You can bore a 16-inch hole even in the toughest tree log. Moreover, the auger drill comes with a nice reusable tube to protect it when I put it away.
DEWALT DW1687 Ship Auger Drill Bit
The self-feed spur of this auger drill bit is well designed and can penetrate really fast. The dual cutting edge of DEWALT drill bits is built for the highest durability in nails. Digging a 17 inc hole in a solid wood log is straightforward when using the Dewalt DW1867 auger drill bit in your hand. 
Woodrow 09709 Ultra Smooth Auger Bit
The lightweight of this auger bit can confuse you at first, but you will change your mind when you start working with it. It can dig perfectly clean holes. Besides, it comes with two cutting wings and provides excellent chip ejection.
Conclusion
If you were looking for how to use a drill for screws, this article has helped you to do so. If you want to add some more weapons to your arsenal for your DIY projects, our list of helpful tools will also help you. Best of luck with your next project, and see you in another tutorial.