Choosing one between cordless and corded drills is easy, but many people get confused when it comes to selecting the chuck. What is a chuck on a drill? If you are looking for this answer, you have arrived at the right place. Here we will discuss what chuck is and why it is crucial when you are purchasing a new drill.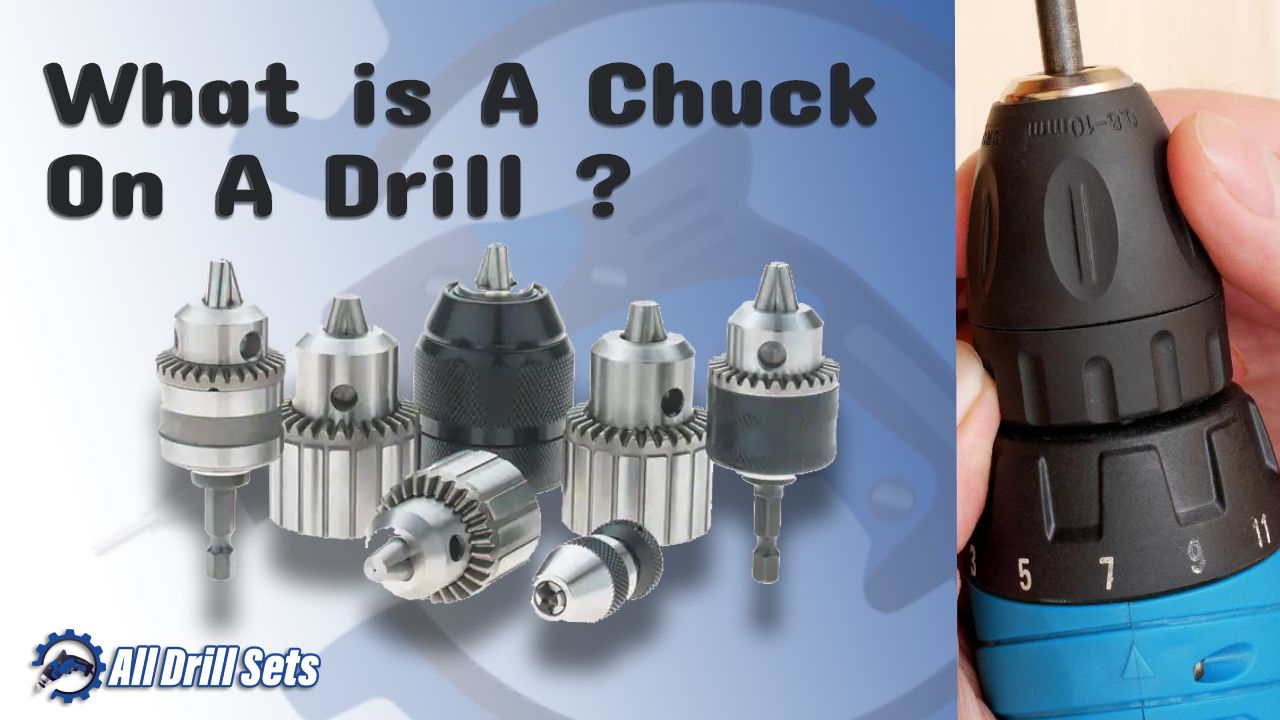 What is A Chuck On A Drill? 
The chuck is the adjustable mechanism that attaches and tightens the drill bit. With the help of chucks, you can switch drill bits out according to your project. Every drill used a key chuck to tighten the grip in the early days. But as the technology progressed, most modern drills and screwdrivers come with keyless chuck. Now you can insert the bit directly into the spindle and tighten them with your hands.  
Drill Chucks are typically connected to a machine's spindle with a removable Drill Chuck Arbor. The arbor is just a two-ended steel shaft. One end of the shaft is machined to fit into a machine's spindle, and the other end is machined to fit into the back of a drill chuck.
Another type of machine has no removable arbor: instead, the chuck mounts directly onto a male projection machine into the spindle itself.
How Many Types Of Drill Chuck Are There? 
There are two types of drill chucks. They are: 
This type of chuck requires a key to tighten or loosen the drill bit. You have to operate the key clockwise and anti-clockwise to tighten or loosen the inserted drill bit. These types of chucks are primarily used in industrial applications. Those applications that need tough machining use keyed chuck. 
Most modern drilling machines these days use keyless chuck. Firm Albrecht invented Keyless Drill Chucks in 1908 and is also called 'Albrecht chucks.' You don't need any additional keys for tightening the drill bit inside the drill. A simple twist of the body is enough to tighten the chuck firmly. 
What Are Chuck Keys?
Another common question that many people ask is chuck keys. So, what are they, and what is their use?
For older drills, the chuck key was a regular component. These allow users to manually open and close the chuck when replacing the drill bit. To complete the process, you'll have to insert the chuck key into the holes along the side of the machine and rotate along with the clock direction. This will loosen or tighten the chuck for you. 
What Are The Standard Chuck Size For Drill? 
There are some standard chuck sizes for the drill machine. Which one you will select depends on the purpose of your drill.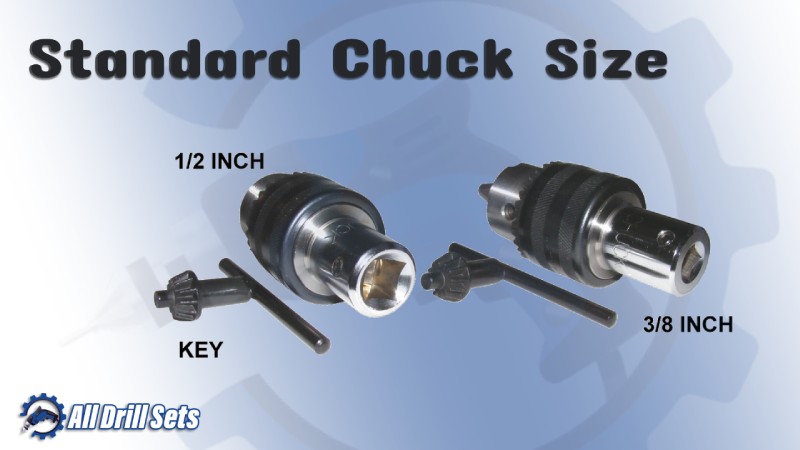 The first standard size for drill chuck is 10mm or 3/8 inches. They will hold a smaller bit and are less potent than those with a larger chuck. They are not that expensive compared to large-sized chuck drills. 
The following standard size is 13mm or 1/2 inches. They are more prominent and used in more professional drills. That's why they are ideal for a broader range of applications. However, they are expensive.
Chuck's size refers to the shank size. It is the size of the bit when measured across the diameter. For a hexagonal bit, you will need to make sure that you use the flat sections to measure the distance. For your convenience, most bits will have the shank sizes listed on the package.
Which Chuck Size Should I Prefer?

 
The type of chuck size you should choose will vary. It depends on the kind of projects that you want to complete. If you need it for regular house jobs, the smaller 3/8 inch model will be acceptable. But, if you are a professional and want to make some severe applications, we suggest you choose the ½ inch model to prepare yourself for any task that comes in front of you.
What Affects Chuck Durability? 
You should consider the durability of the chuck also. Chuck's durability affects the lifespan of your drill. Let's discuss some points that can affect chuck durability. 
First, find out the type of materials that are used to build the chuck. For example, some drills are made from plastic while others are from metal. Evidently, the metal will be stronger than plastic. But metal-made drills are expansive.
It would help if you also thought about the number of teeth that are on the drill. They will hold the bit in place while you're drilling. The thumb rule is, the more teeth your drill has, the better.
You should also know how well the teeth have been attached. This will ensure that they don't get ripped from the drill while replacing the bit.
How Can I Test The Durability Of A Chuck? 
Testing the durability of a chuck yourself is difficult, even if you know what to look for. That's why the online review is an excellent way to find out whether the drill chuck is durable or not. This will help you to find other people's experiences after purchasing the drill. If you see lots of people are reporting chuck problems, you might want to steer clear of that model.
Suggested Drill Chucks 
Now, as you know what chuck is, what chuck size means, and other related information, it's time to tell you about some best chucks in the market. 
DEWALT Drill Chuck for Impact Driver
Dewalt is the leading company in the power tool industry. They are famous for their corded and cordless drill and impact drivers, and the drill chuck from Dewalt is no exception. This is an excellent accessory for all your drills. 
You can effortlessly change from fastening to drilling with a 1/4-inch hex quick connect. Because of the exclusive single sleeve design, you can conveniently tighten the bit with one hand. The all-metal body provides durability.
The drill chuck for impact drivers comes with a 90-day warranty and a 1-year free service contract. 
Neiko 20753A Keyless Chuck Conversion Tool
You can effortlessly convert your cordless power screwdriver into a drill to quickly switch between various tasks. You will be able to reduce the amount of time you have to spend on a project with this Neiko 20753A keyless chuck conversion tool. 
The chuck allows One-Handed Drilling, which is ideal for working in a compact space. Moreover, the universal driver 1/4-inch hex shank fits easily into the power screwdriver. 
TM32 1/2-Inch Drill Chuck
The TM32 1/2-Inch Drill Chuck from PSI Woodworking comes with 1/2″ Drill Chuck, #2 Morse Taper Arbor, and a Jaw Tightening Key. You can easily hold drill bits, dowels, small turnings,  pen mandrel shafts, and much more with these. You can tighten this tool with a chuck key. Therefore, you will be able to get an excellent grip on it. You can also remove it easily with a knock-out bar.
Conclusion 
Most newcomers don't understand, What is A Chuck On A Drill? Many experienced users sometimes get confused about which Chuck to purchase. We hope our article cleared the concept for you. See you in another article. 
About Post Author