There are so many Different Types of Drill Bits available in the market.  We need drill bits to make holes in various materials. There are many ways to dig a hole in materials. We make these holes using a mechanical tool called a drill. From DIYer to professionals, everybody needs a drill for their job. We insert a drill bit into a drill according to our requirements.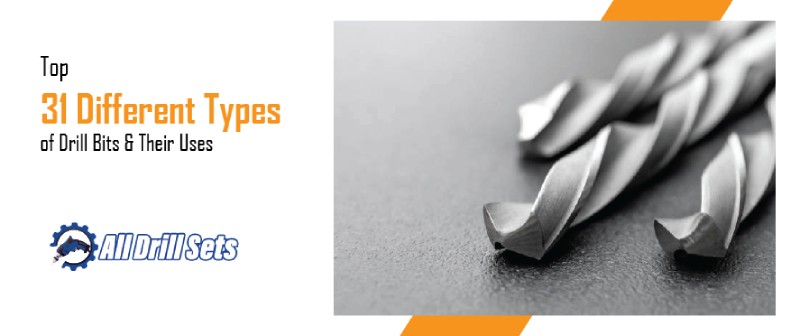 We choose the correct drill and drill bit that is suitable for our task. Choosing the right drill and the perfect drill bit is the most important thing. That will make a clean and ideal hole for your project. In this article, we will discuss Different Types of Drill Bits and their uses. You may check out the 11 best drills sets reviews here. 
Before we dive into the types, let's start with the material drill bits. 
Construction Of Different Types Of Drill Bits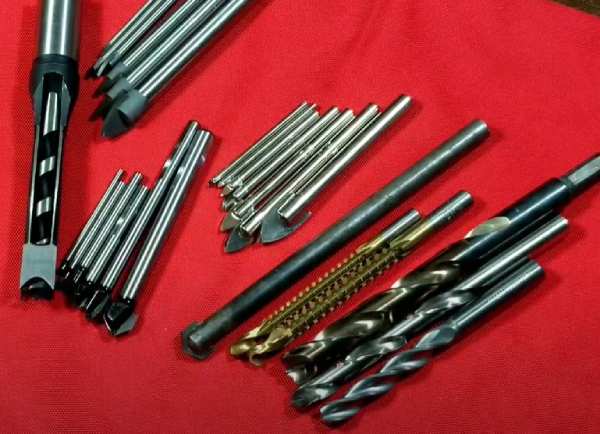 Drill bits have many different purposes. To meet this purpose, manufacturers use other materials to make different kinds of drill bits. Almost all drill bits consist of metal. But the metal composition of all drill bits is not the same. That makes bits different from one another. 
Drill Bits with High-Speed Steel:
Manufacturers use High-speed steel (HSS) in many drill bits. These bits are perfect for digging a hole in soft materials like wood, plastic, etc. High-speed steel bits come mainly from carbon steel. Chromium and vanadium additives get used with carbon steel. 
Cobalt Drill Bits:
Cobalt is a very tough material. Cobalt in bits creates holes in strong materials. If you plan to make a hole in stainless steel, you should choose these drill bits. 
Drill Bits Made Of Carbide-Tipped: We all know that the most vital substance on earth is diamond. But do you know which material sometimes challenges them? It is a carbide. Carbides are one of the toughest substances known to humans. Carbide is a costly material. It will be very tough to purchase for ordinary people if a whole drill bit consists of carbide. Manufacturers use carbide as a tip of drill bits. This kind of drill bit gets used in construction works. 
Drill bits made of solid carbide:
f the carbide-made drill bits fail, what's then? Well, that's why the manufacturer also makes drill bits that entirely consist of carbide. These drill bits have to dig a hole into extremely tough materials. 
Different Types Of Drill Bits According To Coating
We can differentiate drill bits according to the coating they got. These are: 
Black Oxide – Prevent itself from rust.
TiN Coated – Titanium coating saves drill bits from being dull fast. 
TiAN Coated – titanium aluminum nitride coating protects drill bits from overheating
SG Coated – silicone multilayer helps to penetrate tough metal. 
Different Types of Drill Bits & Their Uses
Well, now we know the materials drill bits have. We also have learned about the coating. Now we can learn about different kinds of drill bits and their uses.
TWIST BITS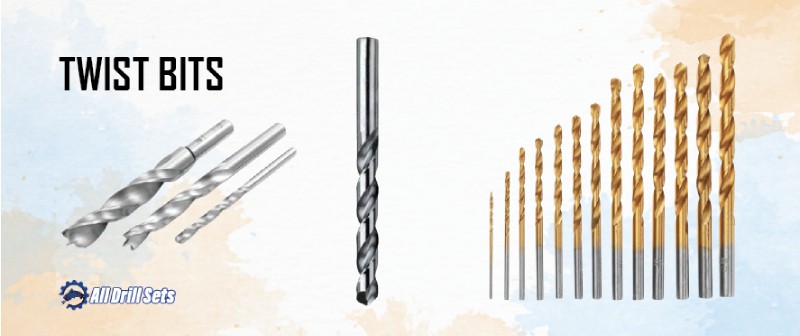 We also know about twist drill bits as high-speed drill bits. They are the great drill bits in the market. These drill bits have to penetrate wood or walls. They have a pointed hand with a spiral groove. This unique design helps them to channel dust from the hole. Working with these bits is easy. 
If you want to make a precious and clean hole in the wood, then Brad-point bits are the best choice. These bits have a rubber stopper. That helps the users to set the bit for a specific depth. 
MASONRY BITS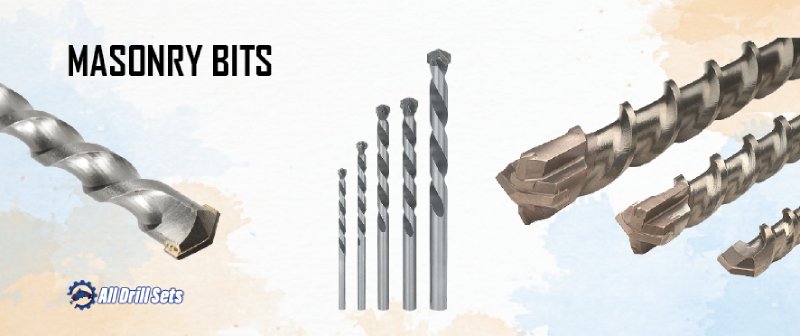 That is the bit you are looking to put a hole in a brick, stone, or concrete. With the help of a hammer drill, you can put a hole in strict structures with masonry bits. But these bits wear fast because of their working environment. So, you will have to change the bits frequently. 
RIVET BITS
These bits have a unique design. This design helps them to drill rivets into sheets. 
SPADE BITS
Like their name, spade bits have a spade-shaped tip. That allows them to go into softwood. They are used to make a hole in cables. 
INSTALLER BITS
These bits are for particular professional purposes. These bits are for installing wiring for security or entertainment systems. There is a tiny hole at the tip of these bits. This tip puts a hole in the wire. These bits are very long. Their length can be up to 18 inches. 
STEP BITS
These bits have a series of pyramid-shaped steps at their tip—professionals use this bit to dig a hole into sheet metal. You can create holes with various diameters with the studded design. 
MANUAL DRILL BITS
Manual drill bits are for hand drills. These drill bits perform simple drilling tasks. Sometimes these manual drilling bits are more useful than electric drill bits. Craftsman sometimes prefers these drill bits over electric drill bits as they can cut precisely with these bits. 
AUGUR BITS
Are you looking to put a hole in thick and dry wood? Then it would help if you used augur bits. With their unique design, you do not have to put extra pressure. You can drill into tough materials quickly with augur bits. Augur bits have a screw tip. This screw tip helps the rest of the bit to go through smoothly. 
SELF-FEED BITS
These are some of the best bits if you look for a clean and sharp hole in the wood. There is a pointed tip, which helps easy positioning of the bit. 
HOLE SAW
These bits are for door hardware installation. 
COUNTERSINK BITS
These bits' use is for wood. Professionals use countersink bits to drill holes like countersink, a pilot hole.
PlUG CUTTER
Plug cutters are mainly for professional tasks. Their use is for wood.  
TILE BITS
Tile bits are for cutting tiles. These bits contain carbide tips. As we told you earlier, carbide is a solid material. Tiles are strong. Drilling a hole without breaking it is not an easy task to do. Tiles professionals use tile bits to drill into tiles without harming them. 
ADJUSTABLE WOOD BIT
We think you already have guessed the purpose of these bits from its name. These bits can create holes of various diameters. The best side of using this bit is you do need to buy bits of different sizes for different spots. 
ANNULAR CUTTER
Are you willing to extract the core of the material? Well, then use an annular cutter. 
BITS FOR METAL
These bits are for heavy works. If you want to cut steel, then use this bit. But Remember, these bits are incredibly costly. So, do not think of buying one if you don't need it. 
GLASS AND TILE BIT
These drill bits can drill into plastic, glass, tiles, glass, marble, and brick. These bits also can endure very high temperatures. 
HAMMER BIT
Sometimes we need to make a hole in concrete slabs. Drilling a concrete slab is not an easy thing to do. Concrete is an insensitive thing. The concrete keeps getting stronger after it's built. You will need a particular bit with a special drill to put a concrete hole for this very nature. 
FORSTNER BITS
These drills are wide and mostly have flat bottomed holes. They have a small central point. They are instrumental in hardware installation. Forstner bits are not like regular bits. Regular bits get guided by the tips. On the other hand, Forstner bits get driven by the wide outside rim. 
BULLET POINT BITS
These are extraordinary bits. You can use these bits for multitasking. You can drill into wood, plastic, and metal with these bits.  
SPIRAL SAW
That is primarily a SAW bit that looks like a drill bit. Technically it drills as well. 
CORE DRILL BITS
This drill is for drilling large holes in masonry. It is highly recommended to keep the bit dead straight while working. 
HEX DRILL BITS
You can use these bits in various jobs. There are two types of hex shank bits. 
REBER DRILLS
As the name of this drill, Reber, these are alternatives to croppers. These bits have a great design. This design help is holding the bit in place. 
STEEP ANGLE TWIST DRILL BITS
These are kind of twist drill bits but with a slight change in the tip. With the Steep cutting angels of the tip, you can cut wood faster. These steep angle twist drill bits give better performance than regular twist bits. These bits are not suitable for drilling other substances. 
SELECTION PACKS
You can find many selection packs of drill bits in the market. Usually, these drill bits get packed with bundles. Many superior brands manufacture these drill bits. But many of them are of low quality. It would help if you did extensive research before purchasing these drill bits. 
2 in 1 & 3 in 1 bits
Say you need to create many identical holes at a time. Then these drills are beneficial. You can find these drill bits ready-made. You can make these bits by taking a long bit and grinding it to parts. You can do the grindings with a grinder and drill. This process takes a bit of time and hard work. With a little bit of patience, you can save a lot of time in the field. 
Left-handed bit
You can find a twist drill with a reversed twist. These are very useful in removing screws. They can grab the head of the screw and undo it. If that does not work, then they can drill the head away. If you are using a tapered screw extractor, then you should give the left-handed bit a chance. That will save you a lot of time. You will be able to do your work more efficiently. 
2 in 1 flat bit
While drilling, there is a common problem. You need to clean the whole frequently for more efficient work. But if you use these bits, then it will do both tasks at a time. It will clean the hole and penetrate the head further. But you can not use these drills everywhere. The hole must be broad and shallow. 
MULTI ANGLE DRILL BITS
Multi-angle drill bits are to drill curved wide holes. 
Drill Bits Used For Special Purpose
We have discussed how drill bits are made. We have addressed the coating. Lastly, we have provided many types of drill bits names and their uses. But seeing all this name can be overwhelming. That's why we are trying to give a complete overview of which bits get used on which materials. 
Common Drill bits for wooden materials
Spade bits

Manual drill bits 

Hole Saw 

Auger bits 

Ship auger bits

Installer twist bits

Router or Tupi drill bits

Forstner bits

Brad-point bits

Self-feed bits

Drill C

Pallet drill bits 
Common Drill bits for Metal Materials
HSS Laminated Drill Bits. 

Titanium Metal Drill Bits

Rectified Titanium HSS Drill Bits 

Rectified Cobalt HSS Drill Bits 

 Rectified HSS Drill Bits 
Common Drill bits for Concrete and Masonry
Laminated Drill bit with tungsten carbide 

Masonry Bits with TC tips

Milling Drill Bits With High-Performance Carbide Insert
Common Drill bits for Glass, Ceramic, Tiles
tungsten carbide spear-tipped drill bits

diamond-tipped drill bits

diamond-coated drill bits

Carbide-tipped drill bits
Standard Drill bits for steel
Titanium twist drill

Twist Drills
Final Thoughts
Drilling is a regular job for household work. You may need to put a hole in the wall, or maybe you want to make a fancy thing. Drilling is necessary for that. Without primary knowledge of drilling bits, you can not achieve that. You won't be able to decide which drill bit you are going to need for which purpose. Without that knowledge, you can not purchase the right drilling machine and drill bit.
We have tried to cover almost all the drill bits available in the market. We hope you will find this article helpful—best of luck with your project.