Suppose you have entered a power tool shop for the first time to purchase a drill. You might get confused seeing a couple of options though they look almost the same. You will find a regular drill and hammer drill or hammer drill driver, to be precise. So, what is the difference? Here we will discuss what is a hammer drill and how it works. After reading the article, you should have a clear understanding of the hammer drill and therefore can decide whether you need it or not.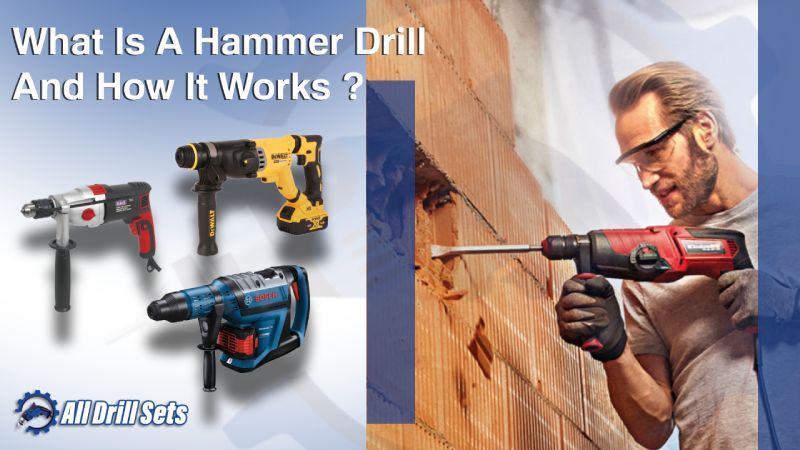 What Is A Hammer Drill And How It Works:
What Is A Hammer Drill?
Hammer drill is just like the regular drills with some additional features. Hammer drills come with an additional pushing mechanism. Hammer drills can push forward drive drill bits with a pulsing hammer-like action as they rotate. This hammering mechanism is essential for projects that include drilling into brick, concrete, block, or any other masonry surface.
Why Use A Hammer Drill?
Regular drill bits are not sufficient for working into hard materials like concrete, brick, rocks, and any other hard surfaces. You can use them for light purposes, not for the more challenging surface. 
That's why hammer drills you will need hammer drills. Average drill drivers use a rotary motion for drilling applications that rotates the bit in the chuck. Hammer drills, on the contrary, have come with a percussive force that acts like a hammer hitting a nail.
As the drill bit rotates, the hammer drill creates a forward motion to drive the bit into the hole.
How Does Hammer Drill Work?
What is a hammer drill and how it works, in this article you already know what is a hammer drill? Now the point is how it works. Let's discuss. Hammer drill comes with two discs that have ridges, just like the poker chips. When the discs slide past the other, it rises and falls. As a result, the chuck slams forward and goes back. In the best hammer drills, that action can happen more than 30,000 times per minute!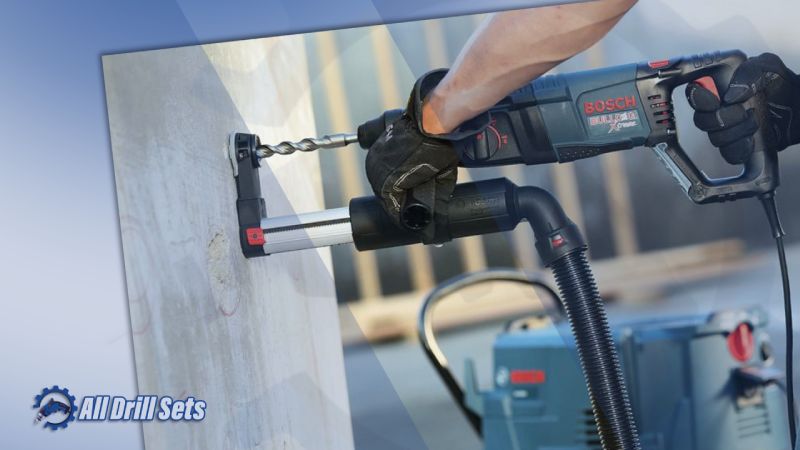 A clutch separates both discs when there is no force on the chuck, and the pounding action stops. 
Most hammer drills come with a switch to the on/off the hammer mode feature. When you are in hammer mode, the hammering begins. You can use your hammer drill as a regular drill by turning off the hammer drill feature. 
This saves wear and tear. Many hammer drills can be used as regular drills by switching off the hammering action.
How are Hammer Drills Physically Different From Regular Drills?
The manufacturing process of a hammer drill is almost the same as regular drills. In a hammer drill, manufacturers start with a standard drill and add a hammer mechanism behind the chuck. Typically, this mechanism adds a small amount to the overall length and a few ounces to the overall weight. It would be tough for you to tell the difference looking at the two side-by-side.
Modern drills and hammer drills both come with clutch settings and drill settings. When you look at a hammer drill, you will find an additional hammer mode you can switch into.
Some models come with different colors for mode changes and the clutch collar, whereas others keep them all on one collar. You will find the hammer mode always right next to the drill mode. 
When Should You Use a Hammer Drill?
Hammer drills often come with a selection switch that allows users to choose between hammer and regular modes. If the project you are performing requires drilling into brick, concrete, or another masonry, you should turn on the hammer mode and use it. 
Professionals and contractors regularly use hammer drills to install electrical boxes and other fixtures to brick and block walls. Homeowners and DIYers also use hammer drills for numerous projects, with the most common being installing shelves and cabinets on masonry.
What About Hammer Drill Bits?
Hammer drills are ideal for light masonry. It works best at drilling holes in the mortar, brick, and concrete blocks. But it can also tackle the occasional hole in poured concrete.
You don't need to invest more money in hammer drill bits. Expensive hammer drill bits usually come with superior carbide tips, which are more securely attached to the shank of the bits, and they don't get damaged in heavy use. 
Which Hammer Drill Should I Buy – Corded Or Cordless?
Let us answer the question with another question, how much mobility and power do you need?  A cordless power drill provides you the freedom to roam, No need to plug in to get the ability.
Cordless hammer drills are ideal for a construction area because they give you the freedom to work anywhere you need. You can speed your task with that mobility. One thing to consider, though, cordless hammer drills produce less torque compared to the corded counterparts, so most professionals use them when the job doesn't need that much power.  
You feel tense when you are using a cordless hammer drill because you can lose energy anytime. When the battery loses most of its power, the drill becomes slow, creating problems in the middle of the work. That's not something you should not worry about while using a corded hammer drill.
Now come to corded hammer drills. These hammer drills won't let you go places with it. If you need to work far from the plug socket, you'll need a long extension cable. These extension cables can create multiple problems, especially if you are dealing with an area with other tradespeople around you.
Apart from that problem, corded drills will slow you down. But, if you are not worried about the cord setup and don't want to sacrifice the torque, then corded hammer drills are your best bet. 
You will not lose power with a corded hammer drill, so you will be able to work for a more extended period of time. 
9 Best Cordless Hammer Drills  Reviews
We know the best cordless drill is the same for every user; it depends on the user's requirement. Every user has different needs, and DIYers and contractors will demand various cordless hammer drills as the projects won't be the same for everyone. Here is our list of the 9 best cordless hammer drills. 
DEWALT (DCH273B) 20V Cordless Rotary Hammer Drill
The DEWALT DCH273B  cordless rotary hammer drill is one of the most potent tools by the company. We love the active vibration control and optimized ergonomic design of this drill. Both features deliver ultimate user comfort and increased performance.
The brushless motor increases the lifespan and the running speed of the machine.
Milwaukee 2804-20 M18 FUEL 1/2 in. Hammer Drill
This Milwaukee 2804-20 18 V cordless hammer drill is one of the best for heavy-duty applications. 
A mighty brushless motor powers this hammer drill. It can deliver up to 60% more power. It has a 1.5-inch  length and delivers up to 2 times faster speed under heavy load. The motor generates 1200 in-lbs of torque and 2000 RPMs. It also provides fast drilling in multiple applications.
Makita XPH07Z 18V  Lithium-Ion Battery 1/2″ Hammer Driver-Drill
Are you looking for power? The  Makita XPH07Z can be the tool you are looking for. This device is by far the best powerful cordless hammer drill on the market. And this mega-powerful hammer drill comes at a very affordable price. 
It is powered by a brushless motor that increases the drill driver's life span by 50% more than non-brushed. 
Dewalt 20V Max Brushless D-Handle Rotary Hammer DCH133B
This compact drill comes with a rotary mode and a hammer + drill mode. A brushless motor runs the drill, therefore, delivers extended runtime and durability. Brushless hammer drills are more potent as they don't have a voltage drop or friction for energy loss. 
The 20V Max brushless rotary hammer, DCH133, delivers 2.6 joules of impact energy and comes with a 1″ drilling capability. The highest drilling range of this cordless drill is 3/16″ to 5/8″.
Milwaukee 2712-20 Cordless Rotary Hammer, SDS Plus
Milwaukee is the market leader in the power tools industry, and thousands of people use their cordless drills with utmost satisfaction. 
The Milwaukee 2712-20 Cordless Rotary Hammer is powered by 18V lithium-ion batteries. This is a solid cordless hammer drill that is capable of drilling through tough masonry effortlessly. And, of course, it is powered by a brushless motor. 
DeWALT DCD996B 20V XR Hammer Drill
Looking for the best hammer drill for home projects? This model from Dewalt is built for that purpose. 
Not only is the Dewalt DCD996B able to tackle the drilling and fastening applications. It has a LED work light setup in the front to provide you light to your working area. When you are working in a low-light situation, you will need additional light to enhance visibility. Moreover, it has a brushless motor that provides an extended life span to the drill driver.  
PORTER-CABLE 20V MAX Hammer Drill, Tool Only (PCC620LB)
This is another excellent choice for homeowners and DIYers. But we assume this unit from Porter-Cable is also a convenient and valuable tool for professionals. 
This drill has 283 MWO, which is less potent than some other models on this list, but it's still powerful enough to drill and fasten in masonry.
CRAFTSMAN V20 Cordless Hammer Drill Kit (CMCD711C2)
Are you looking for a budget cordless hammer drill that can handle most projects around your house? Then the Craftsman V20 Cordless Hammer Drill is for you.
This Brushless Hammer Drill delivers a legitimate Pro-level 2100 RPM no-load speed and is perfect for multiple drilling and fastening needs. 
RYOBI P1812 ONE+ HAMMER DRILL KIT
RYOBI P1812 18v cordless hammer drill can generate up to 750-inch pounds of torque with the 24 position clutch. You can drill through various materials, from wood to masonry to plastic, with the 3-position speed adjustment knob. 
Near the base of this hammer drill, you will find a platform where you can put your bits and fasteners. This way, you will be able to change bits without walking away from your job to your toolbag for different jobs.
7 Best Corded Hammer Drills Reviews
Corded hammer drills use a direct cable connection to operate, and therefore, they deliver more power than cordless hammer drills. If you perform heavy-duty drilling applications more often, a corded hammer drill could be your best companion. Here is the list of the 7 best-corded hammer drills from us: 
Dewalt D25263K D-Handle  Rotary Hammer
This D-Handle SDS Rotary Hammer from Dewalt is an innovative tool and offers 3 Joules of impact energy for faster drilling jobs. The corded drill has an 8.5 Amp high-performance motor to meet all of your requirements.
The drill has an interesting feature called shock active vibration control, which reduces handling vibrations.
Bosch 11255VSR Bulldog Xtreme
This is another powerful SDS rotary hammer drill, and you will get three typical modes: the hammer, rotation, and chisel. This drill delivers two pounds of impact with each strike, and the SDS chuck will automatically lock the drill bits in place to provide speed and convenience.
If you are searching for a drill for challenging materials like concrete, this drill driver will serve you well. 
SKIL HD182002  Corded Hammer Drill
This drill set comes with a 100-piece accessory kit. They are 16 masonry, 10 nut drivers, and 3 spade bits to work on all types of materials.
 A 2-level variable speed trigger of this model increases or decreases the pressure and speed of drilling based on the application. This unit works equally fine with crude hole drilling on more solid surfaces or lighter projects such as furniture assembling.
Bosch GBH2-28L Bulldog Xtreme Max Rotary Hammer
You don't need an introduction for the Bosch bulldog. You surely want this beast at your home. Some other companies are trying to copy it, but none of them are as successful as this one. 
This Bosch drill comes with an 8.5 amp motor which makes it very powerful against concrete or masonry.  Just like other Bosch Bulldogs, this drill driver has a keyless chuck design, and you can use SDS Plus Bits.
Makita HR2475 1″ Rotary Hammer
When we talk about drills, we can not ignore Makita as it is one of the best in the industry.  This hammer drill from Makita comes with a torque-limiting clutch that automatically releases the gears if the bit binds. This feature prevents gear damage.
It also comes with three modes of operation, hammering, hammering with rotation, and rotation only. It has an ergonomically designed "D" shaped handle to provide added comfort and control.
Dewalt DWD210G 1/2 IN. (13 MM.) VSR PISTOL GRIP DRILL
This unit from Dewalt is equipped with a mega 10 amp motor; this corded drill can tackle nearly any task with its enhanced power and high-class performance. 
The patented DeWalt high-performance motor is designed to deliver 50% more power than a standard motor of other power tools and has increased overload protection. For this protection, it adds more durability to every drilling application.
VonHaus SDS-Plus 10 Amp Rotary Hammer Drill with Vibration Control, 3 Functions
This rotary hammer drill from VonHaus is ideal for challenging DIY tasks such as detaching plaster, rooting out tiles, removing bricks off a wall, and even digging out old grouting and other household works. 
The drill runs on a 10 amp motor, making it perfect for use with materials such as wood, masonry, and metal. 
Conclusion
Hope now you got a clear picture of what is a hammer drill and how it works. Hammer drills are a convenient tool for both DIYers and professionals. We hope the article helped you to understand everything about hammer drills. Suppose you are looking to buy one you can choose between cordless and corded. We have tested every product before adding it to the list. So, you can purchase anyone from the list according to your requirement. 
Best of luck and see you in another article.