How to remove stripped screws? Yes, it's an urgent question to you if you are stuck with a stripped screw and desperate to remove it. Then, you have come to the right place. We will provide you with an easy step-by-step guide on how to remove stripped screws.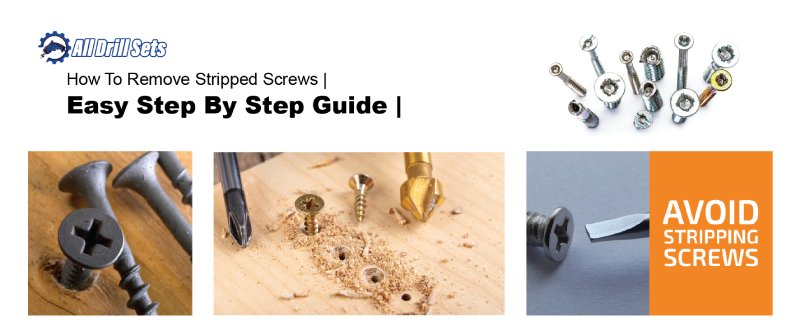 If you have ever tried repairing works yourself, you must have encountered problems with removing stripped screws. Even skilled handymen also face this problem. But there are many easy ways to remove a stripped screw.
We will tell you how to remove stripped screws with an impact driver and other tools. After reading the article, you will be able to remove a stripped screw quickly and easily in just 1 minute. 
What Is A Stripped Screw?
When the head of the screw gets so damaged that you can not remove it easily with a screwdriver, then we call that screw a 'stripped screw.' In this case, the screw head gets so damaged that you can not fit it accurately into a bit. So, working with the screw becomes a laborious job.
Why does it happen?
The most typical reason behind a stripped screw is the use of incorrect tools. If you use an inferior quality screw or screwdriver, that also can result in a stripped screw. 
Other Reasons Behind The Stripped Screw
Other than using incorrect tools, some other reasons can cause the issue of the stripped screw. Some of the reasons are as follows: 
Too fast working without care and precision.

You are using an incorrect drill.

Using the screw even after it already got stripped.

Using an old drill bit.

Using a too large or too small screwdriver for the project

Overtightening the screw

Turning the screw at a skewed angle.
How To Remove Stripped Screws?
We can remove a stripped screw in various ways. You can use any of the following methods to remove a stripped screw easily. 
1. How To Remove Stripped Screws With An Impact Driver
A manual impact driver is an excellent tool for removing stripped screws but ensure that you use a good quality bit to get the best result.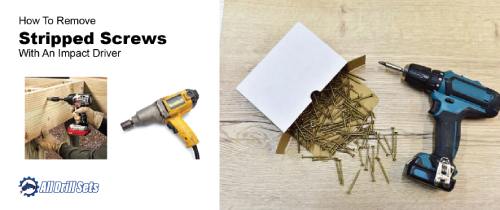 Select a good screwdriver bit ( For example, Phillips or flathead) and then attach t it and tighten it. Then, make sure the screw head does not have any loose dirt and debris. Before you start the job, make sure that the bit is in the right direction as you don't want to tighten it up! 
You should wear your safety glasses and put the impact driver bit into the screw head. Now, you should strike the handle end of the impact driver multiple times with a hammer. The bit will set into the screw head solidly, and the impact driver head will rotate, loosening the screw. 
Now you should be able to remove the screw with a regular screwdriver or a drill. 
2. How To Remove Stripped Screws Use A Ruber Band With A Manual Screw Driver
Maybe you are wondering, how on earth a rubber band will remove a stripped screw? You can do it easily with a rubber band and a manual screwdriver.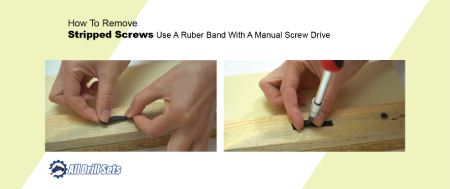 A stripped screw won't let your screwdriver set on it. And, if you're facing trouble with your screwdriver bit slipping against the screw head, use the simple trick. First, use a hammer to tap the screwdriver down, lodge the screwdriver firmly into the screw head. This will provide the extra grip you need to twist the screw, especially if the screw is made of soft metal. If the process fails, cover the screw with a rubber band or a small duct tape piece. You should do it with the adhesive side against the screw head, which will provide you with extra grip. Now press the screwdriver again with a hammer, but this time with a rubber head underneath it. Your screwdriver should be able to grip the stripped screw now. 
3. How To Remove Stripped Screw Using A Screw Extractor
When a screw gets stripped and refuses to come out, then a screw extractor is an excellent option. Screw extractors are counter-threaded to how screws are threaded.
Screw extractors come in different sizes, and for this quality, they can handle stripped screws very efficiently. But you'll have to select the right size to fit into the screw head of your stripped screw. Attach the extractor with your drill and tighten the chuck to hold the extractor properly. Ensure you set the drill into reverse. The extractor is reverse-threaded. So, when the drill is in reverse, the extractor bit drills into the stripped screw and bites into the screw head. Keep drilling in reverse steadily, and the extractor will start rotating the screw in reverse, and finally, you will get the screw out.
4. How To Remove Stripped Screw Using A Plier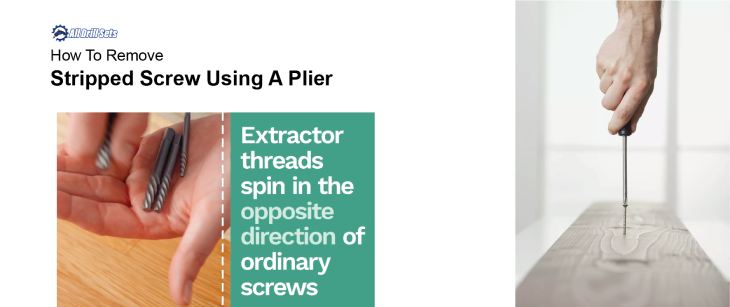 This is another excellent way of getting out a stripped screw if the screw isn't buried all the way into the material. Use the plier to clamp down around the screw head and start rotating! One necessary caution, this method could damage the surface around the screw from the jaws of pliers. You can put rubber or another soft material around the screw to save that form from damage. The process won't work if the screw has gone far beneath the material. 
5. How To Remove Stripped Screw Using A Left-Handed Drill Bit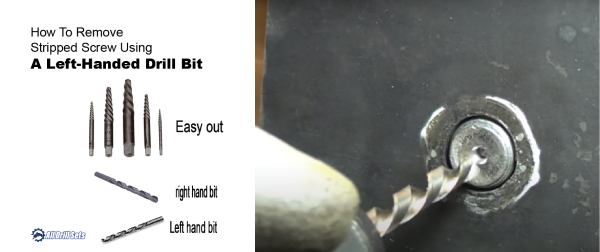 Yes, left-handed drill bits exist. These bits are designed to be used in reverse. Select a drill bit that is slightly smaller than the screw head, then put the bit in the drill and tighten. Ensure the drill is in reverse and apply solid pressure to the screw head and start the drill. Wait for the drill bit to bite the screw. If it does, that will remove the stripped screw or sure. 
6. How To Remove Stripped Screw Using A Rotary Drill
Using a rotary tool is another option if you can not remove the stripped drill with any option mentioned earlier. Now, attach a thin cutting disk to your rotary tool and start cutting a narrow slit in the stripped screw. Ensure that the cut is deep enough to fit a flathead screwdriver; the screwdriver gets enough to grip. If the screwdriver doesn't fit, you should make the cut larger but make only minor cuts. If the cut you make is too much, a screwdriver will not be able to grip. Make sure you wear a safety glass while using the rotary drill as it can scatter loos metals around, and you can hurt your eyes. 
You can see this:
How to Remove Stripped Screws – Safety Measures
When attempting to remove a stripped screw, it's important to take proper safety precautions to avoid injury. Here are some safety precautions to keep in mind:
Wear protective gear: Wear gloves and eye protection to protect your hands and eyes from metal shards or debris that may fly off while attempting to remove the screw.
Use the right tools: Use the right tools for the job and make sure they are in good condition. Using damaged or worn tools can cause injury or damage to the surrounding material.
Turn off the power: If you are removing a stripped screw from an electrical device, make sure to turn off the power to the device before attempting to remove the screw.
Don't force it: If the screw is not budging, do not force it. Forcing the screw can cause damage to the surrounding material or cause the tool to slip and cause injury.
Use caution when applying heat: If you are applying heat to the screw, use caution and keep flammable materials away from the area. Make sure to turn off the heat source after use.
Work in a well-ventilated area: If you are using chemicals or applying heat, make sure to work in a well-ventilated area to avoid inhaling fumes.
Suggested Tools – Best Cordless Impact Drivers
We are discussing how to remove stripped screws with an impact driver. If you have followed the article by this time, you will know how easy it is to remove stripped screws with an impact driver. But, without a good impact driver, you are not going to achieve it. That's why we have listed some of the finest impact drivers in the market. They are: 
The M12 Fuel can drive every fastener, the 18- and 20-volt drivers. It comes with 3/8in. X 3-in. lag bolts. It has a LED light to work in the dark and a 2.0Ah battery that can provide power for a long time. 
DeWalt's 20V MAX XR, with 1,825 inch-pounds of torque and big 4.0Ah batteries, is a contractor-quality tool capable of driving large lag bolts. We appreciated using the simple mechanical switch to click between the three power settings to match the job's power better.
Porter-Cable is not a well-renowned brand like Dewalt, Milwaukee, or Makita. But, for an efficient drill, the PCCK647LB cordless impact driver is one of the best choices for you. Top class features and a 3-year warranty are definitely an impact driver you should consider.
As a lithium-ion battery-powered impact driver, this Makita XDT131 is capable of tackling challenging screw driving applications. It comes with a reasonable amount of torque. The driver comes with a brushless motor which provides 50% more runtime over brushed motor and makes the machine more durable. Makita XDT131 comes with a variable speed setting that goes up to 3,400 RPM, and the highest impact rate is up to 3,600 BPM.
The DCF887B is a popular and highly rated cordless impact driver from Dewalt. The driver comes with three LED lights. With an impact driver, you just need to go into tight spaces, and that's where the lights will become helpful. Besides, the lights stay lit for at least 20 seconds after you release trigger releases. S, you don't have to go dark when working in tight spaces just after pulling the trigger off.
This is a combo kit from Dewal. The DCK299M2 Combo Kit comes with the famous DCD996 hammer drill and popular DCF887 impact driver. The Dewalt DCD996 hammer drill is one of the most famous brushless hammers drills out there. The drill is renowned for its outstanding performance and excellent efficiency compared to its counterparts in the market. The Dewalt DCF887 impact driver is a potent and efficient brushless impact driver you can get. It is very lightweight and compact. Removing a stripped drill with it will be effortless. 
What Tools Will I Need To Remove Stripped Screws?
We have discussed how to remove stripped screws using different tools. Let's sum it up with the list of tools and materials you can use to remove a stripped screw: 
A drill or screwdriver

An elastic band

An impact drill and hammer

A flathead screwdriver and hammer

A screw extractor

A locking or clamping plier
We have discussed every possible way of removing stripped screws, but there is another vital aspect of stripped screws that we did not cover: rust. It's very much possible that the stripped screw you are trying to remove became rusted. In that case, what should you do? 
How To Remove A Rusted Screw?
There are three most widely used ways to extract a rusted screw. Rust makes a screw too challenging to deal with. But with proper tools and methods, it's easy to remove a rusted screw. You can pretty much use the same techniques you applied on a  stripped screw. Here are three commonly used methods to extract the rusted screw. 
HEAT
Heat the rusted screw to loosen it up. You can utilize a fire extinguisher or a blow torch. If you don't have any of those two, you can use any other gas/heat gun to expose the screw to heat. After you have heated the screw-up enough, the screw will come out automatically. 
Use A Lubricant And A Drill/Driver
This is another excellent method of extracting stripped screws. Collect some lubricants and spray considerable amounts on a rusted screw to make it slippery enough. After you complete the rusted screw slippery, the screw will start moving a bit. Now, use a driver or drill to remove the rusted screw from the surface. 
Cut The Screw
This is the last method, just as we mentioned in the process of removing the stripped screw. Get a rotary tool and use it to make cuts into the rusted screw. You can also use a flathead screwdriver and hammer so that you can slash on the rusted screw. The impact will remove some tension in the screw and drive out more straightforward and more possible.
If you are a DIY enthusiast or a professional handyman, the tips and tricks we described will help you. Rusted or stripped screws are hard to remove at some points but with a little bit of patience and using the perfect method, you definitely can remove them without that much effort. 
Frequently Asked Questions
1. Can You Use An Impact Driver To Remove Screws?
Yes, you can remove a screw with an impact driver. Using an impact driver is like using a power drill to drive or extract screws. You can also remove screws with a drill in reverse. One big difference between these two power tools is the bit attached to the tool's chuck. Impact driver bits come with a hex shank that attaches with the chuck collar perfectly, and you don't have to tighten it. But with a drill, you have to tighten the chuck. Impact drivers are the best tool to drive or remove a screw. You can even remove a stripped or rusted screw with an impact driver. 
2. Why Does My Impact Drivers Strip Screws?
The problem is not with the driver; the problem is with the selection of your tools. The reason behind your impact driver strip screws can be: 
Wrong impact driver

Worn screwdriver bits

Poor quality screws

Poor quality screwdriver bit

Over-tightening the screw

Lack of pressure

No pilot hole

No screw lubricant
3. How Do You Remove A Screw That Has Been Stripped?
You can use an impact driver to remove a stripped screw. There are other ways to remove a stripped screw, such as you can use a rubber band and a regular screwdriver to remove a stripped screw. If the screw is too tight and can't remove in any way, you can use a rotary tool to remove the stripes screw. 
4. How Do You Remove A Stripped Hex Screw?
The best way to remove a stripped hex screw is to spray it with a rust remover product. The following best method is to remove a stripped hex screw is to bit it with a hammer. A rotary tool is also an excellent way to remove a stripped hex screw or a rusted screw. You must wear eye protection glass when you do the operation. 
Conclusion
Every DIYer or handyperson faces an issue with a stripped screw every now and then. Though it seems tough to remove the stripped screw at the beginning, the process is easy. With a proper tool and you know how to remove stripped screws.
More Resources
How To Drill A Hole In Plastic
How To Hang Drywall On Metal Studs