Are you very keen to know how to remove drywall anchors? You are in the right place and here you will find the 4 best methods to remove drywall anchors.
You can remove drywall anchors by following some simple steps. Drywall anchors are plastic sleeves, and we insert them into a wall where we can not find any stud. 
And then they spread out behind the drywall. When we insert a screw there, it provides extra support and stability.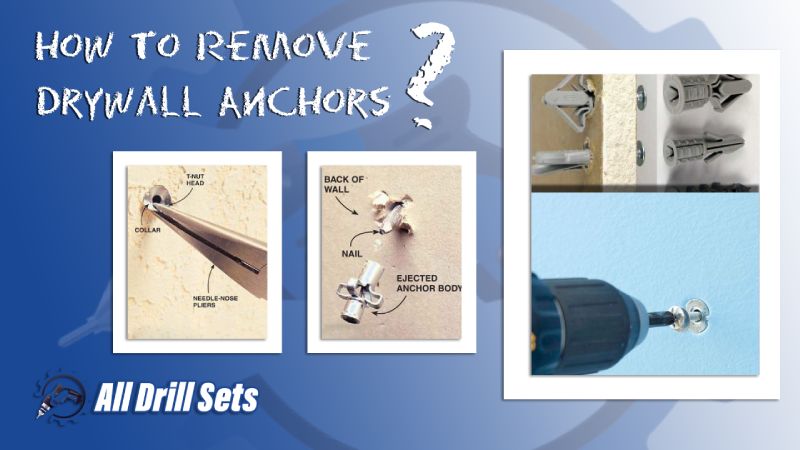 We use drywall anchors to hang a mirror or any other artwork on our wall. But we have to remove them when we want to redecorate our space. 
Fortunately, you can remove a drywall anchor following the simple steps described in this article. But, you have to follow the procedure perfectly, and you will need some tools to achieve the best result. 
Tools and Materials
To learn practically about how to remove drywall anchors from a wall, you will need some tools and materials. Here are the lists of tools and materials you will need: 
Needle-nose pliers

Screwdriver

Electric drill

Hammer

Utility knife

Nails

Microfiber cloths

Drywall spatula

Drywall putty

1-inch cutting wheel for drill

Medium-grit sandpaper

Protective goggles
All tools and materials are not mandatory; it depends on how tight the drywall anchor has set on the wall. But we recommend you have access to all the tools and materials as you might need any one of those at any time. 
Before You Begin To Implement The Method of How To Remove Drywall Anc
Please consider the following things before you proceed: 
Selecting the perfect size bit is crucial. It is better to have a complete set of bits. 

If you're planning this project before painting your room, plan to prime the patched surfaces before starting painting.

Before installing new drywall anchors, look for those kinds of drywall anchors that are easy to install and easy to remove. This will save lots of time and effort in the future. 
Remove the Screw with an Impact Driver
Before removing the anchor, you have to remove the screw which is installed into the drywall. Use an impact driver to remove the screw. Here are the steps to achieve that: 
Step 1
Get a drill bit about twice larger than the diameter of the hole in the anchor. The bit's cutting edges must touch only the collar edges around the screw hole and not slip inside the hole.
Step 2
Use the hole in the anchor to center the bit and start drilling. After you wipe out the screw, the anchor should come out if the collar breaks. Suppose it does not use any of the following methods. 
Methods Of How To Remove Drywall Anchors:
Not every drywall anchor you will remove will need the same time and effort. Some will come out quickly, and some will require extra effort. Therefore, we have added every possible method so that you can remove all drywall anchors from your wall. 
Method 1: Pull It Out
Grab the drywall anchor's collar or head firmly with needle-nose pliers. Now use a gentle back-and-forth rocking motion and wipe the anchor free from the wall. Don't push too hard. If the anchor does not give up and stays on the wall, excessive push can damage your wall more. Stay calm and use the following method. 
Method 2: Back It Out
Get a screwdriver that fits snuggly into the mouth of the anchor. Now place it and tap into place with the help of a hammer. Rotate the screwdriver counter-clockwise, and that will back out the drywall anchor.
If the anchor does not budge or turns, then don't push it hard. That can damage your wall. Proceed to the following method but remember you will need a cutting wheel for that. Besides, you can proceed to method 4 to wipe out the anchor. 
Method 3: Cut And Hammer It
Wear your protective goggles and attach a 1-inch cutting wheel to a drill. Cut the top off the drywall anchor gently.  Take a wide nail and tap against the anchor mouth with a hammer until the drywall anchor on the wall falls back behind.
Use the cutting wheel to score the drywall around the anchor head. In case you don't have a drill with cutting while using a utility knife. 
Now place a screwdriver with a head wider than the anchor's mouth. Please don't use a screwdriver wider than the drywall itself, and firmly tap the screwdriver until the anchor falls out behind the back of the wall. If the process does not work for you, proceed to the following method. 
Method 4: Recess It
Perhaps this is the most straightforward way to deal with multiple unwanted drywall anchors. You can use this method for brittle or water-damaged drywall anchors. 
With this process, you recess anchors rather than remove them altogether. Use the utility knife to score the drywall around the anchor head. Take a screwdriver wider than the anchor mouth and position it over the anchor head. Now lightly and squarely tap the screwdriver with a hammer until the drywall anchor sinks partway into the drywall. Patch when the anchor is recessed.
How to Patch
When you have a complete idea of removing drywall anchors, patch the remaining hole with drywall compound. Here are the steps of how to do it: 
Step 1
Get the hammer and hit it lightly around the edges of the hole. Keep doing it until the edges are flat, flush with the wall. Now remove the waste of the drywall. 
STEP 2
Use sufficient drywall compound and fill the hole with a putty spatula. Mark and "X" on the repair spot with the spatula to get the putty flush with the wall while removing the excess. Let dry overnight.
Step 3
Use medium-grit sandpaper to sand the dried putty. Now remove dust with a dry cloth. 
Cordless impact drivers are convenient tools. As they don't need a direct ware connection and are powered by a battery, you can use them anywhere you want. These are the best tool to remove screws from an anchor, and most of the time, anchors come out quickly after you wipe out the screw.  Here are our seven best picks for cordless impact drivers: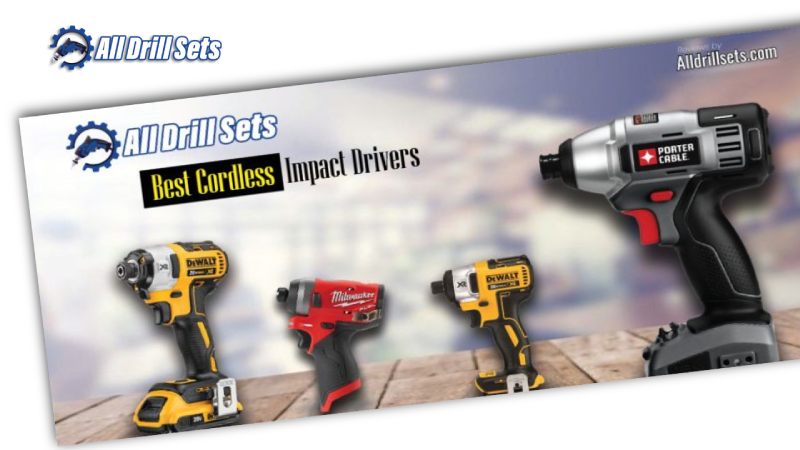 Dewalt  DCF887D2 20V MAX XR Impact Driver
Dewalt is a famous name in the power tool industry. The company has produced a wide range of powerful and innovative tools from its inception and still counting on. The DCF887D2 is another impressive tool from the company.
This is a  Lightweight tool weighing just 7 pounds and significantly solid and robust. The impact driver shows no issues putting screws into wood. Moreover, adjustable settings make it very easy to use.
The impact driver comes with a 3 speed setting for making various applications straightforward. The speed selector mode is located on the tool's base and very convenient to operate. The no-load speeds are 0-1000/ 2,800/ 3,250 RPM with 3,600 RPM. 
The driver is compact and the machine's balance is just perfect. Wiping out drywall anchors is one of the best impact drivers in the market. 
PORTER-CABLE PCCK647LB 20V MAX Impact Driver Kit
Porter-Cable is not as famous as Dewalt, Milwaukee, or Makita. But, This is an efficient impact driver. The PCCK647LB cordless impact driver is one of the best choices for household works and DIY projects. Topclass features and a 3-year warranty of this impact driver deserve a chance from you. 
This impact driver is powered by a brushless motor like any other top brand. The brushless motor delivers 50% more runtime than the brushed one. You can work longer with this impact driver. 
This impact driver can remove many screws from a drywall wall anchor at once. 
Makita XDT131 18V LXT  Brushless Cordless Impact Driver Kit
It is a lithium-ion battery-powered impact driver, and it can handle the most challenging screw driving applications with its reasonable amount of torque. The driver has a brushless motor which provides 50% more runtime than the brushed motor and makes the machine more durable.
The impact driver is a part of the LXT series from Makita. So, it has protection against overheating, overloading, and over-discharging its battery.
If you are dealing with many drywall anchors and want to remove them, this impact driver is worth it. 
Dewalt DCF887B 20V MAX XR Impact Driver
The DCF887B  from Dewalt is a popular and highly rated cordless impact driver. It comes with three LED lights. While working with an impact driver to remove drywall anchors, you must have to go into tight spaces, and that's where the lights will come in handy.
Like other top brands' impact drivers, this one has a powerful brushless motor and is very compact in design. This impact driver is another excellent solution to remove drywall anchors. 
Milwaukee M12 Fuel 1/4″ Hex Impact Driver Kit
Milwaukee is the poisoner of innovation in the power tool industry, and you can trust their impact drivers without any doubt. 
The compact design of this model will attract you. Moreover, it has a 5 inches length that opens up the floor for doing any jobs in tight spaces. When removing drywall anchors, sometimes you have to work in a tiny room or challenging area, and the compact design will help you a lot. 
The tool looks small, but it is very tough, and the 12 V battery will last a long time and run the brushless motor. 
For removing drywall anchors, you can trust Milwaukee. 
BLACK+DECKER BDCI20C 20V MAX Impact Driver Kit
If you are on a tight budget and searching for a good impact driver, this will be for you. This affordable impact driver has a price tag lower than many other budget impact drivers in the market, but it still has the feature and power that many other impact drivers do not possess. 
Though it does not have a brushless motor, the motor is still powerful enough to remove all the screws and remove your drywall anchors quickly. If you are not a DIYer and use your impact driver occasionally, this one's for you. 
DEWALT DCF885C1 20V MAX Impact Driver Kit, 1/4-Inch
This is our third pick from Dewalt, and this one is more powerful than the other two. DCF8885C1 is not as compact as other budget impact drives but still compact enough. You can work in tight spaces easily with this too. 
 The driver is only 5.5 inches and weighing 2.8 lbs. With those measurements, we can say with no doubt that with this drill doing any kind of arduous task is possible effortlessly. 
It will be a piece of cake to remove the drywall anchor if you have this impact driver in your hand. 
Best Self Drilling Drywall Anchor
A Self-drilling drywall anchor is convenient if the weight you are going to hang is not that high. The anchor is self-drilling, and you don't need a drill to install it. Here is our pick for the best self-drilling drywall anchor: 
Monsoon Zinc Self-Drilling Drywall
The anchors of this set create precise holes in the drywall. There is no need to create a pilot hole or any other preparation; the anchor is enough to drill its own hole. 
The Deep thread design of the anchors provides strong engagement. It locks into many sizes of drywall 3/8 inch, ½ inch, or 5/8 inch gypsum wallboard.
It can hang up to 50 pounds, and you can remove anchors easily without any hassle. And you will get 50 pieces of anchors with the package. 
Conclusion
Removing drywall anchors is not a tough task if you have the right equipment and follow the proper method. Don't push with one plan, as that can damage your drywall badly. It would be best if you took precautions where needed. We have covered every possible method of how to remove drywall anchors, and we hope the techniques will help you. 
Best of luck, and see you in another tutorial.