Are you finding the solution for how to drill a hole in plastic? You have to come to the right place. We will provide a brief guide to drill a hole in plastic in this article. Working on plastic can be a daunting task for you if you usually work with brick, wood, or metal materials for your DIY projects. But not anymore. After reading this article, that will be a piece of cake for you. 
Drilling a hole in plastic is not a task you should be afraid of. Just follow the following steps: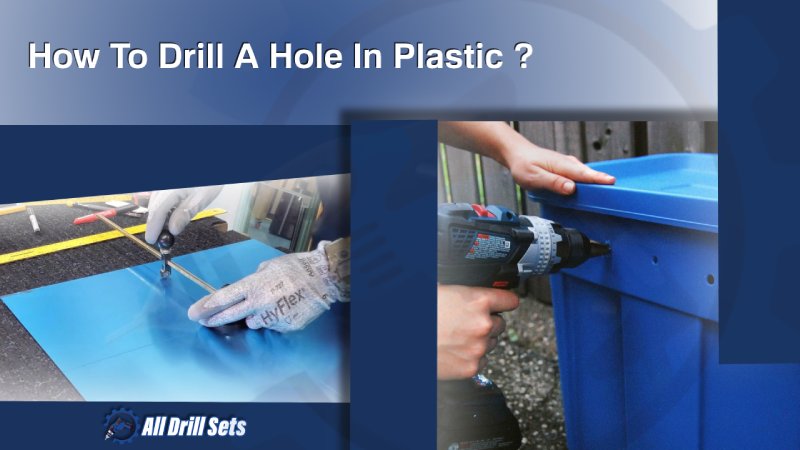 How To Drill A Hole In Plastic
Use a flat surface to support the plastic you are going to drill. 

Hold the plastic down using clamps. 

Use a pen and masking tape to mark the center of the hole 

Use an HSS drill that has been used before and, therefore slightly dull

Hold your 90 degrees (perpendicular) to the plastic

Set your drill to a medium speed 

Let your drill sink through the material without applying much force. 

When the drill breaks through, maintain the support with the surface. 

Please don't stop the drill before pulling it out from the workpiece. 
If you follow the above steps carefully, you can drill a plastic without breaking it. Let's discuss those topics in brief:  
1. Support the plastic
Plastic sheets are flexible and bend if you don't support them properly, which adds stress to the surface.  And this stress can cause the surface to break when you try to drill a hole through the plastic sheet. 
You can use a stiff board underneath to reduce the stress on the surface. You can also cut off an old piece of plywood or scrap wood for larger sheets. That will support the plastic sheet and allow you to drill into this as a sacrificial piece and will reduce the chance of breaking the workpiece. 
2. Hold The Plastic Down Using Clamps.
Along with supporting the plastic, you should clamp the workpiece down to stop it from moving around when you drill holes. To reduce stress on the surface, ensure to spread the clamping force over the whole workpiece.  And avoid camping the plastic sheet too firmly as this can break the sheet. 
3. Use A Pen And Masking Tape To Mark The Center Of The Hole
Most plastic comes with a protective film to prevent any marks or scratches during shipping or storage.  You can write on this, but it is better to avoid marking holes in centers or cutting lines on the protective film because it can be hard to see and rub off.
It would be best to use a pen and masking tape to mark the center of the holes before drilling through the plastic sheet.  Do not scribe or punch as this could break the surface before you even start drilling, and the tape will prevent chipping when you begin to drill the hole.
It's an excellent idea to use masking tape on both sides of the sheet to prevent chipping when drilling holes into plastic.
4. Use An HSS Drill That Has Been Used Before And Therefore Slightly Dull
You should use a high-speed drill that has been used at least once before. 
You need a sharp drill bit, not necessarily to be new. Drilling holes in plastic creates heat and sometimes melts through the material instead of drilling a clean hole; using an ideal drill reduces the heat.
If you use the right speed and feed rate, you can avoid heat building up on the surface. You should set your drill to a medium speed, apply slight pressure, and allow the drill's weight to push the drill bit into the material without adding too much stress.
The formula below is a good thumb rule for drill settings for plastic. 
RPM (Revs per minute) = SFM (Surface feet per minute) X (3.82/Drill Diameter) 
The SFM for plastics is: 100rpm – 300rpm 
For example, the speed for drilling a 10mm hole through a plastic sheet will be: (3.82/10) x 300 = 115 RPM
Most cordless drills' torque is between 0-1900 rpm, and set the proper rpm for drilling into plastic requires a bit of finger adjustment on the trigger.
You can use a medium trigger position to start and released the trigger slowly until you get to roughly the right speed. 
For your reference, here's a list of approximate speeds for the market-leading cordless drills:
Dewalt 0-1750rpm

Milwaukee 0-1800rpm

Bosch 0-1800rpm

Hikoki 0-1400rpm

Festool 0-1500rpm

Metabo 0-1800rpm

Makita 0-1300rpm

Draper 0-1350rpm

Einhell 0-1800rpm

Erbauer 0-1450rpm

Worx 0-1600rpm
5. Hold Your 90 Degrees (Perpendicular) To The Plastic
When drilling the hole through the plastic, you should keep the drill upright or at 90 degrees to the surface and DO NOT move around too much. 
Holding the drill steady will help keep the hole straight through the plastic and keep the spot around and correct.
Let the drill do the work, not your force.  With the speed set and using an ideal drill bit, the plastic should cut cleanly. 
If the cat is not clean, try adjusting the speed of the drill, but do not go too fast, which can raise the surface temperature, and the plastic can melt.
As the drill comes to the bottom of the hole, lessen the pressure to cut through the other side and avoid chipping.
After cutting through the plastic, keep the drilling and gently withdraw from the hole.
6. How To Drill Near The Edge Of A Plastic Sheet?
Like most materials, drilling near an edge is tricky, but this is more challenging with plastic, as the stresses from drilling a hole through the plastic can easily crack the sheet.
You should keep the hole's edge at least twice the material thickness from the edge of the plastic. 
Suppose you are drilling into a 15mm thick sheet, the edge of the hole should be 30mm for any edges of the sheet.
7. How To Drill Deep Holes Into A Plastic
Drilling deep holes needs a 'peck drilling' technique to allow proper chip clearance and heat dissipation.
Simply put, you have to push into the material and release it step by step rather than drilling at once.
The drill bit must not travel more than 3 or 4 times the drill diameter before you withdraw to remove the swarf and reduce heat build-up.
Safety Cautions While drilling a hole in Plastic
Drilling into plastic can be hazardous if proper safety precautions are not taken. Here are some safety cautions that you should keep in mind while drilling into plastic:
Wear safety glasses: Always wear safety glasses while drilling into plastic to protect your eyes from plastic shavings or debris.
Use a respirator mask: Breathing in plastic dust or fumes can be harmful to your lungs. Use a respirator mask to protect your lungs from inhaling plastic particles.
Work in a well-ventilated area: Make sure you work in a well-ventilated area to prevent any harmful fumes from building up.
Use the correct drill bit: Use the correct size and type of drill bit suitable for drilling into plastic. It is recommended to use brad point or spur point drill bits designed for plastic.
Clamp the plastic: Securely clamp the plastic material to a workbench or table to prevent it from moving during drilling, reducing the risk of injury.
Go slow and steady: Use a low-speed setting on your drill and apply gentle, steady pressure while drilling into plastic to avoid damaging or cracking the material.
How to Drill A Hole in Plastic – FAQs
What kind of drill bit should I use for drilling plastic?
Ans: For drilling plastic, it is recommended to use a brad point or twist drill bit made of high-speed steel or cobalt. Here is a list of the 12 best brad point drill bits.
Do I need to apply lubricant while drilling plastic?
Ans: It is not necessary to apply lubricant while drilling plastic. However, if the plastic material is thick, applying a small amount of oil or cutting fluid can help to reduce friction and prevent the drill bit from getting too hot.
How do I prevent the plastic from cracking while drilling?
Ans: To prevent the plastic from cracking while drilling, it is recommended to use a low speed and light pressure. You can also place a piece of scrap wood underneath the plastic material to support it while drilling.
Can I use a regular drill for drilling plastic?
Ans: Yes, you can use a regular drill for drilling plastic as long as you use the appropriate drill bit and take the necessary safety precautions.
What safety precautions should I take while drilling plastic?
Ans: Always wear safety goggles to protect your eyes and avoid loose clothing or jewelry that could get caught in the drill. Additionally, use a clamp or vice to secure the plastic material and make sure the drill bit is properly secured in the drill chuck.
Useful Tools To Drill A Hole In Plastic
Now that you know how to drill in plastic, here are some tools to assist you. 
GOXAWEE Rotary Tool Kit with MultiPro Keyless Chuck and Flex Shaft
It comes with 3 Jaw Universal Chuck that can apply better stability on your projects, allowing you to effortlessly and quickly change accessories on the Rotary machine tool freely. You will get 140 attachments and accessories with the package. You can use this kit on various materials; drilling on plastic is just a piece of cake. 
 DEWALT Corded Drill, 8.0-Amp, 3/8-Inch
Dewalt is the most popular brand for drills. The corded drill from Dewalt has an has8-amp motor that delivers high performance in heavy-duty applications. It has a 3/8-inch all-metal, ratcheting, keyless chuck for more excellent bit retention of the corded drill. The drill has 0-2,500 rpm with a VSR trigger for versatility in drilling and fastening applications. For your plastic drilling operation, this is an excellent choice. 
The DEWALT 14-Piece twist drill bit set comes with Black Oxide coated finish that provides and prevents walking. The Parabolic flute design can improve chip ejection in metal and wood drilling applications. HSS bits are essential for drilling a hole in the plastic, and this set from Dewalt is ideal for that purpose. 
Professional Titanium Twist Drill Bit Set
This is a high-strength drill bit set that comes in a non-slip design. The titanium coating ensures long life and is suitable for drilling holes in Stainless plastic, steel, and wood that are low hardness. Suppose you are a model worker, then you will love this set. If you have this set in your home, you would not need any other bit to drill a hole in the plastic for a long time. HURRICANE 99 Pieces Titanium Twist Drill Bit Set is an excellent choice. 
Conclusion
We hope the article has provided all the information you need to know to drill a hole in the plastic. For efficient work, you can use the tools from our list. Pick the correct drill and the right bit, follow the steps correctly, and you are all set—best of luck with your next project. See you in another tutorial.