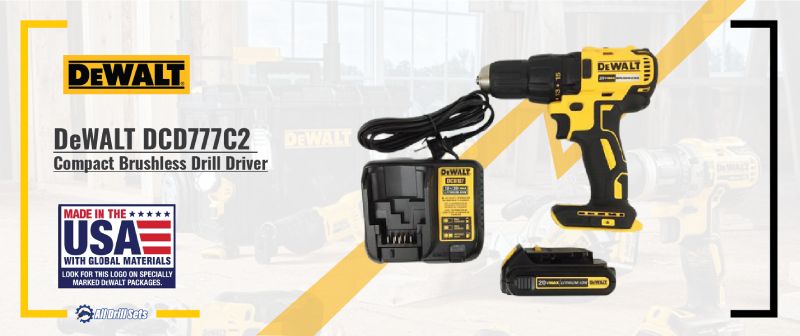 The DeWALT DCD777C2 20V Max is a popular compact brushless drill driver. It comes with many impressive features, and both professionals and DIYers want to have this
device.
If we are talking about power tools, DeWALT is unquestionably one of the best-known names. Founded 90 years ago, this company is famous for its top-class circular saws, impact drivers, and cordless drills.
In this article, we will take a closer look at DeWALT's brushless drill driver DCD777C2 model. This is a cordless drill that has become exceedingly popular since it appeared in the market in 2016. Excellent torque and compact size make the device powerful, very portable, and easy to use.
What Kind Of Task Can You Perform With DeWALT DCD777C2
This compact brushless drill driver is best suited for drilling holes into woods. You can also drill into drywall and less-heavy metals. The drill does not have enough power for heavy-duty drilling like drilling concrete continuously. 
You can perform the following and related tasks with this compact brushless drill driver. 
You can drive fasteners like screws, bolts, and nuts.

You can loosen fixings.

You can assemble pieces of furniture.

Rotating polishing bits

Spinning bits for sanding bits
Usually, you can assess a drill driver's power by observing the electrical charge rating of the battery measured in Ah (amp-hour). More powerful tools typically need a larger battery to power them.
The DeWALT DCD777C2 20V Max compact drill driver's battery's electrical charge rating is 1.3Ah. This is reasonably typical for a drill driver that is built for light and medium-duty drilling tasks. Therefore, this model would be well-suited to household DIY.
However, the DeWALT DCD777C2 regularly gets positive reviews saying that it is powerful enough thanks to its powerful brushless motor and 1.3Ah batteries to handle DIYers and homeowners' needs.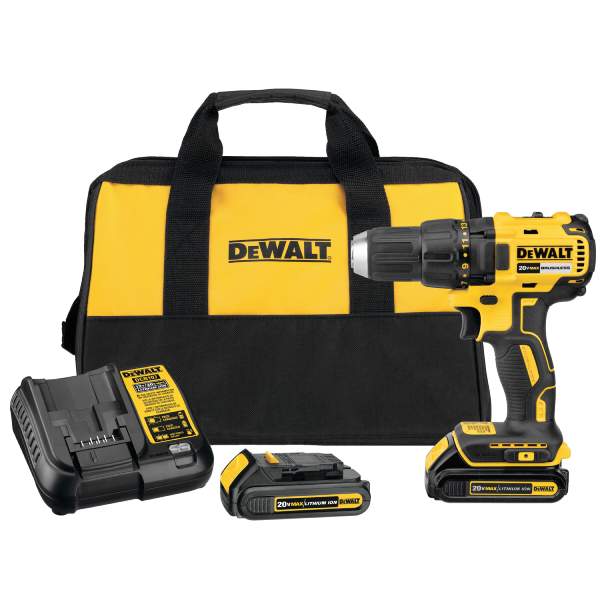 The Specifications Of DeWALT DCD777C2
Drill/Driver Weight –  2.6 lbs

Dimensions:

12.5 x 3.75 x 9.81 inches

Style:

Brushless drill/driver

Max power:

340 UWO

AMP hour:

1.3ah

Batteries:

20V Max

Chunk size:

½ -inch single keyless chuck

No-load speeds:

0-500 / 0-1,750 RPM

Warranty:

3-year unlimited warranty
What is inside the box?
Charger-1

A kit bag 

DCD777 Compact Brushless Drill/Driver

Two lithium-ion batteries
DeWALT DCD777C2 20Volt Max Drill Driver Features
10/12 years ago, the DIY enthusiasts had to work with the big, corded drills for their projects as they had no other option. But today, today's drills are cordless, generate more power. DeWALT DCD777C2 is a great example. 
One factor that makes the DeWalt DCD777C2  20v max compact model extraordinary is that it is perfect for various skills of enthusiasts, including professionals and amateurs. Besides the user-friendliness, it comes with a great specification that can handle multiple kinds of drilling applications. 
Here are some essential features of this model
Comes with a  built-in LED light with a 20-second activation discharge delay. 

The 7.52-inch compact design from the front to back

A powerful brushless motor that produces longer runtime, more longevity, no maintenance, and fewer battery charge-times

Ergonomic design and comfort holding grip  to confirm more balance and excellent control

A variable speed control makes it easy for you to swiftly and easily adjust the drill driver's speed. 

It has a powerful torque output of 500 in-lbs that can comfortably take care of most light and medium-tasks.

The 1/2″ chuck size offers you the flexibility to utilize more significant bits.

The 3-year limited warranty 
Detailed Features
Ergonomic and Compact Design
Cordless drill drivers should be compact. Talking about the DeWALT DCD777C2, this is much more lightweight and portable than any other cordless drill in the market. 
This cordless drill is 12.5×3.75×9.81 inches large and weighs only 2.6 lbs. Moreover, the ergonomic design fits into tight areas, and you can grip the tool easily. 
As for its compact size, males and female of any age can use it effortlessly and manoeuvre in tight spaces without facing any hassle.
The comfortable grip handle provides ideal stressless drilling and driving and omits the usual fatigue feeling that comes with extended drilling periods.
If you're an experienced DIY drilling enthusiast, the drill driver will feel extremely light to your hands, and you will love the ergonomic comfort grip handle. 
The ergonomic comfort grip handle provides ideal control and balance over the tool, but you'd need to use it for some time to stabilize the device in your hands so that you can work steadily.  
High-performance brushless motor
Brushless motors power the DeWALT DCD777C2 drill driver kit. These motors are very popular because tools with a brushless motor need less or no maintenance and a longer lifespan than a brushed equivalent. As a result, it saves time, money, and effort. Any tool with a brushless motor performs better and is more efficient.
It functions properly, does not overheat like other types of motor.
This device from DeWALT DCD777C2 features a dual gear system, including gear with 500 RPM and another with 1,750 RPM. It comes with an adjustable trigger too, which makes managing the machine easier for you. DeWALT brushless motor delivers more runtime over other brushed compact drill driver tools. 
DeWALT brushless motor delivers extra power due to their small energy-reducing limits compared to that of brushed one. This brushless motor equally gives you extra runtime and need marginal numbers of battery charging cycles.
Now add those benefits with two lithium-ion batteries supplied with brushless drill driver DeWALT DCD777C2 with a maximum torque output of 500 in-lbs. And you will get a drill driver that can complete more demanding tasks in a shorter time effortlessly.
Flexible Speed Transmission
The drill driver comes with an adjustable speed control integrated into the unit's trigger system. The DeWALT DCD777C2 supports a variable trigger with two gears of 500 RPM and 1750 RPM.
With this, you can control the machine better: the high revolutions to deliver more power and low revolutions to save fuel and perform small tasks.
With the variable speed transmission, you can use the tool for both drilling and driving screws. Moreover, sixteen-speed clutch settings are highly functional.
Pressing the trigger harder produces faster output RPM, and just when you release it, it activates the brake to stop the chuck from spinning instantly. With the drill driver, you can push a three-inch hole saw into a pine board with ease.
The DeWALT DCD777C2 equally comes with a double options feature that lets you adjust gears. This feature makes it suitable for the type of task you have at hand.
You can alter the gear using the adjuster located above the body of this tool. Setting the equipment to speed 1 delivers enormous torque, while speed two gear will provide you with a smaller torque.
Such changeable features make this compact drill driver versatile for both driving and drilling screws.
User-Friendly Operation
DeWALT DCD777C2 has done a great job to ensure this compact drill driver kit is as comfortable to use as possible. You should not feel any strain after using it over prolonged periods, thanks to this drill driver kit's lightweight design.
The ergonomic comfort grip handle helps to provide superb balance and tool control during more complicated tasks.
This tool provides an adjustable torque mechanism so that you can drive and remove an extensive range of fastener types and sizes easily. Besides, you can easily alter this by twisting the torque adjuster at the front of the drill driver's body.
The drill driver kit DeWALT DCD777C2 comes with 15 clutch settings, and the higher the number, the higher the torque output it produces, so the larger the fastener you can drive.
Changing the direction of the cordless drill driver's output couldn't be much easier. Just press the handy forward/reverse push control button, which is near the trigger, and you can change the direction as needed.
Another great feature is the compact design of the DeWALT DCD777C2 brushless drill driver kit, which measures just 7.52″ from front to back. Therefore, it will make working in tight spaces much more manageable than other drill drivers.
An additional benefit is the DCD777C2's built-in control LED light, which remains lit for 20 seconds after the trigger's release and aids visibility if you are using the tool in dark areas or at night.
Power Output
The DeWALT DCD777C2 brushless compact drill driver power rating in UWO is 340 UWO. The high-speed transmission RPM setting can either be 0-500 RPM or 0-1,750 RPM. Also, it has a 500 in-lb torque power.
Longer work time with two Lithium-Ion Batteries
The two lithium-ion batteries that come with the  DeWALT DCD777C2 compact
brushless drill driver give you longer working time sessions, reducing interruption.
Lithium-on batteries have pretty good battery life. The 2 li-ion batteries charge relatively quickly and stay for a long time.
If you are doing small tasks, you should not worry about the batteries, but we suggest you set fully before starting medium or heavy-duty drilling tasks to drain the battery real fast. 
Built-in LED light
The DeWALT DCD777C2 comes with a tool control LED light with a 20-minute trigger release delay. The spotlight mode confirms increased visibility in the dark and enhances productivity. 
Affordable Pricing
Another important thing that makes this DeWALT DCD777C2 20v max very popular is its cost-effective price. The cordless drill driver is a true testimony that you can get a valuable and dependable power tool at affordable pricing. 
There are some other tools cheaper tools, but it offers sufficient value for its price given that the charger, 2 Li-ion batteries, the drill driver kit, and the kit bag are included in the package for the price.
DeWALT DCD777C2 Pros and Cons
Frequently Asked Questions (FAQs)
What is the difference between DeWALT DCD777C2 and DCD7771C2 drill driver?
The fundamental difference between the DeWALT DCD777C2 vs. DCD771C2 is that the earlier version features a brushless motor, and the latter comes with a brushed motor.
As we discussed earlier, brushless motors are becoming immensely popular because they require less or no maintenance and usually have a longer lifespan than brushed counterparts.
The DCD777C2 is lightweight than the DCD771C2 and has slightly various speed output. Apart from these features, both models are quite similar given that they each deliver a 20V max output, variable-speed transmission, and a keyless plastic ratcheting 1/2″ chuck.
Despite being smaller, the DCD777C2 provides more power than its earlier version. Max power of the DCD771C2 drill driver is 300 UWO, and the maximum RPM is 1500, whereas  DCD777C2's maximum RPM is 1750. 
Your choice between the DeWALT DCD777C2 vs. DCD771C2, therefore, will depend on whether you will go for a brushless motor or not. We highly recommend you go for DCD777C2.
What is the difference between DeWALT 20v and 20v max?
The XR is an updated, more efficient battery. You can get a 20v Max 2ah battery or a 20v Max XR 2ah battery. Any 20v tool can use any version of the 20v battery. But the difference lies in efficiency and durability.
How long does a battery last?
It depends on what kind of project you are working on. If the project requires fast torque and LED light support, the batteries will be quickly eaten up. For light works, the batteries will last longer.
How long is the warranty for?
The DeWALT DCD777C2 offers a 3-year limited warranty, along with a 1-year free service. 
Is there any battery life meter?
      No, there isn't. The manufacture should add this feature as soon as possible because many consumers complain about this lack.
Is brushless better than traditional drivers?
Of course, they are! A brushed motor is made of carbon to generate power, and the brushless one uses magnets. Therefore, the brushless motor is more adaptive, less friction, and less heating. Besides, the brushless motor needs less maintenance and replacement. 
In terms of DeWALT DCD777C2, the brushless motor is confirmed to be more effective and reduces 30% runtime.
Is DeWALT DCD777C2 reversible?
Yes, the drill features various speeds to meet with different projects.
Is DeWALT DCD777C2 Worth it?
DeWALT is a famous and respectable power tool manufacturing brand. Both new users and pros like DeWALT's drill drivers. This company's screwdrivers are more modern than Milwaukee and pro layout like the blue Bosch, and cheaper.
DeWALT cordless drills are lightweight than Bosch cordless drills.  
Moreover, they are created with an exceptional power-to-weight ratio and features better stability. In short, DeWALT provides reliable cordless drills that can be adapted to the job site conditions if you use them carefully.  
You can read this article about 7 Best Drill Bits for Hardened Steel.
Final Verdict
The DeWALT DCD777C2 provides a good amount of power, user-friendliness and brings you excellent value for the money you spent. The power comes from the brushless motor of this drill bit, along its torque power makes the unit perfect for both learners and pros.
The unit comes with an intelligently designed ergonomic handle that performs better than a majority of its counterparts. Besides, the drill driver is lightweight, and the compact size makes it effortless to work with the tool in tight corners.
This is the best compact drill driver at an affordable price. If you plan to purchase a drill driver for household works or professional reasons, we highly recommend DeWALT DCD777C2.
See More Articles About Brushless Drill: