DeWALT DCD771C2 compact drill, driver kit is reviewed in this article in detail. If you are on a hunt for a good drill at a mid-range price, then you have come to the right place.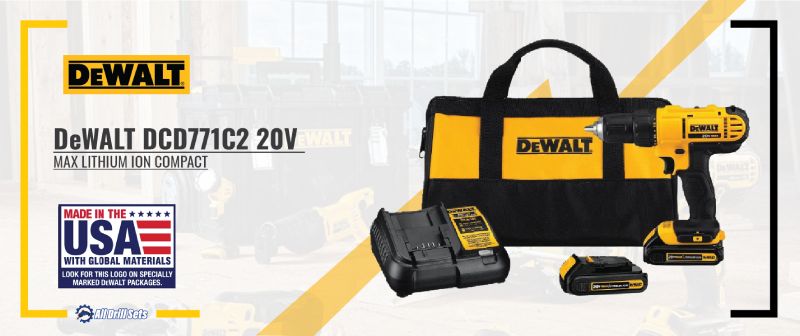 DeWALT DCD771C2 20V Max is one of the best cordless drills that you will get on the market today. The 20V max cordless drill is powered by a Lithium-ion battery which is robust to run its high-performance motor.
DeWALT is one of the top power tools manufacturers in the world. They manufacture not only vital power tools but also built produces sturdy tools to handle challenging drilling projects. Likewise, Dewalt DCD771C2 is made with robust materials to complete a wide range of applications and sustain for many years. 
DeWALT DCD771C2 comes with high-speed transmission and two variable speeds. This feature allows you to choose the level of performance that you need on a specific application. The speed variation feature makes this power tool exceptionally convenient.
In this DeWALT DCD771C2 20V cordless drill/driver kit review, we will inform you more about this top-rated drilling tool.
Specifications of DCD771C2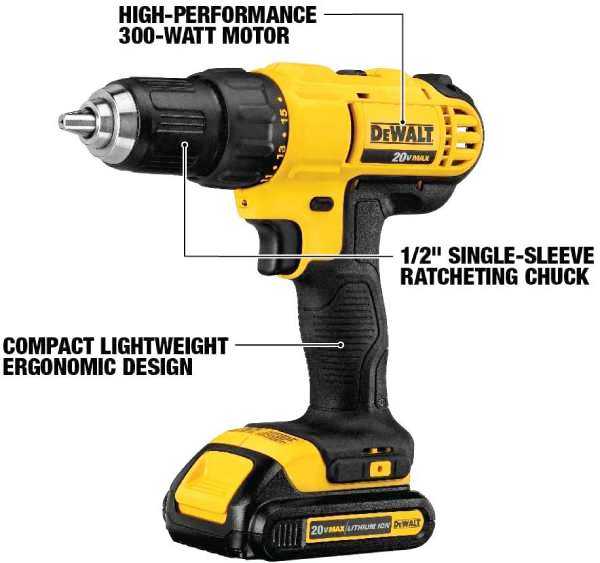 Item Weight: 3.64 lbs

Sizes:

13.88 x 9.88 x 4.25 inches

Tool Height: 6.5 inch

Tool Width: 1.9 Inch

Style:

Compact drill/driver

Max power:

300 UWO

AMP hour:

1.3ah

Batteries:

20V Max

Chunk size:

½ -inch single keyless chuck

No-load speeds:

0-450 / 0-1800 RPM

Warranty:

3-year unlimited warranty
What will you get with the box?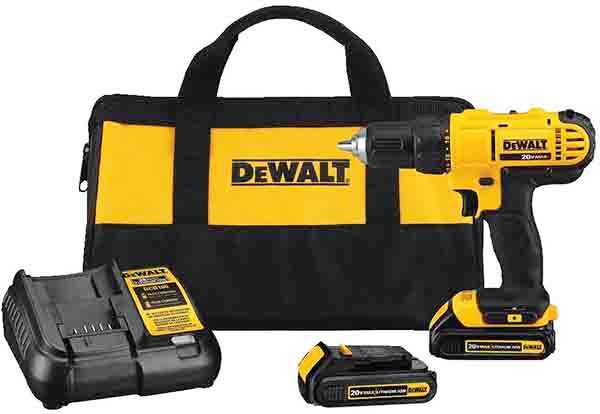 When you buy DeWALT DCD771C2, you get the following:
DCD771 1/2″ Drill Driver

Compact Charger

Contractor Bag

Two Compact lithium-ion battery packs
Features
The DeWALT  DCD771C2 20V cordless compact drill driver kit delivers a lot of torque and speed while driving and drilling. The equipment is famous for its compact size, power ability, and strength to handle almost any drilling task.
This lithium-ion compact drill driver kit is built with durable and sturdy materials. And the variable speed transmission option makes these tools highly convenient.
The DeWALT DCD771C2 20V Max drill driver is a lightweight kit and weighs around 3 pounds. Moreover, the power tool comes with a high-performance motor that generates 300 unit watts of power. Besides, 2 speeds of 0 to 450 RPMs and 0 to 1500 RPMs help you complete various drilling/driving applications.
DeWALT DCD771C2 is one of the top-selling drill/drivers in the market. Let's know the detailed features of this powerful compact drill driver kit.  
Ergonomic and Compact Design
Cordless drill drivers are meant to be compact. If you take a look at DeWALT DCD771C2 20V Max cordless drill, the tool is pretty lightweight and portable. 
This cordless drill's dimension is 13.88 x 9.88 x 4.25  inches large and weighs only 3.64 lbs. In addition to this dimension and w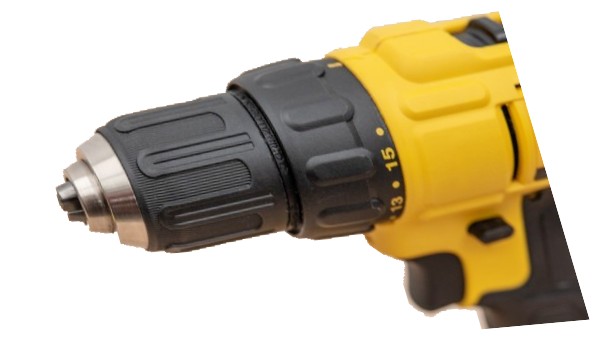 eight, the drill driver comes with an ergonomic design that fits into tight areas, and you can grip the device quite easily.
As this is a one-hand operated drilling driving kit, the manufacturers designed the device to keep the lowest possible vibrations even after prolonged continuous use. The ergonomic handle is very much comfortable to hold at the same time when you change the control or maneuver the machine.
As a result of this ergonomic and compact design, you feel confident when making a complicated drilling driving application. 
Another great benefit of this compact size is that both males and females of any age can use it easily and maneuver in tight areas. The comfortable grip handle benefits with ideal stressless drilling and driving experience without any chance of the usual fatigue feelings that come with extended drilling works.
Whether you are an experience DYI enthusiast or just a beginner, this compact drill driver will make all of your drilling job effortless. 
High-Performance Motor
The DeWALT DCD771C2 comes with a potent motor compared to its size and price. The high-performance motor delivers 300 unit watts out (UWO) of power ability and is very much capable of doing a wide range of applications. The DCD771C2 comes with a 2-speed transmission: 0-450R PM and 1500 RPM.
Though the motor is not brushless, it is powerful enough to maintain the high-speed transmission so that you can complete a wide range of fastening and drilling applications.  
High Speed
The DeWALT DCD771C2 delivers a 2-speed transmission that produces a speed range of between 450 and 1500 RPMs. That means that it provides a maximum of 1500 rotations per minute under no load for medium to heavy-duty drilling driving applications. And at low speed, the compact drill driver attains 450 rotations per minute under no load to accomplish the light drilling driving task.
With variable speeds, this compact drill driver can deliver an excellent power output. Moreover, the different speeds allow users to quickly and effortlessly accomplish a broader range of drilling driving applications.
Flexible Speed Transmission
The cordless drill driver comes with an adjustable speed control installed into the unit's trigger system. The DeWALT DCD771C2 supports a variable speed with two transmissions of 450 RPM and 1800 RPM.
As a result, you get more control over the machine: the high revolutions for more power and the low revolutions for small tasks.
With the variable speed transmission features, you can operate the tool for both drilling holes and driving screws. Moreover, the sixteen-speed clutch settings will make it even easier.
With hard pressing on the trigger, you can produce faster output RPM. And just after releasing it, the tool activates the brake so that the chunk stops spinning instantly.
Moreover, you can alter the speed using the regulator set above the body of this tool. If you set the gear to speed 1 it will deliver enormous torque, while speed 2 gear will provide a smaller torque. Such speed-changing features make this cordless drill driver robust for both driving holes and drilling screws.
User-Friendly Operation
DeWALT masterfully ensured that this cordless drill tool is as comfortable as you can get. There will be no feeling of strain after using it over a long time, thanks to this drill driver kit's lightweight and compact design.
Besides, the ergonomic comfort grip handle confirms superb balance and tool control while performing more complicated tasks.
This power tool comes with an adjustable torque mechanism to ensure that you can drive and remove a large number of fastener types and sizes easily. Also, altering this is very straightforward. You can do it by twisting the torque adjuster at the front of the tool's body.
To add more flexibility, the drill driver kit DeWALT DCD771C2 comes with 16 clutch settings. The higher the number, the higher the tool's torque output, and so the wider the fastener you can drive.
Changing the direction of the tool's output is very easy too. You just have to press the forward/reverse push control button located near the trigger and change the direction as your application required.
Another great feature is the DeWALT DCD771C2 cordless drill driver kit is very compact in design. Therefore, with this tool working in tight spaces is much more manageable.
Besides, the built-in control LED light, which remains lit for 20 seconds after the trigger's release, aids visibility if you are using the tool in dark areas or at night.
Power Output
The DeWALT DCD771C2 brushless compact drill driver power rating in UWO is 300 UWO. The high-speed transmission RPM setting can either be 0-450 RPM or 0-1,800 RPM.
Powerful Lithium-ion Battery Packs
A 20V Lithium-ion battery powers this compact drill driver kit. This 20 Volt battery is an upgrade from the regular 18V batteries people commonly use in traditional drilling machines.
With the 20V lithium-ion battery, this power tool is more potent with extended mileage. Best of all, this battery does not take a long time to charge; you can charge an empty battery between 30 minutes to one hour fully.
Moreover, to protect the battery from being overcharged, the charging process shuts off as soon as the battery is fully charged. 
The package comes with two 20-volt lithium-ion battery packs. So, you never need to worry about the charge while working on a project. The battery life is pretty high to complete any drilling driving application without interruption. 
Built-in LED light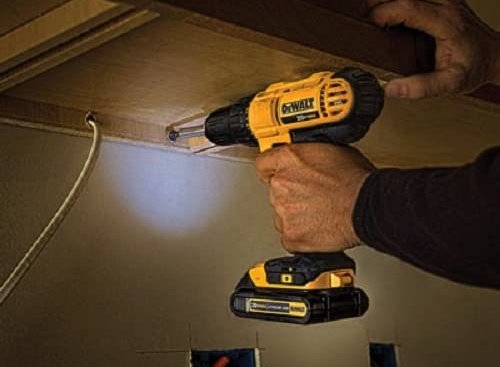 The DeWALT DCD771C2 comes with a tool control LED light with a 20-minute trigger release delay. The spotlight mode delivers increased visibility in the dark and enhances productivity.
The LED light is set above the trigger switch. Even though the light is small, it still provides a sharp light to brighten any dark space where you want to drill.
This light is convenient, especially if you're going to drill at night or the area does not have enough light. 
Warranty Information
Like their other power tools, DeWALT offers a 3-year limited warranty for DCD771C2. The company promises to repair, free of charge, any defects because of faulty materials or artistry for 3 years from the date you purchase it.
This warranty facility does not cover part failure due to normal wear or tool abuse. We advise you, keep your purchase record to claim the warranty. 
1 YEAR FREE SERVICE

– The company will also maintain this compact drill driver and replace worn parts caused by daily use. This service is free, any time during the first year after buying.
90 DAY MONEY BACK GUARANTEE

– If any user is not entirely satisfied with this DeWALT tool's performance for any reason, that user can return the device within 90 days from the date of purchase along with a receipt for a full refund – no questions asked.
Therefore, you can purchase this DeWALT DCD771C2 without not doubt in your mind.
Who Should Choose DeWALT DCD771C2 Compact Drill Driver?
The DeWALT DCD771C2 20V Max is a lightweight and compact drill, so it is perfect for those who use this device inside the house. It is also a powerful tool that you can use for your DIY. In other words, this cordless drill is excellent for crafting plans and weekend stuff.
Affordable Pricing
Another important thing that makes this DeWALT DCD771C2 20v max very popular is its cost-effective price. The cordless drill driver is an honest testimony that it is possible to get a valuable and dependable drill driver at affordable pricing. 
If you are searching for a drill driver kit in the mid-range budget, not willing to spend too much on a drilling machine, then this is the best you can get. 2 Li-ion battery packs, the drill driver kit, and the contractor are included in the package for the price. You can not ask for more at the cost you are getting this incredible drilling driving tool. 
What Do Users Say on DeWALT DCD771C2 20V Cordless Drill Driver?
People post their reviews and rate products according to their good and bad experiences with that product. If that is the case, then you can trust DCD771C2 without having any doubt in your mind. Because this product has more than 17 thousand reviews on Amazon, and most of them are positive.
It has 4.8 ratings on a scale of 5. Many users have upgraded their existing drill driver with this product, and many switched to this product from a different brand. Users loved the compact, lightweight design, powerful high-performance motor, and long-lasting battery life. 
Frequently Asked Question(FAQ)
What is the difference between DeWALT DCD777C2 and DCD771C2?
Both the tools are almost similar in design, but there are some crucial differences. The main difference is the motor of the products. DeWALT DCD777C2 comes with a brushless motor, where DeWALT DCD771C2 uses a brushed motor. 
Moreover, DCD777C2 is slightly lightweight than DCD777C1. Apart from these features, both tools are quite similar given that each of them delivers a 20V max output, variable speed, and a keyless plastic ratcheting 1/2″ chuck.
Another critical difference is the number of batteries that each model requires. The DeWALT DCD771C2 needs just one lithium-ion battery to operate, whereas the DCD777C2 needs 2 lithium-ion batteries.
Therefore with DeWALT DCD771C2, you can have a spare battery while working and complete your drilling driving project without interruptions. 
Lastly, the price, DCD771C2, comes with a significantly lower cost and very much capable of doing almost any kind of drilling work. So, if you are looking for a good drilling driving tool on a tight budget, we highly recommend you purchase DCD771C2.  
What is the difference between DeWALT DCD771 20V Max and Max XR?
The XR is the latest, more efficient battery. You can get a 20v Max 2ah battery or a 20v Max XR 2ah battery. Any 20v tool can use any version of the 20v battery. But the difference lies in efficiency and durability.
Is DeWALT discontinuing 18V?
Here is the short answer, DeWALT will continue supporting users owning their 18V cordless tool for years to come. DeWALT also manufactured adopters so that you can use a 20V battery in your 18V tool.
But be certain that you will see very few 18V tools in the market. DeWALT DCD771C2 will not produce many 18V power tools as manufacturing both lines won't be cost-effective for them.  
Does this drill have a reverse mode option?
Yes, it does. DeWALT DCD771C compact cordless drill driver has a reverse mode just like other DeWALT drill kits. It not only comes with a reverse mode but also comes with a forward and a lock mode. The reverse feature of this tool works exceptionally well.
Can I drill on concrete?
Yes, you can, but do not go hard with it. Drilling into concrete with this tool is not a great idea because this is not a hammer drill. When you use this drill on concrete, the carbide tip may overheat and sabotage the drill bit. This drill driver always uses the best drill bits considering its quality.
Nonetheless, you can drill well if the concrete is porous and you need a small diameter whole. But if you need a more extensive concrete application, we do not recommend you to use DeWALT DCD771C2 
Does it have a driver brush, or is it brushless?
DeWALT DCD771C2 compact drill driver does not come with a brushed motor by default. But there is a brushless impact driver of this model. Remember, a brushless motor drill is a bit expensive than a brushed motor. So, if you are willing to purchase a brushless motor tool, be prepared to spend extra money. 
Is the weight of this Drill Driver including the battery?
Yes, the 3.6 pounds weight is including the battery. That's why this is one of the lightweight drill drivers in the market. 
How long does a battery last?
It depends on the type of application. If the project demands fast torque and LED light support, the batteries will die soon. For light works, the batteries will last longer. According to the reviews, you can be confident that the battery will last longer if you do a small house with this drill driver. 
How long is the warranty for?
The DeWALT DCD771C2 supports a 3-year limited warranty, along with a 1-year free service. 
Is there any battery life meter?
No, there isn't. The manufacture should add this feature as soon as possible because many consumers complain about this lack.
Final Words
The DeWALT DCD771C2 20v compact cordless drill/driver kit does the job for you.
This cordless drill/driver kit provides high-speed transmission and delivers 2-speed variations. It also allows users to choose the level of performance when they need it for various applications.
This compact drill driver kit is not very expensive compared to what it delivers. This tool comes with good features, solid construction, and a compact, lightweight design. The tool should be more than sufficient if you are planning on using this indoor.
DeWALT is a famous brand all over the world for producing power tools. The company has been manufacturing top-quality tools for more than 90 years now. From professional to amateur users, everybody trusts this company using their power tools.
Moreover, you are getting a 3-year limited warranty, 1-year free service, and a 90-day money-back offer with no questions asked. 
This is the best cordless compact drill driver at a very affordable price. If you plan to purchase a drill driver for DIYs or even for professional reasons, we highly recommend DeWALT DCD771C2. 
Read More:
About Post Author