Makita power tools company is well-known in the power tools industry. Established in 1915, the company has been firmly putting out excellent products and constantly innovating new products to fight with some giants power tools manufacturers like Bosch, DeWALT, and, of course, Milwaukee.
Every mechanic, handyperson, woodworker, or even DIYer has its go-to brand. However, the latest trends showing a slight shift in Makita's favour and of course, for a good reason.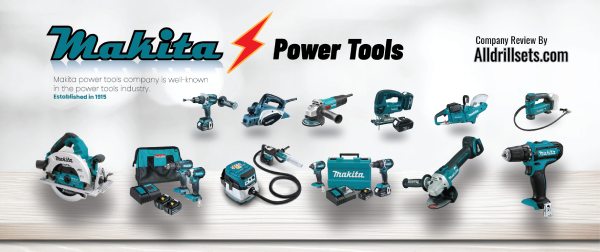 There are popular theories behind the rise of Makita. Makita is famous for producing lightweight, highly efficient products. Makita tools are user-friendly and are ideal for professionals and beginners.
Makita tools like the impact wrench, cordless reciprocal saw are famous among the contractors for their user-friendly and lightweight design. However, Makita's trump card is one of the essential power tool components—the Makita 18V battery. These 18V lithium-ion batteries are famous for durability and constantly outperform batteries from giant companies like Milwaukee and DeWalt.
History of Makita Power Tools
Makita Corporation was established in 1915 as an electric motor sales and repair company. Makita is an innovative company manufacturing powerful and efficient products at 10 operating plants running in 8 countries.
The excellent quality and durability of Makita power tools are handled by the company's strong R&D capabilities and have earned the faith of professionals and DIYers worldwide. Every day, on worksites across the world, Makita offers the performance and durability that professional users and DIYers demand. 
Makita tools have less vibration and comfortable to use.
In 1958, Makita launched a portable electrical planer in Japan and started manufacturing tools the following year. In February 2005, Makita introduced their first lithium-ion battery tool, the TD130D. And after that various tools such as lawnmowers, LXT system, string trimmers, and circular saw are gaining many users' trust. 
Makita Power Tools
Cordless tools
Makita offers many tools in this section. They manufacture cordless screwdrivers, cordless impact wrenches, cordless reciprocal saw, cordless rotary hammers drills, and cordless jigsaws. The company also offers a wide range of other tools such as battery saws, cordless angle grinders, cordless multi-tool, cordless planers, cordless metal shears, battery-powered screwdrivers, and cordless slot mills.
Makita Power tools
In the field of power tools, Makita offers some classic tools like drilling and stemming hammers, drills, planers, saws, and cutting & angle grinders. Besides, gardening equipment (electric lawnmowers, high-pressure cleaners, blowers) and measuring tools (rangefinders, rotating lasers) are also top-rated among users. 
Petrol equipment
Makita power tools design and develops cutters, power generators, chainsaws, scythes, lawnmowers, and blowers, and some other petrol power equipment in this sector.
Cordless Makita power tool batteries
Makita batteries are prevalent among users. Their 18V lithium-ion battery is far better than their rival companies. Professionals prefer Makita's battery to other giant companies like DeWALT, Milwaukee, Bostch, etc. Makita started manufacturing 18V lithium-ion cordless tools in 2005.  
Accessories
Makita power tools also produce many accessories to support their power tools, like batteries and chargers for cordless tools. They manufacture blades and tables for sewing tools. Moreover, Makita also manufactures carrying cases to carry their tools to their job site quickly. 
Driving Force of Makita Power Tools
Innovation
Constant strive for innovating new technology and introducing them to their products are the main driving force of Makita power tools.  The company has introduced some vital technological improvements over the years, such as safety solutions like AVT, dust extraction,  and of course, the Lithium-Ion battery and chargers technology; Makita stays at the forefront of new ideas.
Makita has their dedicated research and development centre in Japan, where dedicated engineers and researchers work day and night to constantly improve their products in all aspects, from energy consumption to fast charging to ergonomic design and function for the best user experience.
Manufacturing Ability
Makita power tools manufacture its power equipment in plants across the globe, from its main office in Japan.
Makita's acquired Dolmar in 1991 and also established themselves as one of the strongest contenders in the Outdoor Power Equipment market. They have a plant in Germany that is constantly delivering power tools worldwide to the highest quality.
The motto of their manufacturing process is 'powerful motor.' Without a good motor, no power tool can satisfy its user. For the users' sake, Makita makes every effort to make sure their motors are of the best quality.
The company brings the absolute best raw materials and components for building the most powerful and efficient motors you can imagine.
Quality of Makita Power Tools
Makita power tool uses premium-grade steel to manufacture armature shafts and gears. Only the highest grade steel is used to build those products to ensure the highest product quality of Makita power tools.
Moreover, the company uses high-grade magnetic copper wire into each one of its tools to confirm superior current flow whilst withstanding maximum temperatures.
The quality control team of Makita tests every tool before leaving the manufacturing plants. No tool is left untested; Makita performs 19 extensive tests on the motor only!
Makita understands a power tool is like an investment, and the relation between company and buyer is a long-lasting relationship. Makita respects that relationship and wants to maintain it at any cost. 
Frequently Asked Questions on Makita Power Tool Company
Is the Makita power tool made in China? 
Makita Corporation is a Japanese company of power tools. The company was established in 1915 and now has become a global brand operating in more than 40 countries worldwide. Makita power tool has manufacturing factories in Brazil, China, Japan, Mexico, Romania, the United Kingdom, Germany, Dubai, Thailand, and the United States.
Are Makita Power Tools Made in the USA?
Since 1985 Makita established a plant in the USA, outside of Atlanta in Buford, Georgia. Since then, the company has been manufacturing products in the USA. The company has many other plants in various countries to manufacture Makita power tools. 
Is Makita better than DeWALT?
DeWALT makes the best power tools in terms of production, durability, and torque. On the other hand, Makita makes the best power tools with battery performance and a comfortable design. It is tough to call one company a winner. 
Conclusion 
Makita power tools company has been developing and manufacturing products with high battery performance and durability with an easy-to-use design. Their products will give you comfort, power, and battery performance will astonish you.
They are not a giant in the power tools industry, but they are in a race with other giants, and that is an excellent competition for the users as they are getting top-class products.
We hope this article helped you know about the company Makita power tools manufacturer and we believe the can company deserves your trust, and you should try their power tools before falling for another brand or product. 
About Post Author